I was reading a Bloomberg piece on the debt ceiling this morning when I came across the following statement by Nariman Behravesh, chief economist for IHS in Lexington, Massachusetts:
The chances that the U.S. won't raise its borrowing limit by the Oct. 17 deadline are "very low," probably less than 5 percent.
Maybe so. But while the probability of default in any given year may be low, the bond market would price in the cumulative effect of default over time, and every year that passes without a default would tend to increase the likelihood default in the future.
Suppose the status quo prevails and default is left on the table. If the odds of a U.S. default are 5%, how many years will it be before default is more likely than slipping the noose?
14 years.
What if the odds are higher? Say, 10%? Less than 7 years.
20%? Just 3.
Won't rates fall as investors fly to the safety of Treasuries? Sure... for awhile. The problem is that T-Bills will no longer be truly "safe," and the long-term dynamic of cumulative default risk will remain in place. All else equal, the resulting spike in interest rate risk due to speculative betting around "X-Date" will inhibit capital formation, and thus function as an indirect tax on the financial system regardless of whether the debt ceiling is breached or not.
Imagine looking at the chart in the Fig. 1 below every year and wondering if this year is the year that the U.S. finally commits harakiri.
Fig. 1: X-Date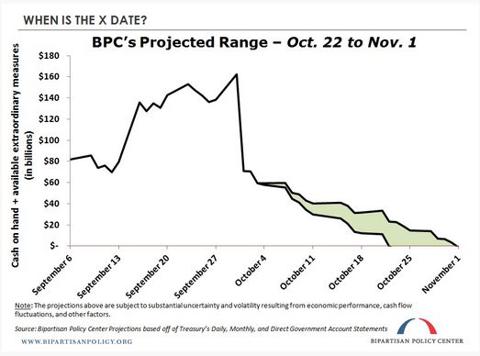 (Source: http://bipartisanpolicy.org/)
Not only would this arrangement undercut the Fed's oblique control the velocity of money, but allow future minorities of either House to continue to do so at will. The most likely outcome at present is that the debt ceiling issue will be permanently tabled in exchange for a long-term budget agreement replacing the sequester with long-term cuts to entitlement programs.
Conclusion
So, how to trade it?
If you're thinking about going long volatility ETFs like iPath S&P 500 VIX Short-Term Futures ETN. (VXX), think again. As I explained here, VXX is designed to track the futures market, not the spot price. If future expectations of volatility are greater than near-term expectations, you will lose money every month when the underlying VIX futures are rolled over to the next month. Investors would be better off weighing the downside risks for their specific portfolio than attempting to straddle volatility here.
The shutdown of 1996 lasted from December 16th-January 6th -- 1996 was detrimental to both parties. There will be immense political pressure to wrap up negotiations and declare victory before the Christmas holiday, especially with mid-term elections coming up.
If you're net long, you may want to consider taking out some cheap insurance in the form of a December 21st bear put spread on index ETFs like (NYSEARCA:SPY), (NYSEARCA:DIA) and (NASDAQ:QQQ). If you're net short, consider a bull call spread. While a spread will limit your potential profit potential, it will also decrease your dollar risk while giving you a higher probability of profit if volatility declines.
Disclosure: I have no positions in any stocks mentioned, and no plans to initiate any positions within the next 72 hours. I wrote this article myself, and it expresses my own opinions. I am not receiving compensation for it (other than from Seeking Alpha). I have no business relationship with any company whose stock is mentioned in this article.