Vivendi (OTCPK:VIVHY) is a French conglomerate company engaged on several business activities through its stakes in listed and private companies. Vivendi currently operates a number of companies mainly in the content, music, and telecommunications industries. Vivendi's market capitalization is about $33 billion, and is traded in the U.S. in the over-the-counter market. Its shareholding structure is diversified, without any individual shareholder controlling more than 5% of its capital. Vivendi has more than 58,000 employees spread around the globe. Vivendi's operations consist of six different business segments in the content, media, music, and telecommunications industries.
Business Segments
In content and media it owns Canal+, Universal Music Group [UMG], and 61.5% of Activision Blizzard (NASDAQ:ATVI). In telecommunications it owns SFR (France), GVT (Brazil), and 53% of Maroc Telecom (OTC:MAOTF). It has also some other smaller activities through its subsidiaries, like electronic ticketing or phone-based expert assistance.
Canal+ Group is the largest Pay-TV group in France. With 11.4 million subscriptions to all of its offerings in France and Africa, it is a leading producer of premium and specialty channels as well as in the collection and distribution of Pay-TV offerings. With a market share of more than 30%, Universal Music Group is the world's leading music company with top market positions in recorded music, music publishing, and merchandising. Activision Blizzard is a global interactive entertainment software leader and the world's largest independent video game publisher.
SFR is a telecommunications operator in France, with a history of over 25 years providing mobile and fixed telephony, Internet and television services to its customers. Maroc Telecom Group is the historical telecommunications operator in the Kingdom of Morocco with operations in fixed-line, mobile, and Internet. GVT is the leading alternative fixed-line telecommunications and Pay-TV operator in Brazil.
Financial Performance
Vivendi has posted weak results over the past couple of years due to weak economic activity in France and fierce competition on the telecommunications market. In 2012, the company's revenues amounted to more than $39 billion, a small increase of only 0.6% from the previous year. SFR was the main responsible for this weak performance, given that it accounted for about 38% of the group's revenues and saw a decline of 7.3% of its revenues from the previous year. The second-largest business segment was Canal+ with a 17% weight on revenues, which saw its revenues climb by 3.2%. By geography, France was by far the largest market, with about 55% of Vivendi's revenues derived from it. Vivendi's profitability is quite good, given its EBITDA was above $11.2 billion in 2012 or an EBITDA margin of 28%. Its adjusted net income was $3.4 billion, a decrease of 13.6% from the previous year.
During the first six months of 2013, Vivendi continued to face a challenging economic environment especially in France. Its revenues declined by 1.5% to $14.6 billion, but more worrisome was Vivendi's EBITA's huge drop of 27% to $1.87 billion, with UMG, Canal+, and SFR all posting sharp declines. SFR was the worst business segment, posting a 36% decline on its EBITA during the first six months of 2013 due to fierce competition in the French telecom market, which is leading to lower prices and profitability for operators. Vivendi's adjusted net income declined by 25% to $1.1 billion.
Splitting the Business
Vivendi announced in 2012 that it was launching a strategic review of all its assets, with the goal of generating more value to its shareholders and streamlining the group's profile. This was justified by Vivendi's management due to a weak share performance over the past few years. Although the share price has recovered from a year ago, it is still basically flat compared to two years ago. The company's management also considers that Vivendi's share price has been impaired by a conglomerate discount, which should be reduced if the company adopts a less complex structure. However, Vivendi will continue to be a holding company, so the discount should not completely disappear.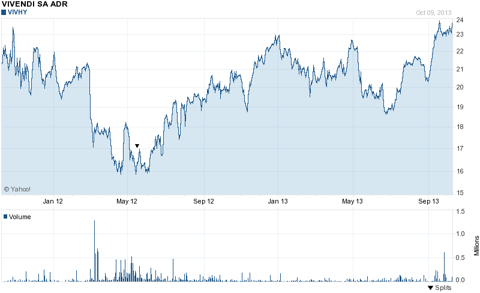 Click to enlarge
Following this review, the company has recently announced an agreement to sell over 85% of its stake in Activision Blizzard for $8.2 billion and that it entered into exclusive negotiations with Etisalat for the disposal of its stake in Maroc Telecom for $5.7 billion. Therefore, the company started to report both stakes as discontinued operations from the past quarter, as shown in the following graph.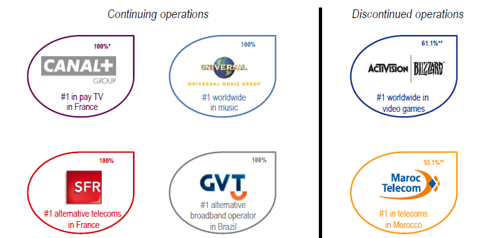 Click to enlarge
Furthermore, Vivendi has recently stated that it is studying the possibility to split the group into two separate entities. Specifically, the company is studying a demerger of SFR, with the remaining content, music, and telecom businesses being part of a new company.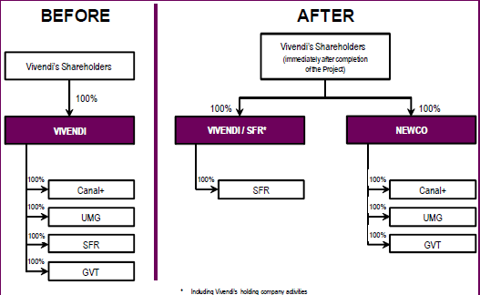 Click to enlarge
Vivendi expects that this de-merger plan would create significant value for shareholders due to a lower conglomerate discount for Newco, and without any discount for Vivendi/SFR. This would make valuation of each business easier and more aligned with underlying fundamentals, giving shareholders the opportunity to invest in two different vehicles. Currently, Vivendi trades at 13x its estimated 2013 earnings, which is relatively undemanding especially if the European economy picks up over the next few quarters. Moreover, post the SFR split and asset disposals, Vivendi's valuation could be boosted by share buybacks, special dividends, or a sale of another non-core asset. Most likely GVT will eventually be sold, and Newco will be completely focused on media. This will increase the company's ability to return cash to shareholders and reduce the conglomerate discount, implying certainly more value for shareholders.
Dividends
Regarding its dividend, Vivendi's track record is not impressive. Vivendi paid a stable dividend from 2008 to 2010 at €.140 ($1.90) per share, but in 2011 the dividend per share [DPS] was cut to €1.00 ($1.36), which was a 28% cut. In 2012, the dividend remained unchanged at €1.00. Moreover, as most European companies Vivendi only pays an annual dividend, usually in May, which reduces its appeal. On the other hand, at its current share price Vivendi offers a high-dividend yield of 5.5%. Taking into account its adjusted earnings per share of €1.96 ($2.66) in 2012, Vivendi's dividend payout ratio was only 51%. This ratio seems to be quite low and has room to grow in the coming years if management decides to enhance its shareholders' returns. On the other hand, considering reported earnings of only $0.18 per share gives a completely different picture regarding Vivendi's dividend sustainability, but this measure includes impairment losses and reserve litigation costs that were recognized in 2012 and should not repeat in the future.
Based on cash flows, Vivendi's dividends seems also low as the company has a very good cash flow generation capacity. In 2012, its cash flow from operations was above $10.6 billion, which was more than enough to finance capital expenditures ($6 billion) and dividend payments ($1.7 billion). Therefore, Vivendi could have easily paid a higher dividend without increasing its balance sheet leverage.
At the end of the second quarter of 2013, Vivendi's net debt was about $23.5 billion. However, if the disposals of Maroc Telecom and Activision are completed successfully its net debt should decline to around $8.8 billion, given that it should receive about $14 billion in proceeds from both sales and it will stop to reflect net debt and net cash from Maroc and Activision, respectively. This will result on a much stronger balance sheet with a leverage ratio below 1x, which is clearly a positive factor for Vivendi's dividend sustainability.
Conclusion
Vivendi offers a high-dividend yield, which seems safe and could be even improved after the disposals of Activision Blizzard and Maroc Telecom are completed, given that Vivendi will have a very strong balance sheet. Moreover, in the next few months, the split of its business should result on a higher valuation leading to capital gains on top of a juicy dividend. On the other hand, after the split Vivendi/Newco will be much more exposed to France than it is currently, making it too vulnerable to a possible improvement in the European economy that is not something assured right now. Therefore, I consider Vivendi as a good high-yield play for the next 1-2 years, but have some doubts about the value of its business over the medium to long term.
Disclosure: I have no positions in any stocks mentioned, but may initiate a long position in OTCPK:VIVHY over the next 72 hours. I wrote this article myself, and it expresses my own opinions. I am not receiving compensation for it (other than from Seeking Alpha). I have no business relationship with any company whose stock is mentioned in this article.