"The market for digital media has proven, time and again, that those who position themselves for success early, particularly in the face of large markets, win outsized rewards." - Paul Palmieri, CEO, Millennial Media
The technology landscape is littered with companies engaged in mobile advertising exchanges. The larger headline grabbing entities like Google's (NASDAQ:GOOG) AdMob, Apple's (NASDAQ:AAPL) iAd, Facebook (NASDAQ:FB), and now, Twitter (NYSE:TWTR) with its recently acquired MoPub, are fairly familiar to the investing public. Smaller combatants such as Mobclix (a division of Velti (VELT)), Nexage, Smaato, inMobi and Hipcricket (HIPP.OB) are also in the mix. Not to be forgotten is Millennial Media (NYSE:MM), a star-crossed IPO that has been uprooted because of a few backbreaking quarters.
The chart below is not a pretty picture, but just the same, I purchased shares at $6.60 due to a significant sell off courtesy of the current government crisis. As a quick background note, I've written about Millennial Media in a previous posting, stating that although I was interested in the security, I wouldn't pay anything more than $3-$4 a share. The well worn phrase by John Maynard Keynes comes into play here: "When the facts change, I change my mind.".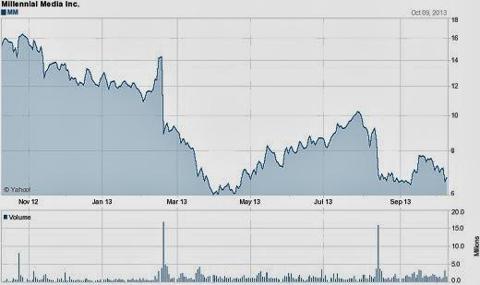 (Chart Source: Yahoo Finance)
The recent IPO of Rocket Fuel (NASDAQ:FUEL), (which doubled on its first day of trading), altered my thinking on Millennial Media. With Millennial's recent acquisition of JumpTap, it now competes with Rocket Fuel in programmatic sales channels, otherwise known as "artificial-intelligence digital advertising solutions". There's a turf war brewing. Millennial Media is no longer a stand-alone advertising exchange.
The Old School Millennial Media
Back in early March, Millennial Media made a presentation at Barclays Internet Connect Conference. Although March was only a few short months ago, it's almost ancient history in the lightning fast mobile advertising world. Millennial Media CFO Michael Avon made this succinct description of his company which still holds true today:
We power the advertising for many of the app developers out there, over 39,000 apps. They download our software into their applications, and we run ads for them. That's 100% of our business.
Besides the promise of a mobile advertising market that's in ultra-growth mode, one of the reasons the stock got so hyped up during its IPO phase was the quality of clients. I don't think that attribute should be overlooked, and is a primary catalyst for investing in the company. Michael Avon again:
Today we reached over 400 million unique users on a monthly basis with about 160 million of those in the US. We work with 85 of the top 100 Ad Age advertisers. These are the largest advertisers in the world that is measured by Ad Age, big global advertisers, and we think that penetration of 85% of this top 100 is second to none, certainly in mobile and we think across digital.
Fast forward seven months and we still find Millennial Media in an enviable position in regards to clientele, but the company has changed significantly due to the JumpTap acquisition and various partnerships.
The New Wave
The onslaught of new business relationships have come fast and furious since early August. The first being a partnership with Adsmovil, the principal mobile ad network in Latin America and the U.S. Hispanic markets. This extends the Millennial Media platform into South America, Central America and Mexico. According to the press release: "With more than 400 million mobile users in Latin America, and smartphone penetration expected to reach almost 40 percent by 2016, according to eMarketer, Adsmovil will tap into Millennial Media's first party data to enable brands to target these consumers on more than 45,000 sites and apps.".
Next, is the acquisition of JumpTap, and in reality is more like a merger of the two companies. It was mostly a stock deal where Millennial Media issued approximately 24.6 million new shares of common stock to the JumpTap shareholders for all of their equity. Here are some highlights presented by company executives during the last conference call:
"Where Millennial is known as the leader in mobile brand advertising, Jumptap has more of a focus on the performance advertising side of the business. Additionally, Jumptap is the leader in mobile real-time bidding, or RTB, capabilities, reporting that they are seeing over 2 billion impressions per day to deliver app, download and other performance campaigns."
"Jumptap is the second-largest independent mobile advertising platform in the U.S. behind Millennial Media and has been a respected player for many years in the performance segment of our business. According to IDC, Jumptap represented 10.7% of the U.S. mobile advertising network industry last year, compared to Millennial Media's 18%. Together, Millennial and Jumptap combined, would have accounted for 28.7% of the industry last year, about on par with Google's share, according to IDC."
"By acquiring Jumptap, we expect to be able to accelerate our revenue growth rate from our standalone forecasts in 2014 and beyond. Advertisers, both brand and performance advertisers, are increasingly looking to buy through just a handful of select partners that can provide a full suite of digital advertising solutions. Today, Millennial is the key independent mobile partner for many large brands and agencies and for larger premium performance advertisers."
Finally, is the recent partnership with AppNexus. This relationship created the Millennial Media Exchange (MMX), the world's largest premium mobile advertising exchange. The MMX provides advertisers and developers a unique opportunity to buy and sell on a real-time, programmatic basis with unique data at scale. I believe the operative word here is programmatic, which brings us back full circle to the recent Rocket Fuel IPO.
Rocket Fuel
This post is not intended to be an evaluation of the differences between Millennial Media and Rocket Fuel because it's not an apples to apples comparison. Nevertheless, they compete for some of the same advertising dollars in programmatic marketing solutions. As Rocket Fuel pioneers its way into mobile computing, and as Millennial Media expands its coverage to more varieties of connected devices, they will be at loggerheads.
According to Seeking Alpha, as they currently stand, Rocket Fuel has a market cap of $2 billion, Price/Sales of 14, Price/Book of 53, and cash/share of $.58. On the other hand, Millennial Media's market cap is $0.57 billion, Price/Sales of 2.67, Price/Book of 3.48, and cash/share of $1.51. There's a price dislocation here - Rocket Fuel is overvalued, and Millennial Media is undervalued. Irrational exuberance can go both ways. Neither companies are profitable at this juncture, but this is often the case with young growth companies.
Conclusion
You can chase a high flyer like Rocket Fuel, or invest in an organization like Millennial Media which may give you a more favorable outcome in the long run. With revenue growth clocking in at roughly 55% per year, you're buying the stock on the cheap, and giving yourself a decent margin of safety. The company appears to be looking out for long-term shareholder value, which is a plus. Although the next quarter may be bumpy because of the assimilation of JumpTap, I consider any drop in value a good buying opportunity. 2014 may very well be the year that mobile advertising equities take off, and Millennial Media is certainly in the hunt.
Disclosure: I am long MM, FB. I wrote this article myself, and it expresses my own opinions. I am not receiving compensation for it. I have no business relationship with any company whose stock is mentioned in this article.