We now have sales data for the first 17 weeks of Belviq sales. Belviq is the anti-obesity medicine brought to market by Arena Pharmaceuticals (NASDAQ:ARNA), and marketed by Eisai (OTCPK:ESALY). This week Belviq sales, according to unadjusted IMS Health data came in just below the 4,000 barrier.
Investors need to understand that even though prescription growth is progressing, the reaction to it is based on whether or not expectations are being met. As I have stated for quite some time, the expectations on sales have been very high. These high expectations were first set by analysts, then passionate investors, then Eisai, and finally Arena. A few weeks into sales Eisai backed off of its high expectation level by characterizing those goals as hopeful aspirations. Over the last two weeks we have seen analysts, for the most part, adjust expectations downward. As frustrating as that was for longs, it was necessary. The sales pace was simply not one that would arrive at the desired revenue targets. If you notice, despite the fact that IMS scripts were down week over week, the equity held the line.
This week, I have added two new lines to the chart series. The new lines, reflected in green and red, illustrate a pace to $35 million in 2013 gross sales to consumers (green), and about $23 million in gross sales in 2013 respectively. The $35 million sales level would translate into an estimated $17.5 million in net sales, and the Arena revenue share coming in at about $5.5 million from launch to the end of 2013. In my opinion, if you take analyst estimates and weigh them, the result may well have gross sales at between $30 and $40 million. This is a level I have stated was the current pace of sales in the weeks past.
Typically I list several qualifiers with respect to this chart. Rather than cloud this article, readers can find qualifiers on my Instablog here.
The chart below tracks IMS Health and Symphony Health sales data on an adjusted basis with comparisons to $150 million in gross sales by the end of 2013 (original expectations), $70 million in gross sales by the end of the year (where bullish analysts expectations were at launch), my estimate (depicted on the chart in green for the first time this week), and a conservative company estimate (depicted for the first time this week in red). This week the IMS scripts came in at just below 4,000. This represents modest week-over-week growth, but falls short of delivering a "wow factor". That being said, the "wow factor" is now getting more realistic, so the equity can be more stable. As stated in the qualifiers, I adjust the weekly number up by 30%. My adjusted IMS script number is just over 5,199.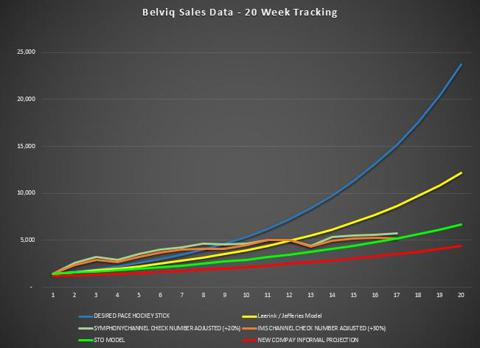 I have been cautioning readers with regard to flatter sales vs. expectation that were high. As you can see, the current adjusted script pace is now below the yellow analyst line that would, in theory, have generated a $12 price target (according to analysts). Those analysts have since adjusted their models downward. Scripts are also pacing well below the blue hockey stick model (illustrating an exponential type growth) that would pace Arena to $150 million in gross sales by the end of this year. This line is now "hopeful aspirations", and depicts where the start point was regarding the expectations set by Eisai. The current sales pace is above my estimate.
The 30-week chart below outlines the overall pace and projected paths through the end of 2013. The current pace for script sales is pointing toward about $30 million in gross sales to consumers by the end of this year. It would take roughly $68 million in gross sales to garner Arena the $10+ million in revenue analysts were looking for in establishing $12 per share valuation targets. Pooling analysts models together, the new expectation is between $5 million and $6 million with about an $8 price target. As you can see, we are pacing below the original territory and above my territory.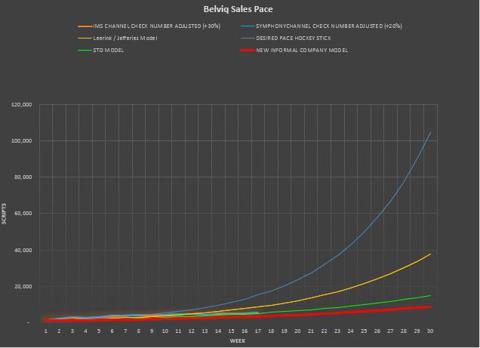 Investors need to remember that Arena is paid based on net sales, not gross sales. My analysis is that, based on a $199.50 per bottle gross sales figure, it would take about $35 million in gross sales to achieve $5.5 million in sales revenue to Arena. I apply a $100 per bottle net figure to the number of scripts sold to calculate a running total on theoretical revenue to Arena. Investors should note that Arena and Eisai recognize revenue when the wholesaler buys the drug, not the consumer. The data in this chart is reflective of consumer purchases of Belviq.
This week scripts were down 1% from last week by IMS and up 2% by Symphony. Essentially scripts were flat. The pace of sales is demonstrating that it will be a difficult challenge to get 2013 sales figures to the levels that the more bullish analysts had outlined, and why we saw adjustments from analysts. This does not mean that higher sales cannot be accomplished.
I want to reiterate that investors need to remember that there is an active traders dynamic to Arena and weekly scripts as well as sales pace play a major role here. When script numbers are low, the equity will suffer. At this point, to correct the trajectory we need to see a huge improvement over last week. There is longer term potential that still exists, but it is reliant on getting insurance coverage and direct to consumer advertising ramping up. With DTC ads now beginning, the insurance issue is a big one. There will likely be additional sales force increases dedicated to Belviq, but that will happen at the tail end of the year.
We are still early in the sales process, and refills are going to become another important item to consider. I will be addressing refills in another article. Earlier this week my refill article gave insight on some varying ways to look at how refills can help project action in the equity. Look for this week's refill article in the next two days or so.
Summary
· Weekly IMS numbers are down 1% week over week
· Current unadjusted IMS sales are at 52,228
· Current 30% adjusted IMS numbers are at 67,896.
· Estimated YTD gross sales (to consumers) is $13,545,341*
· Estimated YTD net sales (to consumers) is $6,789600*
· Estimated YTD Arena share (from sales to consumers) $2,138,724*
*Arena is not using sales to consumers to book revenue. It is using sales to the wholesaler to account for revenue. Eisai books sales to wholesalers as well. Weekly scripts are tied to actual consumer sales, thus the translation in revenue modeling.
Disclosure: I am long ARNA. I wrote this article myself, and it expresses my own opinions. I am not receiving compensation for it (other than from Seeking Alpha). I have no business relationship with any company whose stock is mentioned in this article.
Additional disclosure: I have no position in Eisai