This newly created portfolio, (Click Here For Complete Details) features some of the best stocks for income and a few of the potential future superstars for capital appreciation.
The brand new Team Alpha Growth And Income Portfolio consists of Apple (NASDAQ:AAPL), Ambarella (NASDAQ:AMBA), Cisco (NASDAQ:CSCO), CSX Corp. (NYSE:CSX), Chevron (NYSE:CVX), Ford (NYSE:F), Facebook (NASDAQ:FB), Galena (NASDAQ:GALE), General Electric (NYSE:GE), Altria (NYSE:MO), Johnson & Johnson (NYSE:JNJ), Coca-Cola (NYSE:KO), Mid America Apartments (NYSE:MAA), McDonald's (NYSE:MCD), Realty Income (NYSE:O), Procter & Gamble (NYSE:PG), AT&T (NYSE:T), Wells Fargo (NYSE:WFC), Exxon Mobil (NYSE:XOM), and Yahoo (NASDAQ:YHOO).
In today's article I will focus on what I consider one of the greatest potential small cap bio-tech stocks that I am currently aware of; Galena Biopharma.
Focus On GALE
I have been writing about GALE for several months now, and these two "small cap insight" articles should be reviewed by all those who have access:
1) Direct Answers From The CEO
2) Galena: David Battles Goliath
To place everything in perspective, GALE is currently in Phase 3 clinical trials of the cancer drug NeuVax. While trials are still ongoing, the company is now launching a brand new drug in the USA called "Abstral."
NeuVax has been showing excellent results. The drug is a treatment for breast cancer patients so that a recurrence could be forestalled or defeated. The drug is given after regular breast cancer treatment, and when the patients are found to be cancer free. It has been filling the clinical trials and should be complete by the beginning of 2014.
At the same time, GALE is announcing some significant progress during Phase 3 trials of NeuVax already:
NeuVax induces a full immune response in treated patients and creates an immune memory to target residual cancer cells
Phase 3 PRESENT HER2 1+/2+ patients confirmed as optimal treatment population
These two findings are significant because it validates the vital use of the drug itself, especially for HER1&2 positive patients, which is what the drug is specifically designed for. In this way, those with this genetic marker will have an unmet need for breast cancer recurrence treatment, after traditional treatment has been completed.
Here is what CEO Mark Ahn will be announcing as of this very week:
The oral presentation, entitled "Predicting Clinical Benefit After Completion of Treatment with the Adjuvant Breast Cancer Vaccine, NeuVax™ (nelipepimut-S or E75)," analyzed biomarker data and clinical outcomes from the NeuVax phase 2 trial. A number of variables were analyzed, including HER2 levels, effect of boosters, induction, and amplification of the NeuVax T-cell response. The data demonstrates that induction, rather than amplification, of an anti-HER2 immune response confers optimal clinical benefit and may partially explain why NeuVax works in HER2 IHC 1+/2+ patients with low-to-intermediate HER2 antigen exposure. This data is consistent with previously published biomarker data indicating a correlation between increasing NeuVax specific T-cells following vaccination and reductions in breast cancer recurrence rates.

"The presentation by Dr. Berry reinforces two key aspects of the NeuVax Phase 3 PRESENT trial. First, the data supports the correlation of the mechanism of action of NeuVax during the induction dosing. Second, immune T-cell response targeting HER2 expressing cancer cells correlates with reduction in recurrences in the target patient population, and that PRESENT is the patient population with women who have a low-to-intermediate expression of HER2 with an unmet medical need," said Mark J. Ahn, President and Chief Executive Officer of Galena Biopharma.
This drug will be the first of its kind in a wider scope than the drug Herceptin already has (if approved by the FDA), and the market potential could be enormous. Mark Ahn, Galena CEO, told me directly that the Herceptin drug market alone is roughly $7 billion. Here is what he had to say to my very direct question:
RS: How would you compare NeuVax to Herceptin in terms of potential revenues and profits?
MA: Herceptin revenues in 2012 were over $7 billion and the blockbuster drug addresses 20-30% of patients known as HER2 IHC 3+. By comparison NeuVax addresses 50-60% of patients who have no available therapy after their standard of care treatment.
Placing numbers in revenues and profits is generally a guessing game, but I believe that if NeuVax is approved by the FDA, revenues and profits could be close to the billions of dollars that Herceptin currently garners. Even 50% would be remarkably profitable for a small cap company with no revenues as of yet.
With the launching this quarter of Abstral, lack of revenues and profits should be an issue of the past.
The cancer pain drug industry has been growing as more and more patients become opiate resistant. Leading researchers estimate that the industry could be close to $4 billion by 2018. Here in the US, the market as of right now is estimated to be roughly $400 million, and GALE recently purchased one of the most effective drugs to counteract the "breakthrough pain," Abstral, from the Swedish drug maker Orexo. The drug is said to be "best in class" which spells revenue and income in my world.
Galena paid $10 million upfront to Orexo and $5 million within the first 12 months of closing, plus low double-digit royalties and one-time milestone payments based on pre-specified net sales. Given that if the drug taps only 25% of the US market, revenues could reach roughly $100 million, if it comes close to that percentage. Since "breakthrough pain" is said to affect between 40%-80% of all cancer patients, the market could conceivably grow just by the fact that opiate treatment for pain is so commonly used.
The FDA approved the drug back in 2011, it was purchased by Galena in March of this year. The next few quarters of 2013 should show some impressive revenues and earnings that up until now GALE did not have any of.
Abstral is now being launched!
Revenues, Profits, And $40 Million Raised With A Secondary IPO
In order for Abstral to be launched more effectively, GALE issued a very successful secondary stock offering that raised roughly $40 million in cash. This money should be sufficient to kick start the sales of Abstral, which will pour money into the company coffers virtually immediately.
As the market grows, both here and in the rest of the world, the company will not only have plenty of time to see it's "legacy" drug, NeuVax, complete Phase 3, but it should also be able to nearly fund the trials on its own!
That is no small detail. Keep in mind that the company is also partnering up with Teva Pharmaceutical (NYSE:TEVA) for sales and marketing of the pipeline of NeuVax drugs. TEVA will probably begin selling the drug in Israel, if approved, where the company's impeccable record could hold sway with the regulatory boards within that country. It is my opinion that patients in Israel will receive the drug first, as its approval process has been much swifter than our own FDA.
As noted in this report:
Kaplan Medical Center department of oncology head Dr. Noa Efrat, an investigator for the trial in Israel, said, "We are embarking on a very exciting and innovative venue for the adjuvant treatment of early breast cancer."

According to Galena Biopharma, NeuVax is vaccine aimed at preventing or delaying the recurrence of breast cancer in cancer survivors. In clinical trials thus far, it has been proven safe and effective, and it is now entering Phase III testing in the U.S.
With the launch of Abstral to basically fund the NeuVax trials, I also believe that TEVA could very well wind up to be more or less of a cash cow, if GALE happens to need extra funds. In addition, this partnering seems to pave the way for a potential acquisition for TEVA, but that remains to be seen, and I believe the true value of the stock is in the company pipeline of drugs.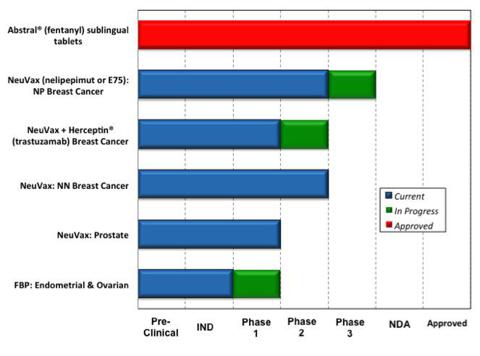 This chart, which has been repeated in various articles, basically tells investors how well GALE has actually been doing with its drug pipeline. That being said, the company could also benefit from some new HER genetic testing guidelines.
The New Testing Guidelines Should Expand The Market For NeuVax
I believe that the recent announcements of new testing guidelines, puts a strong tailwind at the back of NeuVax, when/if approved, and the future growth prospects of GALE itself.
In this report, the testing guidelines that are specific to NeuVax, will clearly enable physicians to classify even more patients that will require the therapy that NeuVax will offer.
Oncologists should determine HER2 status for every invasive breast cancer, including recurrent disease, and adhere to specific histologic criteria to define positive, equivocal, and negative results, according to an updated clinical guideline.....Every tumor must be tested for HER2 protein expression by immunohistochemistry (NYSE:IHC) or for HER2 gene expression by single- or dual-probe in situ hybridization (ISH) assay, using only validated tests, preferably those approved by the FDA, according to the guideline developed by the American Society of Clinical Oncology and the College of American Pathologists.
Here are the key takeaways:
An updated clinical guideline states that oncologists should determine HER2 status for every invasive breast cancer, including recurrent disease, and adhere to specific histologic criteria to define positive, equivocal, and negative results.
Note that the guideline recommends that breast cancer specialists recommend HER2-targeted therapy if the test is positive and delay a decision about HER2-targeted therapy if the initial HER2 test result is equivocal.
I urge you to read the linked report, as this is quite a step for GALE, as the new testing requirements WILL expand the market. As the market is expanded, so will the potential for enormous growth within GALE, as well as shareholder value.
To me, this new testing requirement has even upped the ante for some of the big drug companies to actually buy GALE out completely (I still believe that TEVA has the inside track however).
Since the secondary stock offering (see links above) has also placed a relative "floor" on the share price of $2.00 (that is what the secondary was priced at) the upside potential is apparent, and in the hopes of not exaggerating, could be enormous.
My Opinion
Keep in mind that this is still a tiny company with just one drug (Abstral) on the market. That being said, the reasons I have included a strong allocation in The Team Alpha Growth And Income Retirement Portfolio as well as our Young And Restless Portfolio are noted not only in the content of this article, but in various other articles that have focused on GALE.
As far as I am concerned, once NeuVax is FDA approved, with the dramatic announcement of the new testing requirements as a MAJOR catalyst, GALE could make smart investors a lot of money.
Disclaimer: The opinions of this author is not a recommendation to either buy or sell any security. Please do your own research prior to making any investment decisions. Also, please note that the author is NOT an expert in the cancer research bio-tech market, but does have a family member undergoing breast cancer treatment.
Disclosure: I am long AAPL, AMBA, CSCO, CSX, CVX, F, FB, GALE, GE, JNJ, KO, MCD, MO, O, T, TEVA, WFC, XOM, YHOO. I wrote this article myself, and it expresses my own opinions. I am not receiving compensation for it (other than from Seeking Alpha). I have no business relationship with any company whose stock is mentioned in this article.