Caterpillar's (CAT) stock is currently trading at $85.67, lower from its 52-week high of $99.70. The stock hasn't shown much movement in the last six months as depicted in the chart shown below.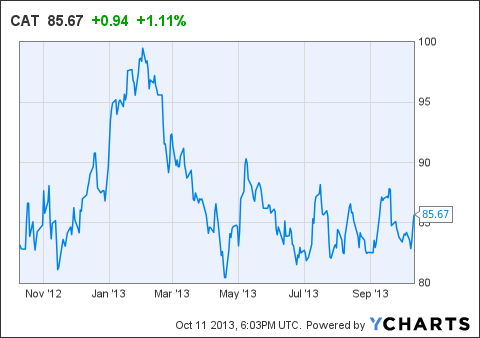 CAT data by YCharts
However, we feel that Caterpillar's stock has upside potential attributed to its growth in developing countries like China and India. The company expects to grow with the economic growth of these regions. Besides strong fundamentals, Caterpillar's strong valuation also supports its growth prospects.
Offsetting headwinds from mining
Caterpillar generates one-third of its total revenue from its mining business. The company sells mining machines to its dealers, who in turn sell them to mining companies. Caterpillar revealed its Dealer statistics report of August 31, 2013, which indicated that global sales by its dealers declined 10% year over year. The demand for metals declined this year due to turmoil in the European economy. Declining demand for metals led mining companies to cut their capital spending for metals mining by 16% this year as compared with 2012. This led to a decline in global sales from Caterpillar's dealers.
To partially offset this headwind the company is aggressively cutting cost and focusing on growth from developing economies. Under its cost cutting strategy Caterpillar is shutting down its factories and laying off employees. It is expected to shut down a tunnel boring machine factory in Toronto by next year. Moreover, by the end of its second quarter Caterpillar had 122,402 employees worldwide, a decline of around 10,000 employees year over year.
Caterpillar produces construction and earthmoving machines in China. Since it is the world's largest producer of this equipment, it is best positioned to capitalize on China's growing economy, which is growing due to urbanization and improvement in the standard of living of China's residents. Growth in the economy is expected to increase demand for energy, metals and infrastructure, which in turn will drive growth for Caterpillar in China. In the second quarter of fiscal year 2013, Caterpillar reported growth of 20%, excluding acquisitions, year over year from its Chinese operations. With the long-term growth prospect, we expect that this growth rate will continue.
The company also considers India as another significant growth opportunity. The Indian construction sector is expected to increase to 7.6% in fiscal year 2013-2014, as compared to 6% growth in fiscal year 2012-2013. The higher growth expectation is attributed to better monetary conditions and government support. The Planning Commission of India expects to double its investment in India's infrastructure to around $1 trillion in its 12th five-year plan. With these growth figures, Caterpillar is well positioned to grow in India.
This is substantiated by the country manager of Caterpillar India, Ajay Shankar, who stated, "Caterpillar is optimistic about India given the growth potential of the economy and our company hopes to be well-positioned to serve customers in this important Asia-Pacific market".
The company has grown by more than 30% over the past two and a half years in India, and expects similar growth in the long term. With these growth factors in developing economies and its cost cutting plans, we expect the company to boost its revenue in the long term.
The competition
Another player in the farm and construction machinery industry is Joy Global (JOY), which is also adopting a cost cutting strategy. Joy Global produces 66.67% of its total revenue from sales of coal to miners. This segment is facing headwinds due to declining coal prices. Due to the decrease in coal prices, coal miners reduced their capital spending, which reduced Joy Global's orders. According to Joy Global, its coal customers reduced capital spending by around 50% and orders declined 36% year over year to $695 million in the third quarter of fiscal year 2013.
The first phase Joy Global's cost cutting plan commenced in the second half of last year, and the second phase started this year. Under its cost cutting plan, the company is expected to generate around $65 million in savings by 2014. In its last fiscal year the company reported revenue of $5.66 billion, out of which $3.77 billion was contributed by sales of coal. We expect that the cost saving plan of $65 million will be able to save merely 1.7% of this revenue contribution. This major headwind due to coal also reflects in the valuation of Joy Global and may hamper its earnings going forward. The company's trailing price to earnings, or PE, ratio is 7.74, significantly lower than the forward PE of 13.39.
On the basis of market capitalization, Caterpillar's nearest competitor is Deere (DE) in the farm and construction machinery industry. On September 30, 2013, Deere completed the acquisition of Bauer Built Manufacturing, an Iowa-based company that designs and manufactures agriculture equipment. Deere acquired Bauer to expand its agriculture equipment product portfolio and enhance its services globally. As per the deal, Deere purchased designs, intellectual property, inventory, and equipment of Bauer. In the third quarter of fiscal year 2013, Deere's global sales increased 4% year over year. As this deal will benefit Deere's global services, we expect this growth rate will continue next year. Besides this acquisition, Deere also expects to grow with its investment plan in Brazil, which we discussed in our earlier article on Deere. Going forward, these factors will generate significant revenue for Deere.
Please read: Deere Bulls: Don't Hit The Panic Button Yet
Stock Valuation
Caterpillar's growth prospects are substantiated by its stock valuation. Its 12-months trailing PE ratio is 13.28, higher than its forward PE ratio of 11.67, signifying that the stock is currently undervalued. Its price-to-earnings growth ratio is 0.66, which also favors growth of Caterpillar's stock in the future. The farm and construction machinery industry's price to book, or P/B, ratio is 4.8, compared to Caterpillar's P/B ratio of 3.11. All these valuation parameters hint at Caterpillar's growth perspectives. The company's growth in developing economies like China and India also supports its strong valuation.
Conclusion
Caterpillar's fundamentals and stock valuation support its growth in the long term. Its long dividend history, as depicted in the chart shown below, also boosts our confidence in this stock.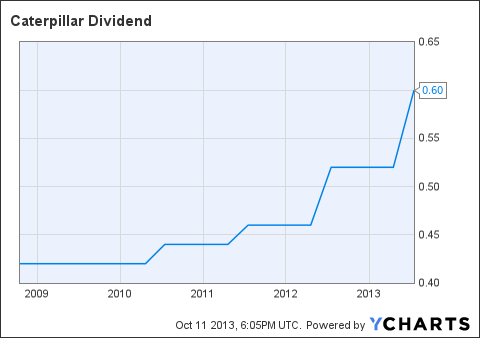 CAT Dividend data by YCharts
The company paid a dividend of $0.60 per share on August 20, 2013, which is a growth of 15% from the dividend it paid a year ago. Additionally, Caterpillar announced an accelerated stock repurchase program on July 29, 2013; it repurchased shares worth $1 billion in the third quarter of fiscal year 2013. This program is a part of Caterpillar's share buyback of $7.5 billion authorized in February 2007. Under this program, the company has repurchased shares worth $5.8 billion by the end of the third quarter of fiscal year 2013. With $1.7 billion still remaining under this share repurchase program, we expect it to further boost Caterpillar's stock going forward. The share repurchase program is expected to end in December 2015. Considering all these aspects, we rely on the growth opportunities of the stock and recommend a buy.
Disclosure: I have no positions in any stocks mentioned, and no plans to initiate any positions within the next 72 hours. I wrote this article myself, and it expresses my own opinions. I am not receiving compensation for it (other than from Seeking Alpha). I have no business relationship with any company whose stock is mentioned in this article.
Additional disclosure: Fusion Research is a team of equity analysts. This article was written by Shweta Dubey, one of our research analysts. We did not receive compensation for this article (other than from Seeking Alpha), and we have no business relationship with any company whose stock is mentioned in this article.