On Tuesday, AudioCodes (NASDAQ:AUDC) put out a press release introducing its "One Voice for Hosted Services" program. While AudioCodes didn't mention BroadSoft (NASDAQ:BSFT) by name, this announcement was all about BroadSoft. This was evident as in the press release it was BroadSoft's CEO who was quoted, stating how the program will benefit his company's deployment of BroadCloud® and BroadWorks®. I believe that with Tuesday's announcement, AudioCodes will now have the same type of relationship with BroadSoft and the carrier side, that it has with Microsoft and the enterprise side through its One Voice for Microsoft Lync program. This could be huge.
One Voice for Microsoft Lync:
AudioCodes' recent turnaround has mainly been the result of its success in partnering with Microsoft (NASDAQ:MSFT) and putting its resources behind developing products for Lync. This culminated in One Voice for Microsoft Lync that was a complete end-to-end solutions suite of products and services for companies installing Microsoft Lync. For the first time an enterprise has a one stop shop for everything they needed in hardware and support when installing Lync. The success has been immediate, after 3 months of Lync One Voice; AudioCodes' CEO said on the conference call that he was expecting "hockey-stick' growth in the next 6 to 9 months. Then on last quarter's conference call, he announced that the One Voice for Microsoft Lync contracts that were being signed were the largest deals he had ever witnessed and were for longer durations.
One Voice for Hosted Services (BroadSoft):
BroadSoft is a cloud based Hosted PBX company that enables telecommunication carriers to provide PBX systems to its customers. BroadSoft hosts these services in the cloud. While its PBX is in the cloud, companies still need hardware on its premises that can connect them to the cloud. This is where AudioCodes comes in, AudioCodes will be partnering with BroadSoft and delivering the IP phones, gateways, session border controllers (SBC's), and routers that companies need to access BroadSoft's cloud based PBX, It will also provide additional services such as installation, network monitoring and support and maintenance. In short, BroadSoft provides carriers with hosted PBX solutions and it will now be able to offer carriers AudioCodes' products as part of this deal. With more than 500 telecommunications service provider customers, and serving 18 of the top 25 largest telecommunications carriers in over 65 countries, partnering with BroadSoft is a huge opportunity for AudioCodes.
AudioCodes' Hosted Opportunity:
I believe that AudioCodes is taking advantage of a unique opportunity that presented itself last year when Acme Packet was acquired by Oracle (NASDAQ:ORCL). Prior to the acquisition, Acme Packet had been BroadSoft's biggest partner, supplying the IP hardware. After the acquisition, it is my opinion that customers have been shying away from Oracle due to some headwinds in integration. I believe that BroadSoft turned to AudioCodes with whom it had been working for the past two years. AudioCodes seized the opportunity, began working more closely with BroadSoft and it paid off with Tuesday's announcement.
Hosted PBX Growth Trends:
According to Infonetics, the SIP trunking market is expected to grow from 6.8 million sessions in 2013 to almost 40 million sessions in 2017. Jefferies Equity Research estimates that by 2017 almost 50% of all global voice lines will be through VoIP as VoIP business seats grow from 44 million today to 149 million in 2017. BroadSoft currently has about a 5% share of the cloud-based communication market. It could easily double this over next few years and with AudioCodes now partnering BroadSoft it will be a direct beneficiary of this growth.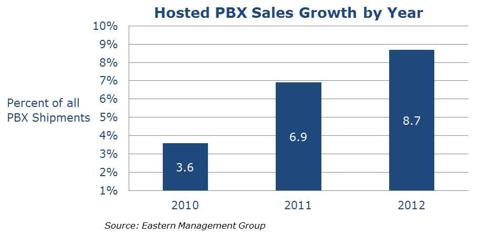 Vonage buys Vocalocity:
Yesterday, Vonage Holdings (NYSE:VG) announced that it would acquire cloud-based communication company Vocalocity for $130 million. Vonage is paying 3x sales and it only goes to show that this is a hot sector and we should continue to see strength and further consolidation. It also reinforces the value of AudioCodes announcement and confirms BroadSodt CEO's comments that we will see strong growth in 2014. More than ever, AudioCodes' platform makes sense. While I described how AudioCodes' One Voice for Hosted Services would bring in revenue from its partnership with BroadSoft, it is not an exclusive deal so we could still see many other cloud-based communication companies contacting AudioCodes for its quality products, service and support.
VMAS for BroadSoft:
AudioCodes spent years developing VMAS which is an Over the Top (OTT) solution for Unified Communications (UC). VMAS consists of a Client Management Systems and a mobile soft client that can be downloaded as an app on all the leading smartphones. OTT has been a headache for the carriers as it allows cell phone users to make calls over IP networks, which bypasses the carriers. The carriers have been trying unsuccessfully to get a handle on this. I believe they have finally settled on a "If you can't beat them join them" outlook. While carriers don't want callers making VoIP calls, if they are going to make them anyway, then the carriers would like to be in control of the calls.
For the last few years, AudioCodes has been working with BroadSoft to develop a VMAS solution for BroadSoft's BroadWorks® server. I believe that carriers will be pushing BroadSoft to roll this out so that the carriers customers so that they will have an IP based Unified Communication (UC) platform for their mobile devices. The VMAS for BroadSoft enables VoIP and video calls, the use instant messaging, presence, and access the company directory all through the cloud based server. With Tuesday's announcement, I believe we are going to see a further push by BroadSoft to introduce VMAS to its existing carrier client base. As BroadSoft's President and CEO recently said on the last conference call;
"We believe our performance is being driven by the growth and the adoption of unified communications as a result of an increasingly mobile workforce. Employees want the flexibility to determine when, where and how they work. The growth in mobile and dispersed workforces is driving enterprises to seek critical business tools, such as unified communications, that allow remote teams to easily collaborate and speed decision-making. Many in the industry believe that hosted unified communications is targeted to small and midsized business segment. However, we're seeing some of the most demanding and innovative large enterprises around the world looking to move their unified communications capabilities to the cloud, and these enterprises are looking to our service provider partners to deliver these solutions."
Clearly BroadSoft's CEO sees the need for mobile workers to access the cloud from their mobile phones and I believe AudioCodes and its VMAS will be the primary beneficiary of this.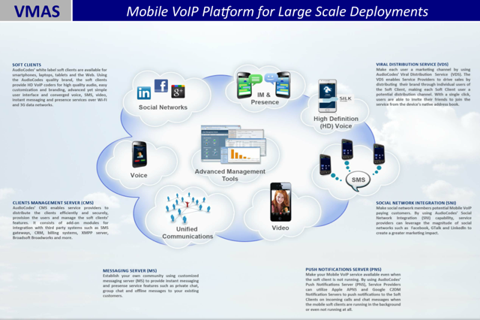 Raising Estimates:
As I take the BroadSoft relationship into account I am adding a conservative $5 million to my 2014 revenue estimates and $10 million to my 2015 estimates.
Revenue Estimate
2014
$160MM (7% legacy)
2015
$180MM (4% legacy)

Earnings Per Share
2013
$0.15 - $0.16
2014
$0.30 - $0.32
2015
$0.60 - $0.63
I believe that in late 2014 and all of 2015 we could see new accretive revenue sources from software and app related acquisitions paid for from quarterly cash generation. Hence, this could make me raise 2015 estimates raised to $200 million or $0.70 - $0.75 per share.
Gross margins will hold at 59% - 61% in 2014.
I believe software acquisitions, services momentum, current software related products and diminishing legacy sales will hold margins firm at the 60% level.
Valuation:
AudioCodes has a market capitalization of $245 million and will have net cash of approximately $60 million by year end. In essence, the company is trading at a $185 million market capitalization, entering what BroadSoft's CEO calls a strong 2014 for UC. I have my estimate at $160 million for 2014 vs. Oppenheimer's $148 million. Considering Oppenheimer downgraded AudioCodes prior to the BroadSoft deal, I have to believe that there must be upside to his $148 million estimate. It also, places another brick on the AudioCodes One Voice authority wall, making it start to deserve a higher multiple as revenues broaden and deepen throughout the main players in Avaya, Microsoft, BroadSoft and Interactive Intelligence (NASDAQ:ININ).
AudioCodes should grow EPS by 100% year-over-year for the next 2 years. I believe that once institutions see a Q3 2013 that builds off my estimates, then we will see a multiple expansion; a 25 - 30 multiple would be a conservative PEG (Price Earnings to Growth) ratio when a company growing its EPS by 100% in a hot sector. I think a strong quarter with a positive outlook should deliver a 30 multiple on my 2015 estimates in the quarters to come.
Price Targets
1-3 months
$9 - $10
3-6 months
$10 - $15
6-15 months
$15 - $21
I believe the multiple can get as high as 35 if AudioCodes delivers more partnerships along with smart accretive acquisitions that don't use stock. The first test will be when the company reports earnings and follows up with investors post conference call.
Post Conference Call:
If AudioCodes attends Needham's Second Annual Next-Gen Networks Conference, it could experience the most demand yet from institutional investors wanting to hear news from the company. Needham & Company will host its conference at its New York headquarters on November 5th. This conference is geared towards investors looking to better understand which infrastructure providers are best positioned to benefit from secular trends such as the transition from circuit switched to IP networks, the deployment of ubiquitous, mobile broadband and the advent of software defined networking, or SDN. The event will feature a variety of public and private companies focused on providing communications infrastructure used in enterprise, wireline and wireless networks. Investors will have a chance to hear from the CEO's and/or CFO's of these companies in both formal presentations and one-on-one meetings, which will be available throughout the day for qualified institutional investors and venture capital firms. I expect AudioCodes to be in attendance.
Needham & Co., Benchmark Company and Northland Securities remain on the sidelines, by with the potential to step in at any time with new sell side coverage, but it's the buy-side that seems in tune with AudioCodes' presence in the UC space and the disconnect that remains in valuation. The next 3 months could be where buy-side and sell-side positively meet with AudioCodes.
Oppenheimer Downgrade:
On Wall Street, they say if you want a friend, get a dog. It's unfortunate that Oppenheimer, the lone real analyst that followed AudioCodes took what I see as an inopportune time to downgrade the shares. It was Oppenheimer that took AudioCodes public back in the 2000 era and it climbed to a $1 billion market capitalization with a lesser product portfolio and a more fragmented UC market. Today, the cost savings from IP based hosted and SIP trunking phone services are revolutionary to both enterprises and carriers. The trend is obvious and AudioCodes is attacking it aggressively with the right partnerships (BroadSoft, Microsoft, Interactive Intelligence Group and Avaya) just like they attacked its legacy mess in 2011 and 2012 with a cost effective buyback, expense reductions and new R&D initiatives. I think the next wave will see AudioCodes' mobile VoIP being adopted by BroadSoft's extensive carrier base along with a strong push in services. To me, as a long term holder, I think AudioCodes deserved the benefit of the doubt, but this is what makes markets. I think AudioCodes is going to shine through. Oppenheimer is either going to raise its target to $10 or stay sidelined which is ok by me.
Chart: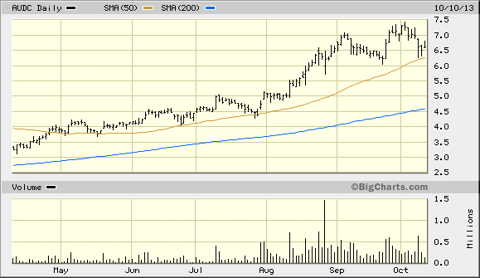 I believe that we have been presented with an unexpected buying opportunity ahead of earnings, the result of Oppenheimer's downgrade. AudioCodes has tested its 50 day moving twice over the past week and that is a buy signal. I believe it presents a great risk reward opportunity here.
Conclusion:
AudioCodes is no stranger to BroadSoft and the partnership will build up AudioCodes' carrier side on top of its already strong enterprise side. This relationship will complement and strengthen both sides of the equation. I believe that AudioCodes' IP cloud-based VMAS could make my estimates look ridiculously cheap on the top as well as the bottom line since VMAS will be licensing revenue. We should see buying intensify once institutions hear from the company itself.
Disclosure: I am long AUDC. I wrote this article myself, and it expresses my own opinions. I am not receiving compensation for it. I have no business relationship with any company whose stock is mentioned in this article.