The clouds have just lifted for this week's high dividend stock, which is listed in the Basic Materials section of our High Dividend Stocks By Sector Tables. Like the stock in last week's article, this company went public in 2012.
Profile: Hi-Crush Partners LP, (NYSE:HCLP), is a pure play, low-cost, domestic producer and supplier of premium monocrystalline sand, a specialized mineral that is used as a proppant ("frac sand") to enhance the recovery rates of hydrocarbons from oil and natural gas wells (Source: HCLP website).
As a supplier of frac sand, HCLP is in a very fast growing niche within the booming US fracking industry. Even though the amount of wells being drilled may have slowed its pace since 2006, drillers are using much higher amounts of proppant in their drilling activities...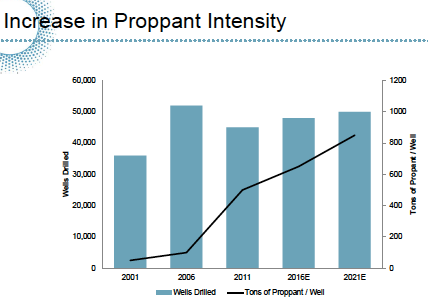 ...and demand for raw sand is expected to nearly double by 2021: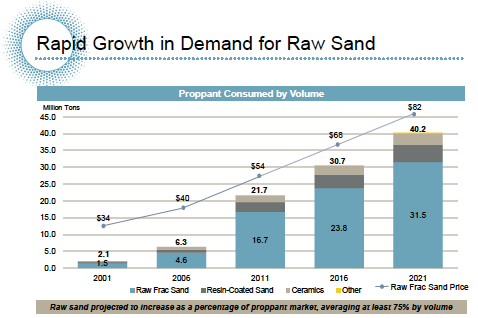 Dark Cloud Lifted: HCLP had been involved in a lawsuit with Baker Hughes, (NYSE:BHI), one of its biggest customers, after BHI cancelled its long-term supply contract with Hi-Crush. However, this week, on October 10, 2013, HCLP announced that, not only had it settled this dispute, but it has also entered into a new six-year supply agreement for the sale of Northern White frac sand by Hi-Crush to Baker Hughes.
Competitors: We looked at HCLP's publicly traded competitors to see how it stacks up. Three out of 4 of these firms have gone public in 2012-2013. HCLP looks undervalued on a P/E basis, and, like its peers, has a low 2014 PEG. In addition it has the lowest 5-year forward PEG ratio. There's another high dividend stock in this sub-industry, Emerge Energy Services LP, (NYSE:EMES), which just went public in 2013. EMES's dividend yield is based upon a pro-rated $.70/quarter distribution, since it declared a payout of $.37 for the shorter amount of time from its May IPO, to the 6/30/13 end of its quarter. We also stripped out the IPO costs for EMES to arrive at its P/E value.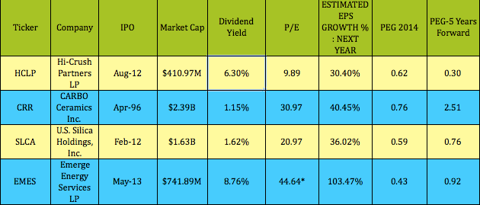 Competitive Edge: With its recent purchase of D&I, HCLP now has twice as many terminals in the Utica Shale, and 3 times as many distribution outlets in the Marcellus Shale as its closest competitors: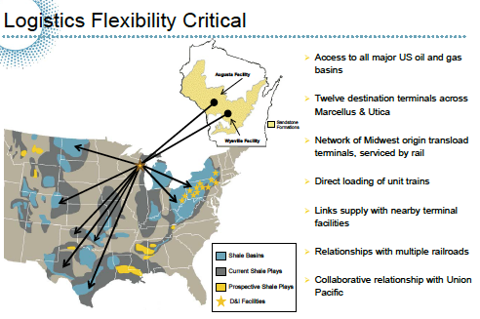 Dividends: After its initial distribution of $.237 in October 2012, HCLP has maintained its quarterly payouts at $.475 for the past 3 quarters. It had a Distribution Coverage of 1.13 as of Q2 2013.

Options: HCLP also has interesting options yields. Depending upon your forward bias for this stock, you can earn over 9% in about 6 months, via selling cash secured puts, or, alternatively, sell covered calls out of the money, to bet on future price gains for HCLP. HCLP and its competitors have had quite a run up this year: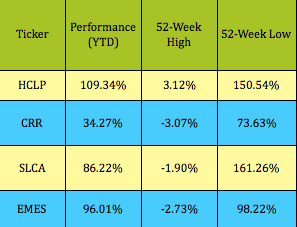 Puts: Even though HCLP has had a big jump this week, since the Baker Hughes announcement, you can still earn nearly 10%, and achieve a lower breakeven, via selling cash secured puts below its share price.
You can see more details for this and over 30 other put trades in our Cash Secured Puts Table:

Calls: Conversely, if you think that HCLP has more room to run, this April covered call trade has a $35 out of the money strike, which offers a lot of room for potential price gains, in addition to additional call option income.
Our Covered Calls Table lists more details for this and over 30 other trades:

This is a breakdown of the 3 major scenarios for this trade:

Financials and More Valuations: Small caps HCLP and EMES both have attractive Management Efficiency ratios. However, as a low cost producer with a logistical edge, HCLP has the highest Operating Margin in this group:

Disclosure: Author was short HCLP put options at the time of this writing.
Disclaimer: This article was written for informational purposes only.
Disclosure: I am long HCLP. I wrote this article myself, and it expresses my own opinions. I am not receiving compensation for it (other than from Seeking Alpha). I have no business relationship with any company whose stock is mentioned in this article.
Additional disclosure: I'm long HCLP, via being short HCLP put options