Asian and euro asset gains have so far not been able to match yesterday's North American market advance closeout on speculation that U.S. lawmakers will reach an agreement on raising the nation's debt limit to avoid a default. Reports that the U.S. is possibly drawing closer to a short-term resolution on the "ceiling" have boosted investors risk appetite. In truth, neither political side in Washington is willing to concede ground or lose face - the only thing anyone seems assured of is that there remains a partial U.S. government shutdown and that the U.S. debt ceiling has not been raised.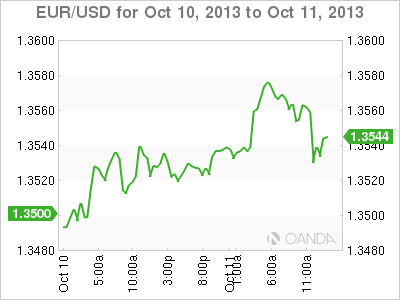 The Republicans and the Obama Administration at least describe the talks as being constructive and pledged to continue to talk to avoid a default and end the governmental shutdown. The prospect of a short-term debt limit increase would obviously bode well for risk sentiment. Should Congress come to a meaningful agreement today ahead of the long weekend, the greenback would be expected to reinforce its dominance ever so slightly against the historically low yielding currencies such as JPY, EUR and GBP. Any "risk-on" reaction would favour the USD lower against the Emerging Market currencies, especially in light of the Yellen nomination and increasingly delayed prospects for asset tapering.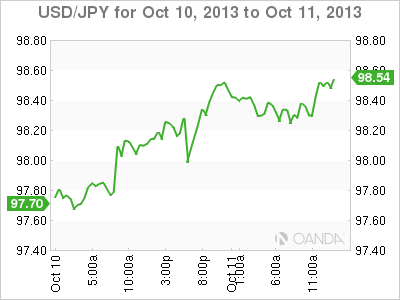 However, a resolution within the next few days should not be relied upon - given that the U.S. is not expected to run out of cash until early November there is no immediate urgency for either politicking party's grandstanding to end. Investors should be prepared for either side to push negotiations to the upper most limits. Thus far, the risk happy currencies are steadily moving north - the 17-member EUR currency has managed to print a fresh two-day high (1.3578), but it's now entering territory where several small resistance levels are beginning to appear (1.3585-10). Yen outright remains at odds with the dollar and trapped between its 50 and 100-day moving average (98.30-60). The EUR/JPY continues to show strong upside momentum leading the currency pair to new overnight highs towards the 134 resistance level - the last line of defence protecting this past summer's peak (134.95).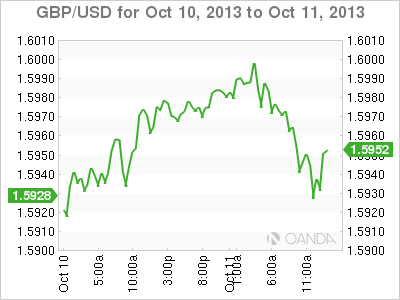 Sterling briefly regained a 1.60 print but managed to give that up rather quickly ever since U.K. August construction output printed a discouraging +4% (expecting +5.2%) on the year earlier this morning. The disappointing British construction reading is the latest piece of official data to cast doubt on U.K. business surveys that have indicated economic growth in Q3 - it's in fact the third piece of disappointing data this week (UK factory output and trade performance also disappointed). These figures are in contrast to the private sector surveys, which portray economic growth for Q3.
Before closing up shop for the long weekend in North America a couple of economic releases either side of the 49th parallel could make the markets rather interesting. On the job front, Canada goes it alone with its reporting. The market is not looking at anything within striking distance of last month's whopping +59.2k reading reported in August - consensus is expecting a cooler +5k print with no change in the unemployment rate at +7.1%. Investors continue to anticipate that the Bank of Canada needs to see evidence of significant improvement in the activity data in order to upgrade its outlook and drag the loonie higher outright. For now the CAD remains contained in its tight range of 1.0350-1.0450.
Perhaps more of a slam-dunk would be assuming U.S. consumer sentiment to drop to a two-year low this morning (72) because of the U.S. government partial shutdown. The final September report said consumers "…do not expect the President and Congress to be careless enough to allow intransigence on the federal budget and debt ceiling to shut down the government." But look how very wrong they were!