In the last one year, Ford Motor (NYSE:F) gave stupendous returns to investors, and outperformed its competitor, General Motors (NYSE:GM). Ford gave an investment return of around 65%, and with the improvement in economic stability, increasing footprints in emerging markets, and rising sales volume will give an upside to the stock in the long term. Moreover, valuation of the stock is attractive at this price level, despite a fabulous bull-run, and investors should consider buying this stock at this price. Let's see what are the factors that will be responsible for increasing its growth.
September auto sales data
In the U.S., vehicle sales declined from 16.09 million in August 2013, to approximately 15.28 million in September 2013. However, Ford Motor continued to grow its sales numbers, while General Motors failed to maintain its sales, and eventually ended up below the consensus estimates.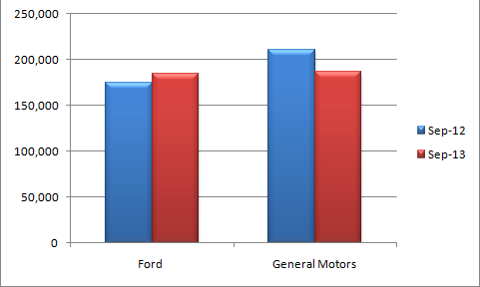 Ford continued to strengthen its sales numbers and experienced a 6% year-over-year growth. On the other hand, General Motors was hit hard during this month and its sales declined by around 11%. Ford is moving toward better sales numbers this year than General Motors and is expected to see a rise in the overall sales in the third quarter of this fiscal year. While, General Motors is aiming to post better vehicle selling numbers through its Chevrolet Silverado and GMC Sierra, by offering a $1,000 cash discount on Silverado and $500 discount on highly priced packages like All Stars and Texas editions. General Motors is trying to seize the attention of customers as competition becomes tough and to keep up with other manufacturers who are offering discounts.

Moreover, Ford posted double-digit sales growth, while General Motors' sales grew to around 8%, in-line with the industry's average.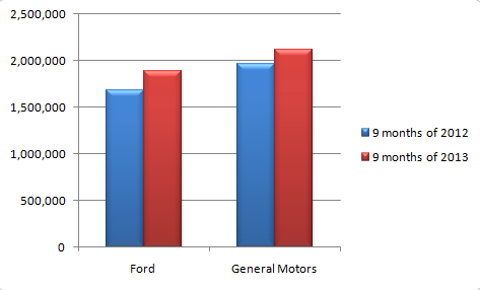 Fusion and Fiesta were the top-selling points for Ford, as customers continued to gravitate toward these vehicles. Fusion's deliveries jumped by almost 20,000 units year-over-year, while Fiesta experienced growth of around 28.5% to above 5,000 units. However, due to the increasing competition, the company's second bestselling car experienced a decline of around 15%.
Ford's truck segment in North America

In the overall revenue of Ford's truck segment is a major contributor; it generated revenue of around $50.2 billion in the last year. The company is experiencing the success of its F-series of trucks and I think this will continue next year as well, as it will roll out its new lightweight truck Atlas, which is expected to increase Ford's dominance in North America. Atlas will be a new generation light pickup vehicle, with better fuel efficiency, and usage of aluminum will reduce its weight by around 300 kilograms. Ford Atlas will be priced at around $29,410 which is in line with the company's other pickup trucks. Moreover, the company's average price per truck of $30,000 is estimated to increase this year by around $1000. I assume this price rise will be mainly due to the increase in raw material price, improvement in the quality of the trucks, such as their fuel efficiency and styling and, marketing costs. In addition to this, with the improvement in the U.S. housing market, sales of trucks will rise, giving way to further monetizing opportunities to Ford.
Car segment
Ford has a complete portfolio of cars, which includes Fiesta, Fusion and Mustang. Average price per car of Ford was around $23,000 last year, and is expected to increase to $23,700 this year. Constant improvement in quality and the production of fuel-efficient cars are the reasons behind this rise. In addition, Ford says these cars are more reliable and fuel efficient in comparison with cars of other manufacturers. However, there is a chance that Japanese car manufacturers can halt the growth of Ford in North America, as these manufacturers have recovered from natural calamities in Japan two years back and have advanced technology. Ford had a market share of approximately 10.5% in the last fiscal year, which I believe will improve this year because of company's focus shifting toward producing smaller cars.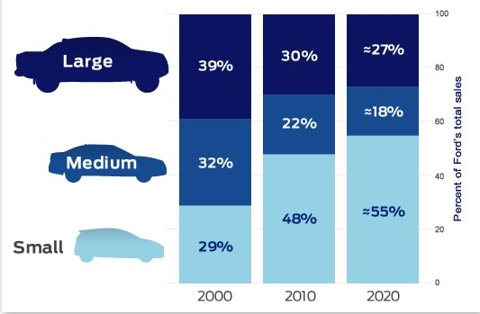 Source: Company data
Ford is focusing on small cars in-comparison to large and medium cars to attract younger customers, and these cars will fuel the company's sales in emerging countries like China, and India, which are powerhouses of car buyers.
Ford's advantage in China
I think Ford is getting an advantage over the Japanese car manufacturers in China, due to recent border issues between China and Japan. Non-Japanese car manufacturers are getting an advantage due to this issue and this is reflected in Ford's sales volumes in China. The company achieved 2 million car sales in China and sold 394,017 units this year, a year-over-year growth of around 70%. Moreover, Ford will increase its dealerships in China from 476 in June 2013, to around 540 by the end of this year. The company has plans to further increase the number of dealers and will have around 700, which will grow the revenue of Ford in China. This strategic move of the company will certainly increase sales, as there are huge potentials lying in China.
China has a low car-ownership ratio as only 60 people who own cars per 1,000 while in the U.S., 800 individuals have cars per 1,000 people. Therefore, there is an obvious growing space for Ford in China, and the company's effort to move to smaller cars will also help in increasing its market share in the country. I assume these developments are in line with the company's expectations to double its market share in China, and fuel its growth in the long term.
Valuations
Ford is trading at a PE of 11.14, while General Motors and Toyota (NYSE:TM) have a PE ratio of 12.49 and 16.40, respectively. In addition, the PE ratio of Ford is lower than that of the average industry PE of 13.88, which gives me the impression that the stock will have upside from the current price. The company had shown better sales growth of around 14.71% in the second quarter, year over year, and managed to have trailing 12-months, or TTM sales growth of 6.92% year over year. On the other hand, General Motors has quarterly sales growth of 3.88% on year-over-year basis, which is significantly lower than the sector's average sales growth of 6.41%. General Motors' TTM sales growth is also lower than the sector's average of 16.85%. These factors are mitigating factors for General Motors, but Ford's sales growth rate seems healthy and I am expecting better annual results in this fiscal year.
Conclusion
Profitability margins of Ford are lagging behind the industry average, but these margins are better than General Motors. Ford has managed to have a gross margin of 13.41%, while General Motors is behind in this metric. I think the company will get the advantage of these margins as I am expecting sales volume growth this year. Also, I will remain optimistic on the company's operations in China, which will drive up revenue in the long term. Investors should expect better year-end results of Ford and should continue holding this stock to gain higher returns, which is very likely to happen.
Disclosure: I have no positions in any stocks mentioned, and no plans to initiate any positions within the next 72 hours. I wrote this article myself, and it expresses my own opinions. I am not receiving compensation for it (other than from Seeking Alpha). I have no business relationship with any company whose stock is mentioned in this article.