In terms of the number of prescription drugs filed in its stores, CVS Caremark Corporation (CVS) ranks first in the U.S. Last year, the company gained new prescription drug customers due to the Walgreen (WAG) payment dispute with Express Scripts, which led to incremental revenue for CVS.
Market share of Prescription Drugs - Facing Challenges
Prescription drugs are licensed medicines that require a medical prescription for purchase and consumption. In terms of prescription drugs, CVS accounts for 19% of the total market share, and it earns approximately 28% of its total revenue from prescription drugs.
Last year, the company earned $43.7 billion from prescription revenue, and its competitor, Walgreen, earned marginally lower revenue of $42.8 billion. The reason behind its higher revenue was Walgreen's dispute with Express Scripts, causing Walgreen customers to move toward its competitors. With this, CVS gained approximately, 6.5 million to 7 million new prescription files, which lead toward higher revenue.
According to Trefis, total U.S. revenue from prescription drugs is growing 5.3% annually and is expected to reach $350 billion by the end of 2015. Despite of this growth, CVS is expected to face challenges due to Walgreen's strategy of providing generic drugs to its customers at a cheap rate.
Walgreen recently entered a 10-year agreement with AmerisourceBergen (ABC), which will distribute generic drugs to Walgreen's 8,100 stores across the U.S. In addition to easy availability of generic drugs, AmerisourceBergen designed its distribution services to reduce the cost of drugs. Walgreen is expected to win back its lost customers, and this alliance will help the Walgreen increase its revenue in total prescription drugs.
Approximately 80% of prescription drugs include generic drugs, which we believe will put pressure on the CVS' market share in prescription drugs; Walgreen has an advantage in providing generic drugs at a cheaper rate.
MinuteClinic Expansion - Attracting customers towards its stores
MinuteClinic is a small clinic inside CVS stores, where customers can receive medical care without a prior appointment. Currently, these are available in 684 CVS stores across 27 states. Revenue from these clinics is witnessing robust growth. This was evident in the results of its second quarter, where it posted revenue growth of 32% year over year.
In order to fetch more revenue from MinuteClinic, CVS has a long-term plan of operating 1500 clinics by the end of 2017. For 2013, it had a plan to open 300 new MinuteClinics, and it opened 25 Clinics in the second quarter.
We believe that MinuteClinic expansion will make all consumer health services available under one roof, which is expected to attract customer traffic. In addition to this, approximately 30% of these will be opened in new markets, which will add to its pharmacy growth. These strategies will lead toward incremental pharmacy sales.
In this competitive pharmacy business, where every drug retailer is adopting strategies to retain customers, Rite Aid (RAD) is also working on a customer retention strategy, as discussed in our previous article. With its loyalty program, known as Wellness+, it will be able to retain and attract new customers toward its stores. Currently, it is planning to invest in a system update for its loyalty program, which will obtain any missing information at the company's register. This will lead toward better interaction with its customers. Furthermore, its advisory services for helping individuals choose the appropriate Medicare part D will help Rite Aid build a relationship with its customers, leading toward incremental customers and earnings.
Dividend Analysis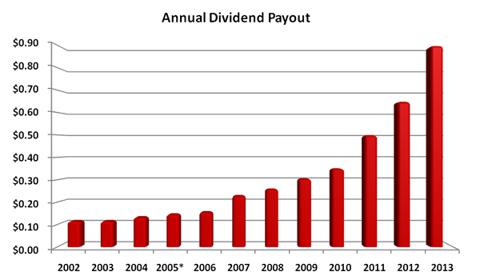 Source: Company's website
As depicted in the graph above, CVS has increased the dividend every year. The company declared its fourth-quarter dividend, which is payable on November 1, 2013. From the last 5 years of historical dividend payments, including the current declaration, we calculated a dividend growth rate of 23.7%. Assuming the same growth rate for the coming year, we get an annual dividend of $1.10 for the next fiscal year.
Furthermore, its dividend yield is expected to increase from its trailing dividend yield of 1.50% to forward dividend yield of 1.60%, implying incremental dividends. Therefore, as far as its dividends are concerned, it is a good stock for income investors.
Bottom line
By looking at CVS' various fundamentals, we see mixed results; the company isn't expected to retain the customers it gained from Walgreen's dispute, which will put pressure on its market share in prescription drugs. On the other hand, its strategy of expanding its MinuteClinic is expected to increase its pharmacy sales. We recommend holding the stock for now.
Disclosure: I have no positions in any stocks mentioned, and no plans to initiate any positions within the next 72 hours. I wrote this article myself, and it expresses my own opinions. I am not receiving compensation for it (other than from Seeking Alpha). I have no business relationship with any company whose stock is mentioned in this article.
Additional disclosure: Fusion Research is a team of equity analysts. This article was written by Shweta Dubey, one of our research analysts. We did not receive compensation for this article (other than from Seeking Alpha), and we have no business relationship with any company whose stock is mentioned in this article.