Now that the E*Trade (NASDAQ:ETFC) acquisition chatter has officially started, I have a few thoughts on the matter
1) The next major catalyst for ETFC is choosing a new CEO. This is one of the hottest jobs on Wall Street and should be in high demand. Whoever comes in will have free rein to get a deal done. There isn't anyone left at E*Trade who cares about the company's history or who desperately wants it to remain as a stand alone.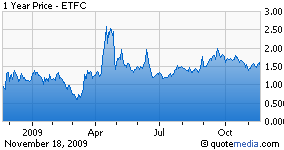 Current E*Trade management appears to welcome a takeover. If E*Trade brings in a CEO with experience in coordinating mergers and acquisitions that will be a very good sign. This really is a blockbuster opportunity for a CEO to sign on, get a chunk of stock options, and exit with $20 million worth of gains 6 months from now.
2) I still don't think TD Ameritrade (NASDAQ:AMTD) is the ideal takeover. Because of the mortgage mess on E*Trade's books, I see a larger bank being more suited to E*Trade. Someone like Wells Fargo (NYSE:WFC) or JP Morgan Chase (NYSE:JPM) or even a regional bank that wants to make a splash in the brokerage business would be a tremendous fit. As a Wells Fargo customer myself, I would be ecstatic to see the E*Trade platform become part of the service.
3) Don't let the mortgage mess fool you. The E*Trade platform is highly sought after. As one who has used TD and Schwab (NYSE:SCHW), the E*Trade user experience is a breath of fresh air. E*Trade is a major player in a quality industry.
So what happens next? The acquisition chatter will heat up, then it will stall as these things typically do. The key for the new CEO will be to try and get more than one bidder. Who knows, maybe even Citadel will join the bidding process to try and push the price up although recent comments from the hedge fund indicate they are looking to diversify away from large positions in single companies. Investors need to be patient, have a good time horizon, and let the game come to you.
Option LEAPS alert: The November www.economictiming.com newsletter recommended owning the January 2011 $5 calls. This is a very high risk/high reward position. For those looking for something more secure, look to own the stock itself, or the January 2011 $2.5 strike, or even the April 2010 $1.50 strike. All represent great opportunities as we head into the new year.
Disclosure: Long ETFC