Competitive Technologies, Inc. (NYSE Amex: CTT), trading at $2.03 as of November 18, may be poised to report a rapidly increasing revenue stream from their non-invasive chronic pain management medical device (Calmare TT) which received 501-k clearance from the FDA for marketing in the US recently. Compared to a Fiscal 2009 year with minimal revenue, CTT's 2010 revenue promises to be significantly higher, catapulting the company back to profitability. (CTT could see over 300% Quarter to Quarter sales growth from last quarter to this quarter).

It is just during this "sweet spot" time period, when a company basically goes from pre-significant revenue to substantial revenue growth, that an early investor realizes the quickest and best investment return. Investors of Integra Life Sciences (Nasdaq:IART), Affymetrix Inc. (Nasdaq: AFFX) and Cantel Medical (NYSE:CMN) all have benefited from their early recognition that significant revenues were coming from the introduction of a new medical device.

When will CTT report the first of the substantial revenues from its pain management device? By December 15.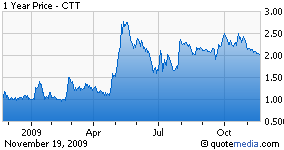 But, first, here are a few quick investment highlights for those attention challenged investors:
CTT has only 10.12 Million shares outstanding, giving the company a market cap of only $20.5 Million
Five (5) corporate insiders--the CEO and four directors-- added to their CTT stock positions two weeks ago
Institutional Ownership (mutual and pension funds and money managers) of CTT has risen to 8.9% of the shares outstanding
Company signed a contract with a U.S. distributor which brings over $1 Million in payments over the next 8 months (from August, 2009)
A sales contract announced last month obligates the customer to purchase a minimum of 20 of CTT's pain therapy medical devices over the next 13 months
CTT shipped 17 units last quarter with another 53 units on order and to be shipped most likely in this quarter (ending Jan. 31, 2010)--which would represent a 311% quarter to quarter growth in sales
Clinical data from patients suffering from Chemotherapy-Induced Peripheral Neurapathy (CIPN) that use CTT's medical device is expected soon, offering more media coverage opportunities for the company
What is this new medical technology? CTT's proprietary Calmare TT medical device is for the treatment of chronic pain and the revenues are just beginning to come in. CTT's 2009 fiscal year ended July 31, with revenue from only one medical device unit booked for the entire year. However, the very next quarter (first quarter, 2010 ended Oct. 31) the company announced orders for 70 units with revenue from 17 units that were shipped to be reported in that first quarter. And the first quarter, 2010 financials will be filed by December 15. The remaining 53 units already ordered, but yet to be shipped, may all ship in the current quarter.

As the company expands its marketing push with the recent announcement of the retention of a RF Binder, a Public Relations firm focused on the healthcare industry, CTT is expected to announce more orders, both domestically and internationally. CTT will not be an undiscovered stock for much longer. The company is also expecting clinical data very soon from a study being conducted by the influential Massey Center, a National Cancer Institute- designated Cancer Center .

The Pain Management systems utilizes a biophysical rather than a biochemical approach, through the use of a multi-processor to simultaneously treat multiple pain areas by applying surface electrodes to the skin. The device has European CE mark certification which is necessary for any medical device to be distributed and sold throughout Europe and makes it eligible for approval for distribution and sales in many other global markets. The all-important FDA approval is just beginning to impact not only sales in the U.S., but also the overseas markets that often await our FDA's verdict.

In July 2009, CTT signed an agreement with Innovative Medical Therapies, Inc. (NYSE:IMS) granting them exclusive distribution rights to CTT's pain therapy medical device in the United States and related territories excluding the Department of Defense and Veteran's Administration, which another distributor is already in place. The IMS contract provides for minimum monthly cash payments to CTT totaling over $1 million for the first eight months. These minimum monthly payments increase each year throughout the term of the agreement with, for example, the fourth year minimum payments reaching $9 million and eighth year minimum payments of $21 million. IMS will receive shipments of CTT's pain therapy medical device in return for these payments

Cognizant of the difficult economy, CTT has an agreement with Americorp Financial, LLC (AFS) to provide financing of sales of the pain therapy medical device for 24 - 60 month lease terms to hospitals, clinics and medical practices in the U.S. CTT will receive the full retail sales price of the device upon execution of each lease with AFS holding the lease. Basically, with the lease option, most potential CalmareTT customers can easily afford the medical device.

What makes CTT even more intriguing is the very real possibilty for positive surprises beyond the revenue ramp up already happening with the company's Calmare TT device. Competitive Technologies' immediate revenue generator may be the Calmare TT, but the company has the potential to receive milestone payments and royalties from a number of other licensed technologies:
Nanotechnology bone cement biomaterial with a broad range of potential applications, including dental, spinal and other bone related applications. Exclusively licensed by CTT to Soteira Inc. for human spinal applications (a private company which has received $23 Million from its VC partner over the past 15 months);
Sunless tanning agent, a skin-pigment enhancer being researched as a skin cancer preventative, and therapeutic for vitiligo, albinism and psoriasis, CTT exclusively licensed the technology to Clinuvel Pharmaceuticals, Ltd. (Australia);
CTT has a 50/50 joint venture with XION Corporation for the research, development and commercialization of CTT's patented melanocortin analogue compounds which have shown potential in treating sexual dysfunction and obesity
Lupus Diagnostic and Monitoring technology, a cost-effective scalable testing platform used to detect and monitor the autoimmune disease, Lupus
Encryption technology that operates at high speeds with low memory requirements to secure applications used on the Internet, telecommunications, smart cards and e-commerce;
Video and audio signal processing technology licensed in the Motion Picture Electronics Group visual patent portfolio pool (MPEG 4 Visual), and used in streaming video products for personal computers and wireless devices, including mobile phones;
Structural Steel Fissure Detection Paint contains a built-in, self-activating, crack-indicating or warning capability effective coincident with application of the paint to the structure, and requiring minimum training for its use.
In summary, Competitive Technologies can be considered an undiscovered investment idea for those willing to invest prior to the broad dissemination of the unfolding rapid revenue growth to be seen over the next year. CTT currently has a very low average daily trading volume, which does dissuade some investors from participating initially. But, as the saying goes, "Higher volume begets even higher volume" as the investment world discovers an undervalued investment story. Judging by the recent increases in institutional ownership (including one capital management firm, Prescott Group, initiating a position with 312,000 shares purchased), the point of CTT's discovery by the investment world-at-large may be at hand.

Disclosure: Long CTT