By G.C. Mays
Seed and fertilizer producers are as far upstream as one can get in the agriculture value chain. When farmers combine the output of seed producers like Monsanto (NYSE:MON) and DuPont (NYSE:DD) with fertilizer producers like Potash Corp. (NYSE:POT) and Mosaic (MOS), they produce many crops, including corn, wheat, and soybeans. Recently the fortunes of these two types of agriculture producers have diverged as the seed companies seem poised for growth while the fertilizer producers struggle to regain pricing power.
Monsanto seeds sprouting growth
When Monsanto reported its 4th quarter and fiscal 2013 full year earnings there were no surprises to those that follow the industry closely. With 97.3 million acres of corn planted it was obvious that Monsanto would have a good year; corn seed sales make up the biggest share of the company's seed and genomics revenues.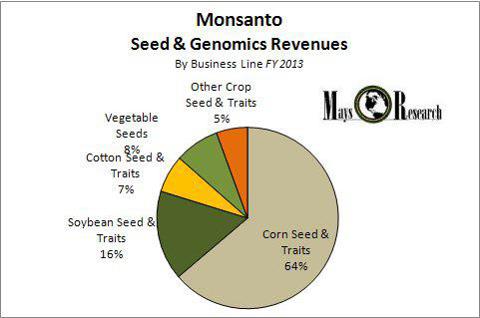 Acres planted typically have a large influence on revenues and with total corn acres planted expected to fall in both the US and South America, one would expect corn seed and traits revenues to take it on the chin after four straight years of growth. However, the company expects to make up for lost corn acreage with price increases and expanding volume in Eastern Europe. The company believes it can lift prices for its corn seed due to a new roll out of trait upgrades. A seed trait is something that adds a characteristic to a seed such as higher yields, resistance to insects, and even drought tolerance. The company's latest corn seed upgrade provides the possibility of even higher yields for farmers.
Is it possible to raise seed prices while crop prices fall?
DuPont's agriculture business reported seed price gains and volume growth in its 2nd quarter earnings report. Agriculture revenues of $3.6 billion were 7 percent higher than the same quarter a year ago. However, operating earnings were down 1 percent due to higher input costs for its seeds business. While Monsanto typically loses money in its fiscal 4th quarter, the most recent quarter showed a larger operating loss of -$289 million despite revenues that were 5 percent higher than a year ago. Gross margins were flat year over year at 58 percent. This is consistent with higher input costs affecting them as well. The company expects those cost headwinds to subside in its fiscal 2014.
In addition to Monsanto's ability to raise corn seed prices, it believes it will also be able to take advantage of the possible switch from corn to soybeans in South America. Farmers in the Southern Hemisphere are watching harvest season in the US as they try to decide which crop to plant. The company's new Roundup Ready 2 Yield soybean licensing agreement with DuPont's Pioneer seed brand will pay a total of $1.75 billion in soybean revenues during the years 2014-2023. This is in addition to the company's own efforts to earn soybean seed and traits revenue in Argentina for the first time.
The trait upgrades promise economic value for farmers that allow seed companies to charge higher prices. Price increases are easier to pass on if the value added is clear.
Have fertilizer producers worn out their welcome?
In other industries, we have seen overly aggressive pricing during an upswing attract new competitors, bring new production capacity online and cause industry competitors to lose pricing power. The steel and aluminum industries come to mind. The potash producers have one thing going for them and that is finite supply in fixed locations. However, in 2008 potash producers burned dealers on price badly as prices quickly soared to nearly $900 a ton before reversing with equal speed in early 2009. Dealers and retailers downstream in the value chain have been reluctant to accept too much price risk since those days. Falling crop prices combined with rising seed prices amplifies the problem by making farmers more sensitive to all their costs and possibly squeezing fertilizer producers even more, in my opinion.
Fertilizer prices have fallen in the US and around the globe in 2013. Through the first two months of the 3rd quarter fertilizer prices have continued to slump, although potash and urea prices have firmed during the quarter.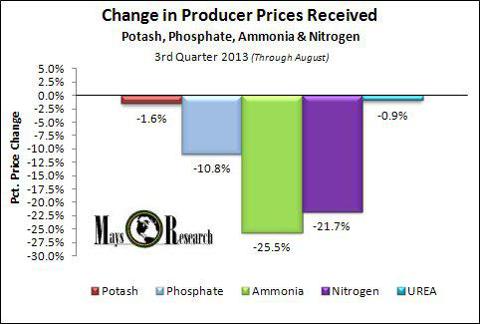 On top of the production cuts, Mosaic finally lowered its 2013 estimate of global potash shipments to 54-55 million tons from 56-57 million tons. The company also lowered its 2013 estimate of global phosphate shipments to 63 million tons, which is flat with year ago levels. Limited shipments to India continue to hurt sales. High inflation has caused the Indian rupee to decline 19.4 percent against the US dollar over the last two years, making imports expensive. The country's fiscal problems have limited the government's ability to provide adequate subsidies to farmers, further limiting fertilizer sales.
Where do we go from here?
Within the last month both Potash Corp. and Mosaic have lowered their 3rd quarter guidance and ended their joint venture PhosChem, the marketing arm they used to sell phosphate fertilizer. I expect sobering 3rd quarter earnings to remind investors that the pricing problems that exist in the industry extend beyond the Uralkali breakup. A cyclical bottoming process will likely take several more months.
At a recent closing price above $105, Monsanto stock is trading near its 52 week high of $109.33, so it is definitely not cheap. The most recent cyclical upswing has seen the stock price rise nearly 37 percent over the last four years and 11 percent year to date. It would seem that it would be time for the stock to take a breather. The company has an earnings growth rate of 22.6 percent over the same period, which implies a share price of $119. The challenge to this arithmetic is that the last two business cycles have each lasted about 4 fiscal years with the most recent four-year mark reached in August 2013. Additionally, both execution and market risk could dampen any move higher in the stock. Monsanto's 2014 plan and logic seem sensible to me but in these wacky markets, we will just have to wait and see.
Disclosure: I have no positions in any stocks mentioned, and no plans to initiate any positions within the next 72 hours. I wrote this article myself, and it expresses my own opinions. I am not receiving compensation for it (other than from Seeking Alpha). I have no business relationship with any company whose stock is mentioned in this article.