Kinder Morgan Energy Partners (NYSE:KMP) is a publicly traded limited partnership operating a pipeline transportation network and energy storage company in America. The recent pullback in KMP's unit price offers investors a chance to enter into an attractive long-term investment that is set to profit from America's energy bonanza and that provides investors with stable distributions.
Business
KMP has an interest in and/or operates nearly 51,000 miles of oil and gas pipelines as well as 180 terminals. KMP announced last Monday that commercial operations for its new 185-acre, $500 million Battleground Oil Specialty Terminal Company (BOSTCO) project have begun. The terminal has a total capacity of 7.1 million barrels and will be operated by KMP (terminal is a joint venture investment with TransMontaigne Partners (NYSE:TLP), while KMP will have a 55% stake in the project). KMP continually adds to its pipeline network, energy storage capacity and pipeline connectivity, setting the base for future cash flow and distribution growth.
Share performance
KMP units began an extended consolidation in the second quarter of 2013 when fears about the sustainability of KMP's cash flows emerged. The units have been trading lower for almost six months, coming down 14% from their April 23, 2013 high of $92.18 which is also KMP's two-year high.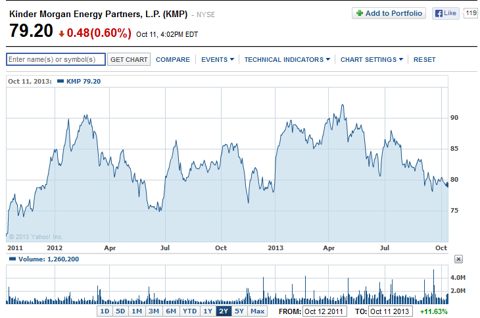 Click to enlarge
Market fears overblown
Two concerns seem, for some reason, to continue to determine the discussion about a KMP investment: Distribution sustainability and KMP's sensitivity to oil prices.
The market began feeling edgy about KMP when a select group of finance journalists and short-sellers targeted Linn Energy (LINE) back in the first quarter of 2013 raising questions about capex levels, production shortfalls and distributions. Linn Energy offered a 7-8% yield at the time and the company was raising distributions when forecasted operating cash flows were merely sufficient to deliver flat distributions. Hence, doubts about the sustainability of its distribution record peaked and other high-distribution energy companies got collectively punished as well. While Linn Energy operates a different business (drilling and exploration), KMP is in the business of energy transportation and storage. Though they operate in the same sector, they serve different parts of the value chain with one significant difference: KMP's cash flows are way more stable than Linn's. KMP's vast scale of operations in the US makes the company a very diversified (geographically speaking) energy play. KMP's pipeline network spans the entire US connecting industrial hubs to energy access. This infrastructure footprint has great value and makes an investment in KMP of significantly lower risk compared to Linn.
It often happens that when one company faces problems for one reason or another that associated companies get to feel market punishment, too. It pays, however, to look at the distribution record of KMP. Since 2007 KMP has raised distributions by a compound annual growth rate of 6.3% from $3.48 per unit in 2007 to $5.33 per unit in 2013. I specifically chose the time period starting in 2007 because oil prices were exposed to extraordinary levels of short-term volatility with respect to the unfolding financial crisis and serious economic contraction. The oil price dropped from around $140 a barrel to below $40 at the end of 2008. Since then the oil price is steadily recovering currently quoting just above $102.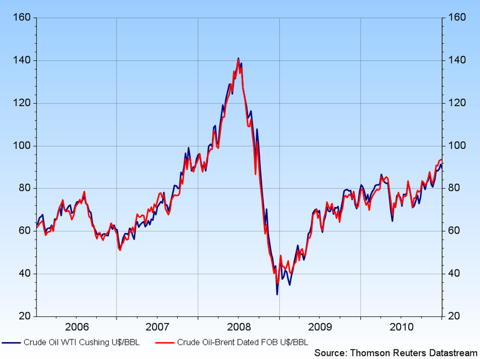 Click to enlargeLower oil prices did not affect the distributions made by KMP and are unlikely to do so in the future; in fact, the company has consistently increased its distributions per unit at quite attractive growth rates of over 6% when at the same time oil prices imploded. The reason for KMP's low sensitivity to commodity prices is that the company is usually compensated on a pre-determined fee schedule rather than a current price linked to the underlying commodity: This allows the company to mitigate price risk and be less exposed to the moody swings in the oil and gas markets. Even if KMP would be exposed to a significant degree to price risk, any oil and gas company worth its salt would hedge its commodity exposure by virtue of prudent risk management. Price risk is generally managed/hedged in the energy sector.
Bottom Line
Fluctuating oil prices do not affect KMP's distribution stream. KMP has raised its distributions during a period of extraordinary stress in the commodity markets and KMP's business has huge long-term infrastructure value to the United States. Cash flows from KMP are of significantly lower risk than of energy producers such as Linn Energy.
Oil and natural gas boom in the US
As laid out in this article about record oil production levels in the US, the American energy sector in general is set up for new oil exploration records. KMP, through its pipeline network and terminal footprint, will profit from increased exploration and will benefit from volume rather than price: Increased production levels will translate into higher transportation demand. At the same time, KMP is less exposed to price risk than other firms. A pipeline network requires substantial capital expenditures which creates entry barriers and shields to some extent from competition. High marginal returns are the characteristic of a natural monopoly which works to the long-term benefit of KMP unit holders.
Summary
Investors need to distinguish between different business models of companies which have high distribution streams. KMP operates a vast network of pipelines and terminals that are essential for the energy supply security of the United States. KMP is uniquely positioned to profit from the ongoing US oil and gas bonanza that results in booming production levels in the energy sector. KMP has operations and infrastructure assets in place to accommodate higher transportation and storage needs at huge marginal gains for shareholders. I believe KMP makes an interesting investment candidate for long-term oriented investors looking to play an ongoing oil and natural gas production boom in the United States. Investors can currently purchase units of KMP at a price of $79.20 securing an initial yield of 6.7% with a strong likelihood of increasing distributions independent of the underlying commodity price.
Disclosure: I am long KMP. I wrote this article myself, and it expresses my own opinions. I am not receiving compensation for it (other than from Seeking Alpha). I have no business relationship with any company whose stock is mentioned in this article.