Since the Federal Open Market Committee first included in its May 1st FOMC Statement the phrase that "the Committee is prepared to increase or reduce the pace of its purchases to maintain appropriate policy accommodation as the outlook for the labor market or inflation changes", markets have been looking ahead to the eventual start to the removal of extraordinary monetary accommodation. Influenced by this anticipatory vantage, fixed income markets in the third quarter were effectively divided into uneven and very different halves.
In the first period of the quarter, through the FOMC meeting on September 17-18th, the market increasingly priced in the beginning of the Fed's deceleration of asset purchases. The yield on the ten-year U.S. Treasury increased another fifty basis points after beginning its ascent in early May. While spreads in domestic corporate bond sectors were more firm than during the initial selloff in the second quarter, other fixed income markets continued to see stress. While one would expect Treasuries and Agency mortgage backed securities to be the fixed income classes most directly impacted by a Fed taper since they are the assets being purchased by the Fed as their policy tool instrument, more tangential markets were more negatively affected. The specter of higher interest rates in the developed world vacuumed capital from the emerging markets, sending EM sovereign bonds, corporate bonds, currencies, and equities sharply lower in a host of global markets. Closer to home, lower bond prices disproportionately impacted retail-dominated markets with tax exempt municipals seeing a sharp selloff amidst sizeable outflows. In the second period of the quarter, bond prices reversed their earlier selloff and rallied sharply as the Fed chose to maintain its current level of monetary accommodation. With the ongoing government shutdown and debt ceiling debate casting a shadow over markets, an "Octaper" appears doubtful leaving more answers than questions in the fixed income marketplace.
In the sections below, we will walk through the notable moves in a host of fixed income markets, offering a review of third quarter price action and a look towards forward returns.
Treasury Bonds
In spite of the heightened volatility in Treasury bonds in the third quarter, levels ended the quarterly only modestly changed. The yield curve steepened with the front end seeing a small rally, and the back end of the curve selling off. This yield curve shift further demonstrates the continued market differentiation between the Fed's Zero Interest Rate Policy (ZIRP), which has anchored the front end through the commitment to keep short-term rates near zero through at least mid-2015, and the Fed's purchase of longer-term Treasury and Agency MBS in the long end (QE3). It was widely believed by the market that the level of this third round of Fed asset purchases would be reduced (or "tapered"), but the Fed chose to maintain its current level of purchases in the near-term. As seen in the table below, yields hits their local highs in early September as the taper became fully priced by the market, but have since rallied strongly across the curve as 1) the taper failed to materialize, 2) geopolitical risk in Syria moderately increased the demand for "flight-to-quality instruments", and 3) the risk of a government shutdown and the potential for a related economic drag boosted demand for Treasuries.

Global Sovereign Bonds
Just a year ago, U.S. Treasury securities hit new all-time yield lows in the third quarter as the European crisis sent investors flocking to the securities in a flight-to-quality trade. As seen below, the volatility in European sovereigns has subsided materially in 2013 with Greece, the most topical beleaguered sovereign, seeing its yield rally the most in the period.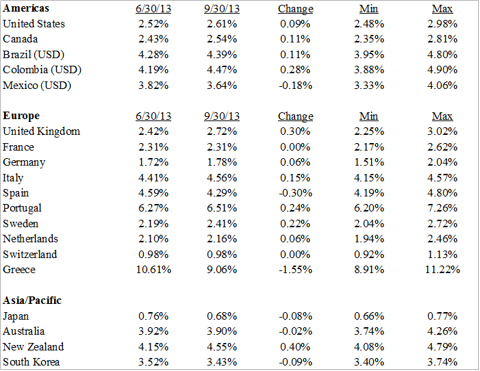 In another corner of the sovereign bond market, the third quarter of 2013 saw a significant amount of stress. Emerging market sovereign bonds came under pressure as higher rates in the developed world functioned to rotate hot money previously seeking higher interest rates in the developing world back to the first world. The spread over Treasuries on the J.P. Morgan Emerging Market Bond Index ended the third quarter at 355bps, 90bps higher than where it opened the year. As fund flows reversed, outflows from emerging market funds led to some interesting prints in closed end funds that cater to the asset class.
Closed end funds are investment funds that raise a fixed amount of capital. These funds trade on regular exchanges with the fund price set by the market, which can deviate from the net asset value of the underlying securities held. As seen in the table above many of these funds are trading at double digit discounts from net asset value. The current discount in each of these funds is multiple points greater than the trailing one year average, demonstrating the pressure on the asset class from retail selling. Given the fixed amount of capital managed by these funds, most of these funds employ leverage to amplify returns. In this weak market, these funds have underperformed, increasing the current yield in these funds to a weighted average of 7.7% and pushing prices down to an average discount to net asset value of 10.7%.
Mortgage Backed Securities
Like Treasuries, Agency mortgage-backed securities struggled through the first half of the quarter as markets began to fully price in the September taper only to see a positive surprise from Fed inaction that saw the asset class rally through the back end of the month. This price relationship can be seen in the performance of the oft discussed mortgage REIT sector graphed below.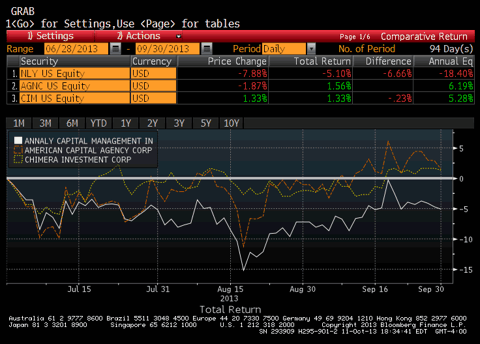 Annaly Capital Management (NYSE:NLY), American Capital Agency Corporation (NASDAQ:AGNC), and Chimera Investment Corporation (NYSE:CIM) had all produced negative total returns for the quarter through early September before a modest late September rally driven by the Fed's decision not to taper its purchases of Treasuries and Agency MBS sparked a modest rally.
Future returns of Agency MBS and mortgage REITs will be driven in the near term by decisions regarding monetary policy. With a dovish Janet Yellen assumed to be the next Fed chairperson, investors should expect the Fed to be late to remove monetary accommodation, a prognostication I offered in my June article, "10 Investment Themes for Mid-2013". This should support the asset class in the near-term, but longer-term concerns over who the incremental buyer of Agency MBS will be post-Fed and the long-run status of the GSEs should hang over the asset class. Equity capital raised by mortgage REITs to feed the incredible appetite for this levered trade by retail investors seeking higher returns in a low yield environment pushed agency mortgages to unsustainable heights. You do not want to be the last one out of this trade, but agency mortgages and mortgage REITs should see positive returns and lower volatility through the rest of 2013 as the Fed continues to buy more Agency MBS than what is currently being produced.
Investment Grade Corporate Bonds
The Barclays IG Corporate Index, the most oft-cited index for this asset class, produced a total return of 0.82% for the third quarter. Excess returns driven by credit spread changes were 0.92% as spreads modestly tightened in the quarter. Financials continued to outperform industrials and utilities as heightened financial regulation and increased capital buffers have been bondholder-friendly and reduce the risk of potential default. The quarter saw the largest bond deal on record as Verizon (NYSE:VZ) printed a $49bn deal that was nearly three times larger than the previous bond issuance size record held by Apple (NASDAQ:AAPL). The Verizon deal was to finance the buy-in of Vodafone's (NASDAQ:VOD) minority stake (45%) in their Verizon Wireless venture, and demonstrates the depth and breadth of the market bid for investment grade credit.
Investment grade corporate bonds ended the quarter near the middle of their year-to-date spread range (130 -155bps over Treasuries). The risk for investment grade bondholders is that the first burst higher in interest rates could spur deals that externally re-lever corporate balance sheets to the detriment of existing bondholders. Despite this downside risk, continued accommodative monetary policy and modestly expanding economic growth should support the credit profiles of investment grade bonds over the near-term.
High Yield Corporate Bonds
Like investment grade corporate bonds, high yield corporate bonds produced strong returns in the third quarter, producing a total return of 2.28%. Like in every preceding month in 2013, CCCs (+3.67% in 3Q) outperformed higher rated speculative grade cohorts (BBs 1.77%) as their great credit sensitivity and lower interest rate sensitivity have benefited these securities in this environment. Investors in speculative grade bonds in 2013 wanted to be down in quality (CCCs 9.2%, BBs 1.8%), short tenor (Index 3.7%, 0-5yr maturity bucket 5.6%), and in less liquid securities (Very Liquid Index trails the broader index by 1%). These themes broadly held in the third quarter with the di minimums return differential between liquid and less liquid bonds proving the lone outlier.
Municipal Bonds
If the actions of the Federal Reserve have been the most dominant theme in fixed income over the trailing quarter, then a close second would be the reaction of retail investors to higher rates. No domestic fixed income sector was as hard hit as the most retail-centric fixed income sector - tax exempt municipal bonds. Below is a graph of yields on tax exempt municipal bonds relative to taxable investment grade corporate bonds since the beginning of 2012.

Source: Barclays Capital CHART
Retail outflows from fixed income funds that have exacerbated market moves in certain asset classes during the recent rate selloff have led to especially acute re-pricing in tax exempt municipal bonds. Individual investors, who own about seventy percent of local debt directly or through funds, pulled roughly $20 billion from the asset class during fifteen consecutive weeks of outflows through mid-September. Municipals have vastly underperformed investment grade corporate bonds over the duration of the recent selloff. In early 2012, the yield differential between municipal and investment grade bonds was 110bps before compressing to almost zero in late third quarter 2013.
These two indices are not apples-to-apples. The muni index is actually rated three notches higher (Aa3/A1) than the corporate index (A3/Baa1), reflecting the lower historical default rate of municipal bonds, but the municipal index is longer duration than the corporate index (8.5 vs. 6.7). Of course, the muni index is tax exempt and the corporate index is taxable, a notable difference that impacts the after-tax return of the holder.
Like I detailed above with emerging market sovereign bond closed end funds, selling pressure in tax-exempt municipals has driven certain closed end funds to material discounts to net asset value and driven yields up to interesting levels. The list below details tax exempt municipal bond funds trading at more than five point discounts to net asset value, paying a dividend yield of greater than seven percent, and with more than a $250mm market capitalization as a proxy for liquidity.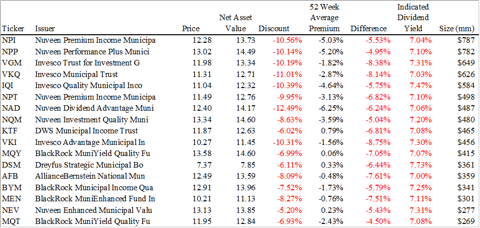 As of close of trading 10/12/13
In the quarter, I purchased the Invesco Quality Municipal Income Fund (NYSE:IQI) and the Alliance Bernstein National Municipal Income Fund (NYSE:AFB) at yields close to 7.5% and discounts of roughly ten points to net asset value. With the back-up in interest rates, the widening of municipal bond spreads relative to other fixed income asset classes, and the dislocation of these funds that has pushed trading levels to much lower than the historical discount yield hungry investors should explore the asset class and the closed end fund investment vehicle.
Historically, levering low volatility fixed income securities to risk levels equivalent to that of higher volatility stocks has produced long-run alpha. As mortgage REITs holders have found out this summer, levered fixed income is a painful trade in sharply rising markets, but given the rate selloff and spread widening in municipals, I am more constructive on taking some duration risk at this point. A 7.5% tax exempt yield is 11.54% when adjusted for a 35% marginal tax rate: 7.5%/(1-35%). This level of return is higher than my forward estimate of domestic equity returns over the next several years.
Summary
With the extraordinary monetary accommodation viewed to be drawing to an end, fixed income markets are likely to continue to see heightened volatility as markets try to adjust to a world where the Fed is no longer a dominant purchaser of duration in the market. This volatility will lead to opportunities, and this series will continue to attempt to review quarterly changes in the fixed income marketplace and offer forward looking guidance for various asset classes.
Tax exempt municipal closed end funds are where I have chosen to leg into a fixed income allocation in my personal account, which has been disproportionately weighted towards domestic equities. With the S&P 500 (NYSEARCA:SPY) near its record high, and modest dislocations occurring in these bond funds, I think that both a short-term tactical trade guided by my view that the Fed will be late to remove monetary accommodation and that spreads are ample compensation for low default risk, and a long-run strategic allocation to tax exempt municipals given their relative value to riskier asset classes are both warranted.
Disclosure: I am long AFB, IQI, SPY. I wrote this article myself, and it expresses my own opinions. I am not receiving compensation for it (other than from Seeking Alpha). I have no business relationship with any company whose stock is mentioned in this article.