Let the good times roll! That pretty much has to be your mindset if you want to try to invest using the CANSLIM concepts presented by William O'Neil. When it comes to investment attributes, it seems like he demands just about everything -- except value. This is reflected in the track record of the model we built based upon his ideas. Relative to our full collection of all-star models, this one was top ranked during four-week periods in which the market rose, but ran dead last during periods when the market fell (performance was still positive, but the average gain was smaller than we saw with the other strategies).
But don't get the idea that this is a fluffy ride-what's-hot strategy. The companies that pass muster, here, are embody very solid growth stories.
The Approach
The strategy is characterized by the acronym CANSLIM, which requires companies to demonstrate Current and Annual strength in earnings as well as market and business Leadership and a catalyst based on something New (product, management, etc.); a stock that can be subjected to upward pressure by virtue of limited Supply of shares, strong Institutional interest, and general Market strength. Not everything lends itself to the screening and ranking process, but on the whole, we believe our version of the model captures its essence (see link below for details).
In practice, this often winds up looking like a buy-high-sell-higher strategy. But we're not looking to marry these stocks. We rebalance our models every four weeks and have seen, more times than we can count, market willingness to tolerate overvaluation for that length of time (even longer).
And even using the label overvaluation may be a bit presumptuous. Valuing a stock is an imprecise effort. Investors often miss the mark on companies that, so to speak, wind up growing into high PEs. In other words, we start with what on day one seems to be an overpriced stock. But looking back at a later time, we realize that we had underestimated growth prospects and that the old PE or PEG ratios would have looked a lot more reasonable had done a better job assessing the company's business prospects.
This is at odds with a tendency wherein investors, academicians, members of the financial media have, etc. have become quite comfortable bashing analysts for being too optimistic about the future. That's fair. We do see a lot of that. But we have to recognize that forecast error is a two-way street. Just as prognosticators often fail to appreciate how bad things can get, so, too, can they underestimate how much is possible when things go good. Think of CANSLIM as a strategy that tries to position us for upside surprises.
Information showing how this strategy has performed can be found in the Appendix below.
Here's more detail about the model:
The Current List
Table 1 lists the 15 stocks that make the grade as of 11/17/09.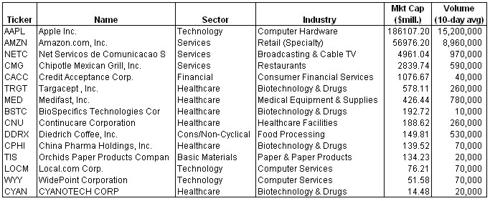 Click to enlarge
Noteworthy Selections
Apple (AAPL) and Amazon.com (AMZN), the two biggest stocks in terms of market capitalization, need no introduction to a modern investment audience. We don't usually expect to see companies this big on the list; O'Neil himself articulates the notion that the growth mandates he lays out are more likely to be met by smaller firms. And limited supply of shares, a factor in his strategy, is not present in these mega-firms. The fact that they make the list anyway says much about the rest of their numbers. But that's history. When companies get as big as these two have become, we have to expect a natural deceleration in growth going forward. So it's fair to wonder whether AMZN and AAPL could continue to be CANSLIM stocks, i.e. whether there's a decent possibility of upside surprise.
It's hard to imagine AMZN, with annual revenues now running a bit above $20 billion, producing enough surprise to grow into what is now a 2.88 PEG ratio. Bear in mind, though, that this PEG calculation reflects a consensus 24.45% long-term growth rate projection, a number that had actually been nudged up from 21.19% a month ago (along with a general increase in other AMZN estimates). In evaluating the currently-published 24.45% projection, we have to bear in mind that at least some measure of cyclical improvement lies ahead, probably next year. Also, AMZN's stature within consumer products distribution remains fluid relative to conventional rivals who may find it increasingly hard to keep building and stocking brick-and-mortar stores as they had recent years.
Note, too, that Wall Street has a long history of generally underestimating AMZN. I still recall the elaborately reasoned early-2000s reports spotlighting AMZN's financial distress. Unfortunately for the authors and investors who took them seriously, the company continued to generate cash and now enjoys a balance sheet that's actually quite strong. Another instance of past fear-mongering involved fuss over how AMZN accounts for delivery costs (whether they should be cost of sales or SG&A).
Ultimately, though, the company is and long has been well above average in terms of operating margin (which includes all such costs) and returns on capital. We've seen similar criticism with just about every new product line since it debuted as a bookseller. So if AMZN were to generate a future upside surprise, it might actually be considered business as usual.
Meanwhile, the modern AAPL has been so successful, people tend to forget it's still a distant runner up in its original business, personal computers. But since then, it pretty much defined two new business categories, portable MP3 (or whatever you want to call them) players and the more consumer-oriented segment of the smart-phone market.
Obviously, there's much temptation to try to identify points of saturation, or at least maturation. And of course there are the ever-present pronouncements issued by wannabe iPod killers, iPhone killers, and iTunes killers and those who cheer them on. So far, though, AAPL's creative team has been able to stay a step or more ahead of rivals and detractors. With a PEG ratio of 1.4 assuming a consensus long-term growth rate projection of 18.5% (which is well below historic growth rates), it would seem that the prospect of upside surprise is not all that remote.
Moving down the size scale, to the sort of smaller companies we might traditionally expect from CANSLIM, we find Medifast (MED), which is in what seems to be about as hot a business as we're likely to find thanks to a national obsession with weight control. The problem is that many well-known diet programs have not been effective.
I'm not in a position to specifically judge the efficacy of the MED program (mainly prepackaged means involving choices of bars, shakes, soups and one protein-plus-vegetable meal the customer prepares on his or her own). But I can take note of the impressive rate of revenue growth including a 45% jump in the economically-challenged trailing 12 month period (indicating that so far, consumers have been voting "yes" with their wallets), the use of four distribution channels (direct via web or phone, a personal coaching division, medically-supervised weight control centers, or a national network of physicians), and a decent review on webmd.com.
None of this is conclusive, but there are diets that have had staying power, such as Weight Watchers (WTW) and NutriSystem (NTRI). Revenues at the latter have been falling briskly. The company cites economic pressure, but there does seem to be much talk that the prepared means taste too salty. No such buzz exists regarding MEDI. Revenues are also slipping at WTW but at a much more modest pace, one that seems more consistent with general economic pressures. Note, too, that as diets go, WTW may be somewhat mature (annual revenues are running at abbot $1.4 billion).
Over the long term, MED may or may not be the answer, but for now, its much smaller size (annual revenues of about $145 million), rapid growth, and coverage by just one analyst) makes it look like a reasonable CANSLIM stock.
Continucare (CNU) offers an interesting play on healthcare: direct provision of medical services. Usually, when investors think of this activity, they're looking at hospital or rehab facilities. CNU, on the other hand, operates at the other end of the spectrum: primary care medical practice through CNU-employed physicians or via practice management services sold to networks of independent physicians. This sort of thing doesn't get much attention on Wall Street because few such firms exist (and specialization is sexier).
But compared to hospitals, CNU's business model is a lot less debt-oriented and generates returns on capital that are nearly twice as high. Meanwhile, when it comes to specialization, it's not as if CNU is completely out of the picture. The company also has a chain of sleep-disorder centers which could be an interesting growth vehicle as awareness of the dangers of obstructive sleep apnea grows.
Credit Acceptance Corp. (CACC) is a huge eyebrow-raiser. Its business is sub-prime auto loans. Based on that, it's easy to assume the company is losing its shirt and of interest only as a speculative comeback candidate.
Actually, though, that's not the case. Undoubtedly, its life would be easier if borrowers were better able to pay loans than is often the case today, but CACC is an important object lesson when it comes to sub-prime lending in general. The danger comes, not from making risky loans, but from not knowing the loans you make are risky or from fooling yourself about how risky they are. The banking crisis results from the latter; widespread failure to come to grips with the nature of the risks inherent in the construction, mortgage and credit cards loans they had lately been making. CACC has no illusions about this business. It has always understood that the loans made by the dealers with which it works are, in total, very chancy and it has built its business model accordingly.
Essentially, CACC services loans made by dealers and depending on the CACC program chosen by a particular dealer, CACC may share in or keep all the surplus collection above a certain target that has is rigorously established by CACC and continually updated based on continuing trends in its collection experience. Even during the good years, CACC had forecasted collection of less than 75% of the value of the loans and used that as a benchmark for setting the terms it offered to dealers.
Needless to say, its targets had recently been reduced to below 70% in 2007 and 2008. Interestingly, though, as of the end of the '09 third quarter, the forecast had been nudged up to 73.9% from 71.1%. CACC's eyes-wide-open realism is what separates it from the legion of bankers who thought zero- or little-down payment was a reasonable way to make mortgage loans and is what's helping CACC appear in a CANSLIM-inspired growth model.
Disclosure: Author holds no positions in the above-mentioned equities.
---
APPENDIX - PERFORMANCE DATA
The performance test runs frm inception (3/31/01) through 11/11/09. It includes stocks passing the O'Neil Screen and which ranked in the top 15 as per the O'Neil ranking system and assumes the list was rebalanced every four weeks.
As discussed above, this is a good-times model, which should not be surprising considering that the M in CANSLIM requires a strong makret.

Click to enlarge