Many of the large domestic refiners have been struggling in a significant correction since March, with stocks like Marathon (NYSE:MPC), Valero (NYSE:VLO), Tesoro (NYSE:TSO), and HollyFrontier (NYSE:HFC) dropping over 30% in about six months. I think this is very close to a reversal that will likely see at least three of the above making new all-time highs. Many people will point to the drop in the crack spread over that same period as the "cause" for the recent decline, but I think that is only a limited view of the various sentiment and fundamental factors that combine to affect the price of the refiners.
These charts, along with other refiners, all have similar patterns not just in this recent decline from the spring highs, but also from their 2011 lows (Sept/Oct) and before. The recent declines, while not making light of 30% drops that I am sure were painful for many investors, were very healthy and necessary corrective consolidations.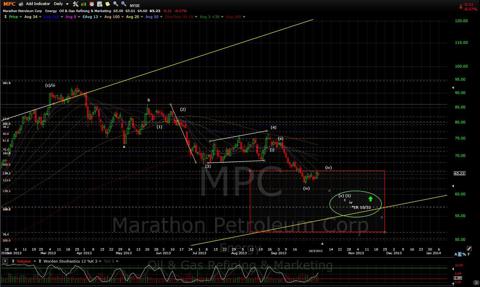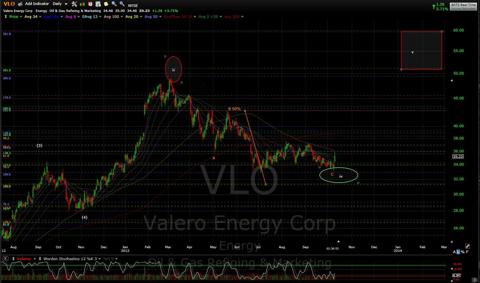 The crack spread also put in a significant low in 2011, along with the refiners that same Nov/Dec, but so did the price of oil and the price of gasoline. All three rose strongly through March 2012, but the refiners did not have such a strong interrupted move at that time. How can one say, then, that the ups and downs of the spread are the only basis for our refiners' valuations? Furthermore, there is no government mandate forcing the refiners to operate or to operate at specific outputs. There is no cap on the price of refined petroleum products. If the cost of crude goes up, the refiners are the ones who raise the prices of gasoline, diesel, and jet fuel. They have a bigger effect on the spread, in my opinion, than the spread has on them. But while I see a bullish move on the horizon for the refiners based on their independent price charts, if investors were to see a widening of the crack spread (which I believe we will, and will explain below) this will only add fuel to the rally.
The vast majority of refined petroleum products come from a handful of big refiners. Not only do a relatively small number of companies control most of the supply, but several, like MPC, also control retail distribution channels. Gasoline prices seem to vary more by region and local economics than by producer. In fact, gasoline prices are so tied to economics that an overlay of the SPY shows they move in almost lock step. So gasoline prices are primarily based on what the consumer will pay, based on the ups and downs of relative economic prosperity and purchasing power. Oil by comparison is a commodity, and is subject to not only supply and demand but also speculation.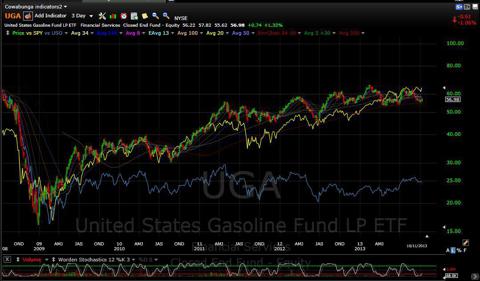 It is my opinion that consumers have gotten comfortable with the current price range for gasoline. It has consolidated between 2.60 - 3.20 for over two years. As this stock market rally continues, there is plenty of room for refiners to raise prices per gallon. This allows them to keep ahead of any potential increases in the price per barrel of crude due to a commodity boom (referenced in my Aug article on solar), and force the crack spread wider. Many of these companies also benefit from cheaper local crude from shale as well as recent acquisitions from BP and others to increase their production. The benefits of this will be seen in future earnings releases. Further, companies like VLO are planning additional spin-offs of MLPs, and those asset sales will additionally improve their numbers.
The refiners are trading at relatively low P/E and P/S ratios. P/Es for all but TSO are under 7, and most P/S ratios are under .20. As they report good results in the coming quarters, and likely raise outlooks, investors will respond as they often do. They will project the same growth in a linear fashion, and see how undervalued these companies are relative to other market sectors, and bid them back up to equilibrium.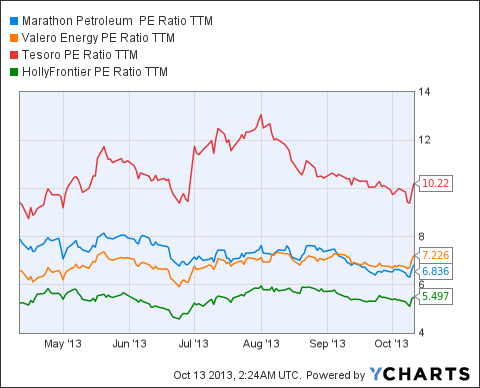 MPC PE Ratio TTM data by YCharts
A recent WSJ article spoke about the record-setting fuel export boom being led by MPC and VLO needing to expand to meet the increasing demands from Europe for diesel.
Additional signals of increasing positive sentiment toward petroleum refiners can further be seen in the report that came out October 10th from the EPA. The report spoke of regulators reducing the blending mandates for ethanol in 2014. This represents a significant shift in government sentiment from the extremes in 2007 that enacted the law. I think this is significant for several reasons. First, fundamentally speaking, reduced requirements for ethanol will only further help to improve the margins for the refiners, saving them hundreds of millions in ethanol credits. Second is the firm belief that I have that newsworthy events are manifestations of underlying sentiment. The clearest manifestation of sentiment is, of course, the patterns in the price charts, but news like this coming out right when I expect the patterns to turn up is the kind of catalyst and confirmation I look for. Last, and perhaps a little cynical, is the source of this piece of news. Governments are notoriously late in acting to shifts in sentiment. Many who follow the precious metals markets will know that governments tend to increase their gold reserve near large degree price tops and reduce near bottoms. The Energy Independence and Security Act was enacted December 19th, 2007. HFC and VLO had already declined 40% off the then all-time highs in July of that year, and TSO was down almost 35% from its high that came only in October. Sentiment had already turned clearly negatively toward the refiners before Uncle Sam decided to pile on. Conversely, while I expect a very nice rally in the refiners I do not think it will last forever. I think that for many this is the final rally of a long-term bullish trend they have enjoyed from the 2008 lows. I think it is very telling that the government is finally turning more favorable toward this sector after some companies have grown 500-600%.
So how high do I expect the refiners to go in this rally? I think on average we should see 50-70% returns over the next 9-12 months. MPC should make a new high targeting 95 and potentially much higher if it is going to head to the trend line of a large diagonal; TSO is targeting over 70, VLO over 50, and HFC over 60. I will be moving my stops up along the way to lock in profits and watching the smaller degree patterns for more specific targets and indications of topping or extension. Initially I had thought the bottoms would coincide with the earnings releases for these companies at the end of October. The patterns in all can allow for bottoms now but do have room to extend a little lower. However, the strength of the recent move makes it very likely that October 9th was THE BOTTOM for them, and I plan to add VLO and MPC to my portfolio on a small pullback. Also note that news from the EPA came after they put in lows on the 9th.
Disclosure: I am long TSO, HFC. I wrote this article myself, and it expresses my own opinions. I am not receiving compensation for it (other than from Seeking Alpha). I have no business relationship with any company whose stock is mentioned in this article.
Additional disclosure: I primarily base my trading decisions on chart patterns and technical analysis. Patterns can change quickly, and I am constantly looking for new support levels to lock in gains and minimize potential losses.