In an article I published last February, I initiated a buy statement with a target price of $44.54 for Halliburton (NYSE:HAL). At that time the stock was trading in the high $30's to low $40's. The target was based on the opinion that increasing global demand for energy and energy services stocks would increase shareholder value. In revisiting my outlook, I believe there is more significant upside from this point and believe the stock is currently undervalued compared with today's stock price of $48.56.
Company Description
Founded in 1919, Halliburton is one of the world's largest providers of products and services to the energy industry. With more than 75,000 employees, representing 140 nationalities in approximately 80 countries, the company serves the upstream oil and gas industry throughout the lifecycle of the reservoir - from locating hydrocarbons and managing geological data, to drilling and formation evaluation, well construction and completion, and optimizing production through the life of the field
Catalyst For Halliburton Limited
Halliburton is a global company with a current market cap of $46.29 billion. Even though Halliburton has many revenue streams, increased E&P spending in the deep-water and ultra-deepwater regions around the world will be a key driver for future growth in revenue, earnings and the stock price.
Deep-water and ultra-deepwater exploration and drilling have shown a remarkable increase over the past few years. This is due in part to the development of new technologies, which have reduced operational costs and increased safety. These technological advancements have also increased a company's ability find and access more reservoirs that will produce high-quality production wells.
Halliburton, which is a leader in the development of new technologies for deep-water drilling, has pushed the envelope with its engineering and technological advancements. Many of these advancements have opened up a greater amount of opportunities in areas such as the Pre-Salt region off the coast of Brazil, the Barents Sea in Norway and the U.S. Gulf of Mexico.
As more advanced technologies have created opportunities, that in turn has reduced costs and increased safety, it has become economical for companies to pursue deep-water reserves. Major E&P companies such as Exxon (NYSE:XOM), Chevron (NYSE:CVX), BP p.l.c. (NYSE:BP) and Royal Dutch Shell (NYSE:RDS.A) have increased their presence in deep-water regions. Exxon is expecting deep-water projects to account for 8% of its new source production over the next decade. Chevron is expecting deep-water projects to account for 40% of its new source production. BP p.l.c. is banking on the most as it is expecting 52% of its new source production to be from deep-water reserves over the next 10 years, while Shell is more reserved in that it expects 25% of new source production to come from deep-water projects. To support their deep-water growth, these major E&P companies along with others have significantly increased their deep-water Capex spending outlook over the next four years.
Over the next four years, It is estimated that global growth in the offshore E&P sector will increase 8 to 10% YOY. Leading the way in E&P spending is Brazil, which is anticipating $250 billion to be spent on the development of its offshore reserves. Second in E&P spending is Norway, which is expecting $220 billion to be spent on the development of the North Sea, Norwegian Sea and the Barents Sea. The region that Schlumberger is focusing on is the U.S. GoM. Within the U.S. GoM, E&P spending is expected to be around $190 billion over the next four years.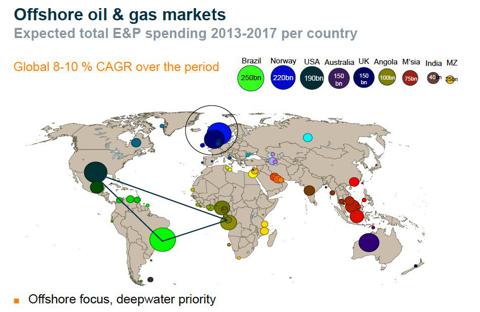 Click to enlarge
Chart by Aker Solutions
North America and the GoM
As E&P spending in the U.S. GoM is expected to exceed $190 billion by 2017, there are significant opportunities for growth within this region. Due to production increases in the U.S Gulf of Mexico since the Macondo disaster, Halliburtons' revenues in North America have increased significantly. In 2013, Halliburton is expecting to report North American based revenues in the range of $15.5 billion. This is a 75.54% increase over 2010, when it reported North American revenues of $8.83 billion. The increase in revenue is due in large part to increased production in the U.S. GoM. As production levels continue to increase in the U.S. GoM, it is expected that this will further drive the company's revenues. As the chart below indicates production levels through to 2018 are expected to continue to escalate. U.S. GoM production levels are expected to rise from approximately 2.5 mboe/d to 3.75 mboe/d by 2018.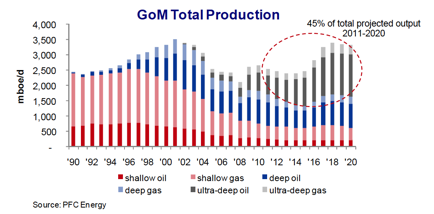 chart sourced by (PCF Energy)
Revenue & EPS Outlook
Offset by the weaker onshore market, Halliburtons' North America revenues lead by the offshore market is expected to increase significantly over they next couple of years. Driven by the Gulf of Mexico, revenues in North America are expected to increase by 26.25% over the next couple of years.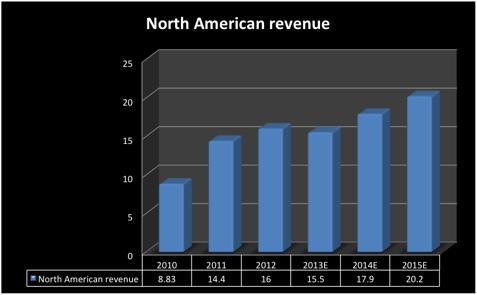 With a global increase in deep-water capex spending relating to Halliburtons' businesses, analysts at MSN Money are expecting significant growth over the next couple of years. They are estimating an EPS for FY 2013 at $3.22 while robust growth is expected to continue into 2014 as EPS estimates increase to $4.28.
Bloomberg Businessweek supports this forecast as it expects the company's revenues to be around $29.6 billion for FY 2013 and increase to $32.6 billion for FY 2014.
Valuation
In the section below, I will use a couple of different methods to find a valuation of the stock price. In this section, I will use the Discounted Cash Flow valuation model and forward P/E ratios to estimate the current value of each share.
I believe using the Discounted Cash Flow valuation model for Halliburton to be fair because DCF analysis can help one see where the company's value is coming from and one can generate an opinion based on that.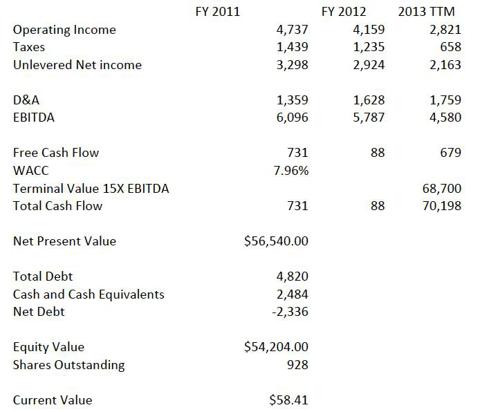 Click to enlarge
Even though there are variations in calculating this formula, this model is based off of a terminal value of $68.700 billion and a WACC of 7.96%. The terminal value $68.700B is based off of the company trading at 15X EBITDA. Using these valuations, I have concluded Halliburtons' present value to be $58.41 per share.
In another method, I will use Halliburtons' forward P/E ratios with estimated earnings to find the value. Currently, Halliburton has a forward P/E of 11.57 and FY 2015 earnings projected at $5.03. These two metrics lead to a target price of $58.19. I believe this to be a fair P/E ratio moving forward. As we look to be heading into a rising interest rate environment, P/E ratios tend to drop during this time.
As of October 10th 2013, Halliburtons' stock was trading at $48.56 - Using the Discount Cash Flow Formula, this indicates the stock is trading at a 20.28% discount to today's price. If I calculate a valuation using forward P/E ratios this indicates a valuation of $58.19 or a discount of 19.83%.
Analysts Price Targets
Finviz has a price target for Halliburton at $58.17.
On October 9th, Cowen gave the company a "Overweight" rating with a target of $63.00.
In September, Howard Weil gave the company an "Outperform" rating with a target of $56.
Strategy
I believe a good strategy is, add a small position here and wait to see if the overall market would bring the price down. Based on the seasonality of the stock, there could be some volatility in the short term. According to a 20-year seasonal average supplied by equity clock, the fall months show weakness when compared to the S&P.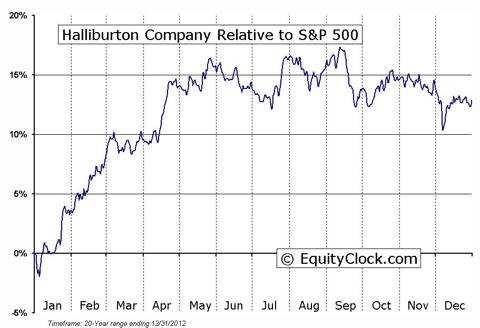 Click to enlarge
Conclusion
Even though Halliburton's stock price has had a solid increase so far in 2013, I believe the stock still has upside. With Halliburtons' strong presence in North America coupled with the growing outlook for offshore deep-water development, it is my opinion this is an excellent time to purchase the stock. At current levels using the Discount Cash Flow Formula, I have calculated that Halliburton is currently trading at a 20.06% discount to today's price.
Disclosure: I have no positions in any stocks mentioned, and no plans to initiate any positions within the next 72 hours. I wrote this article myself, and it expresses my own opinions. I am not receiving compensation for it (other than from Seeking Alpha). I have no business relationship with any company whose stock is mentioned in this article.