Qualcomm (NASDAQ:QCOM) is a semiconductor firm designing and manufacturing wireless communication products. Qualcomm's chips find applications in modern consumer products such as smartphones and tablets whose markets are forecasted to grow rapidly over the next years. Qualcomm clearly operates in an attractive growth market but investors need to ask whether the growth premium paid really justifies an investment in Qualcomm shares.
Performance
Qualcomm's performance is average and remains unexciting both over short- and longer term measurement periods. Shares are up 30% over the last two years when smartphone and tablet sales have shot through the roof. Ericsson (NASDAQ:ERIC) is up 26% over the last two years and 90% over the last five years. Motorola Solutions (NYSE:MSI) was the best performer with a record of 35% over two years and a whopping 355% over the last five years. Many value investors like Leon Cooperman are still invested in this equipment manufacturer.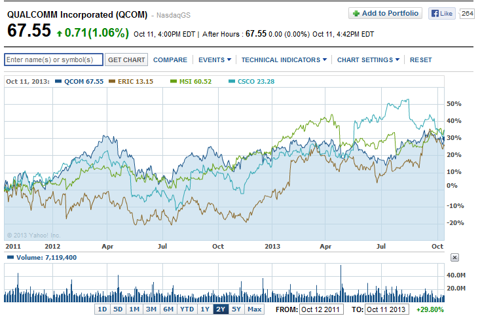 Click to enlarge
I continue to generally be bullish for the semiconductor sector since I just recently bought shares in Micron (NASDAQ:MU). Memory prices have markedly increased as a result of a devastating fire which hurt the Chinese operations of SK Hynix, a South Korean semiconductor firm, with extensive manufacturing resources in China. Wafer production was suspended, taking supply off the market boosting memory prices and the Micron shares simultaneously.
Semiconductor firms like Qualcomm are exposed to fast growing markets. 3G and 4G LTE networks, mobile device technologies, location-pinpointing systems and hybrid networks are future markets. Tablet and smartphone penetration especially are projected to do well although growth rates will eventually decline. Business Insider's "Business Intelligence" unit came up with excellent research about the "Future of the Mobile" which included the following graph about internet device sales: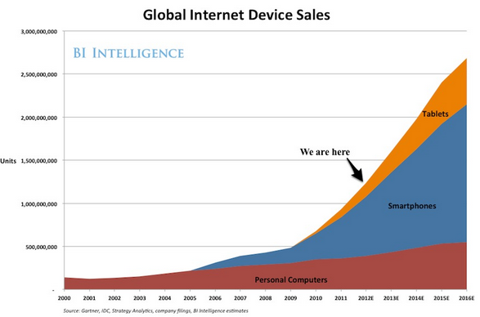 Click to enlarge
Qualcomm's core free cash flow
Qualcomm's operating cash flows and core capital expenditures (including proceeds from and payments for spectrum as well as acquisition expenses, net of cash and excluding financial transactions) for the last three years are provided below. I estimate operating cash flow to increase 12% y-o-y with free cash flow to equity yielding $7.4 billion for fiscal year 2014. Cash flows are of a solid quality with only minor contributions of net borrowings. The estimate free cash flow stands at $4.19 per share giving the shares a forward P/FCFE multiple of 16.11.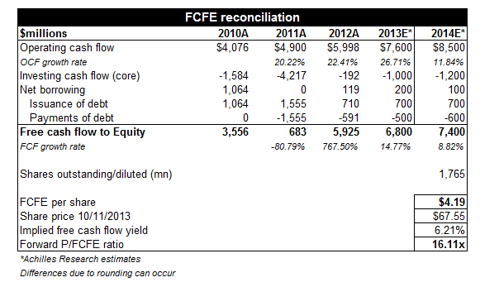 Click to enlarge
Considering the reconciled FCFE per share of $4.19 for a discounted cash flow analysis (assumptions: 4% long-term growth rate and 10% equity cost of capital) the intrinsic value of Qualcomm's shares comes out to be $69.38 giving the shares just 3% upside indicating that Qualcomm shares are presently fairly valued.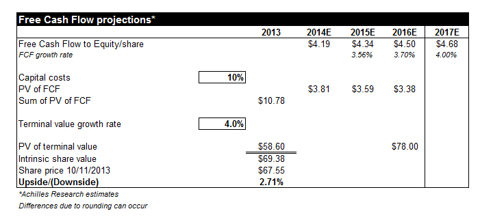 Click to enlarge
Market valuation
Equipment manufacturers do not trade in bargain territory. Qualcomm trades at 13.64 forward earnings which is neither very expensive nor very cheap compared to other companies in the equipment and communication sector. Cisco Systems (NASDAQ:CSCO) has the lowest P/E ratio of 10.34 making it the cheapest company in the peer group.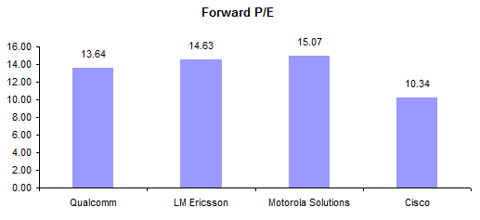 Click to enlarge
Investors in equipment manufacturers want to capitalize on smartphone and tablet growth trends and are unlikely to be invested in Qualcomm or comparable firms because of their dividends. Qualcomm trades at a 1.64% premium to the peer group average P/E of 13.42 and is valued in line with LM Ericsson.

Click to enlarge
Summary
Qualcomm operates in a growth market which features promising expansion rates. Paying 16.11 times estimated future free cash flow suggests that investors pay a solid growth premium. Trading at 13.64 times earnings is roughly in line with peers and is neither expensive nor cheap. Based on the free cash flow valuation above Qualcomm appears to be fairly valued with limited upside potential of 3% even though the equipment sector has higher estimated growth rates than other sectors of the economy. Semiconductor firm Intel (NASDAQ:INTC) seems overvalued, faces secular demand challenges and is not a deep value investments at current multiples either. Investors seeking exposure to equipment manufacturers/semiconductor firms and smartphone-/tablet growth should note that the price they pay already includes solid growth premiums which limits multiple expansion. Given Qualcomm's fair value multiples, investors can find better chip maker investments elsewhere. An interesting investment opportunity for value investors seeking semiconductor exposure is Micron (thesis here) which trades below eight times earnings.
Disclosure: I am long MU. I wrote this article myself, and it expresses my own opinions. I am not receiving compensation for it (other than from Seeking Alpha). I have no business relationship with any company whose stock is mentioned in this article.