In a rational world, a US budget crisis would be bad news for the US Dollar. However, people are now wedded to the view that bad news equal buying US Dollar. When Standard & Poor's downgraded US sovereign debt, the dollar actually rose.
Ever since the financial crisis, currency markets have been more or less trading on the ups and downs in investors' risk appetite, a strategy known as risk on-risk off, or RORO. However, debt ceiling might change that.
Right now, the dollar is seen as the ultimate safe-haven currency, the go-to currency play when risk appetite is low. In other words, traders might move into the exact assets that they are worried about.
Of course, some might follow Itinerant's advice and stay on the sidelines. The question is, when the world's reserve currency is involved, where are the sidelines?
The cognitive dissonance generated by the double bind of a "risky safe haven" is likely to lead people to simply buy the US Dollar, at least as a knee-jerk reaction.
Clearly, this would be a misguided reaction. However, that doesn't mean you should sell the dollar when the Treasury exhausts its borrowing authority in the coming week.
The "buy the dollar" on bad news approach can be pretty powerful. Cognitive dissonance is likely to prevail and we might see market participants buying the US Dollar. There is no point in facing a stampede.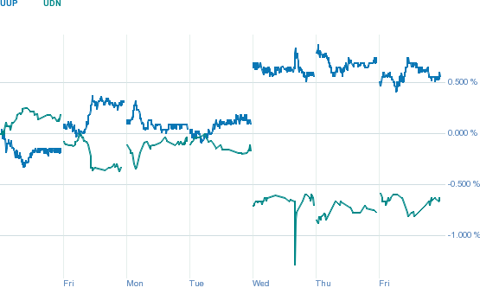 Already, this scenario has started to play out and last week saw the dollar bearish (NYSEARCA:UDN) dip and the dollar bullish (NYSEARCA:UUP) rise. Eventually the market will be unable to cling to this bizarre view and the Dollar will fall back down again.
The SPDR S&P 500 ETF (NYSEARCA:SPY) gained 1.8% last week, however, it is up 20% for the year. You would be hard pressed to find an underlying stock in SPY that hasn't made excellent gains this year.
However, most of these gains are largely the result of all the liquidity that the Fed has pumped into the system. Since, tapering is not likely to get back on the agenda in these interesting times, the safest haven might lie in a solid stock that stood the test of time.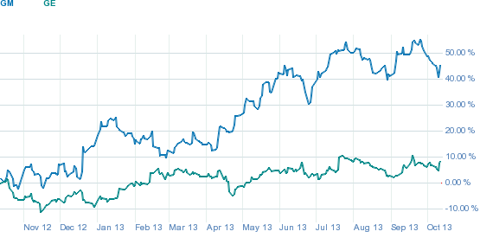 In Perspective: General Motors (NYSE:GM) & General Electric (NYSE:GE)
Charles Wilson once said "for years I thought what was good for the country was good for General Motors and vice versa." I think if Mr. Wilson was alive today, he might have said the same for General Electric, the company seems to never tire of re-inventing itself.
GE, the world's largest producer of equipment for the power generation, aviation, health care, and oil and gas industries, is partnering with Cisco (NASDAQ:CSCO), AT&T (NYSE:T) and Intel (NASDAQ:INTC) for a real big push into what GE executives call "Industrial Internet"; putting countless sensors into every machine produced and into the places where those machines function and remotely monitoring the whole thing as it develops some sort of intelligence.
The drive, which should enhance performance, security, efficiency and profitability for all involved, is likely to have profound changes for GE and could revive its US-based manufacturing business in a big way.
GE, which is up 16% for the year, is a solid performer and would likely make a good hedge against stagflation, which is looking increasingly likely to be the most probable outcome of the current political stalemate.
If you haven't moved out of riskier assets, now would be the right time to do it. If you've already done that, do hedge your dollars. If you are looking for a good store of value for the long run, think GE.
Disclosure: I have no positions in any stocks mentioned, and no plans to initiate any positions within the next 72 hours. I wrote this article myself, and it expresses my own opinions. I am not receiving compensation for it (other than from Seeking Alpha). I have no business relationship with any company whose stock is mentioned in this article.