By Dee Gill
In almost any other company, a 50% share price rally in the weeks following an earnings announcement would reflect real optimism about its future. But for Sears Holdings (NASDAQ:SHLD), that kind of buying may mean something else entirely.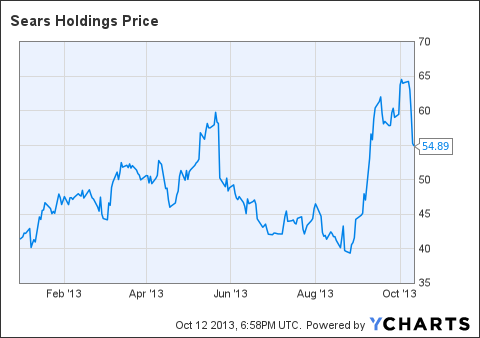 As seen in a stock chart, Sears shares had been trading near their 52-week high, having climbed after an initial fall on its earnings report Aug. 22. Its loss per share in the second quarter, which analysts had estimated at $1.10, was considerably larger at $1.46, and revenues were slightly less than forecasts called for. There's been no official news from the company in the weeks since earnings to make Sears prospects for running Sears department stores and Kmart stores look any brighter. Christmas sales forecasts for retailers generally this year are weak.
This, however, is viewed as good news for a lot of Sears shareholders. Many shareholders - Baker Street Capital estimates it's those holding some 93.5% of actively traded outstanding shares -- are in the company as an asset play instead of turnaround bet. This group sees the value of their shares going up as Sears, in its desperation, sells off valuable parts like Sears Protection (it sells warranties), Sears Auto, Lands End or Sears Canada. Earlier in September, Baker Street published research estimating a break-up value of Sears at $131 a share, more than twice today's valuation.
It estimated that Sears' real estate holdings alone were worth $8.6 billion, which is considerably higher than Sears' market cap today.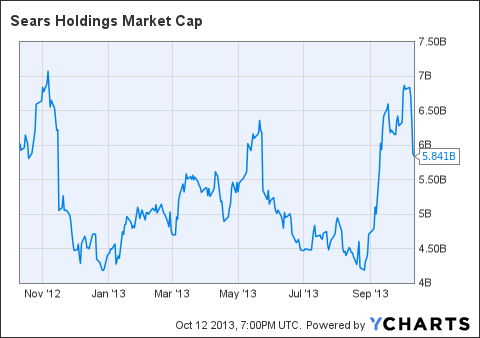 SHLD Market Cap data by YCharts
Although Baker Street has caught flak from other analysts for assuming such high potential returns, there's far more investment chatter now about Sears' potential to arrange lucrative real estate deals than about its ability to ramp up sweater and refrigerator sales. CEO and majority investor Eddie Lampert has sold key Sears assets already, although he prefers to talk about customer reward programs, online shopping and inventory controls. Earlier, YCharts contributing editor Amy Merrick, examining Lampert's talk and what he's delivered, found the Sears effort wanting.
Thus, with little evidence that he can adeptly run Sears' main business - its stores -- the pressure grows for him to make good on a promise to sell more in the absence of reasonable profits. Liquidation fantasies, of course, fail to take into account the societal blowback should Lampert decide to shut down an operation that employs nearly 300,000 people.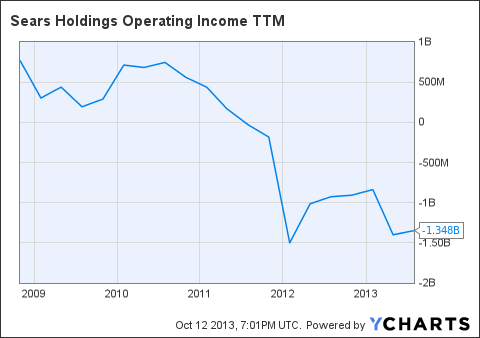 SHLD Operating Income TTM data by YCharts
Ironically, the most burned investors in this mess have been those that recently bet Sears' earnings would be abysmal, and those that were heartened by the lousy results. While the assumption was correct, playing that idea as a short backfired. Short interest spiked in late August to near a five-year high, just as the share price took off.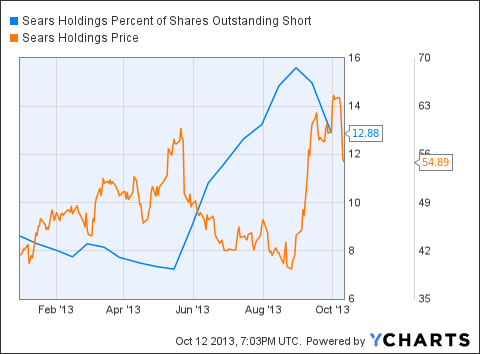 SHLD Percent of Shares Outstanding Short data by YCharts
For Sears investors, good news is unusually subjective.
Disclosure: I have no positions in any stocks mentioned, and no plans to initiate any positions within the next 72 hours. I wrote this article myself, and it expresses my own opinions. I am not receiving compensation for it. I have no business relationship with any company whose stock is mentioned in this article.