By Dee Gill
A major earnings miss from Abercrombie & Fitch (NYSE:ANF) in August reset its share price roughly 25% lower, as seen in the chart below, and shareholders are probably losing hope that they'll recoup those losses any time soon. It's a cautionary tale for investors in any company, like Abercrombie, that repeatedly has trouble getting its forecasts right.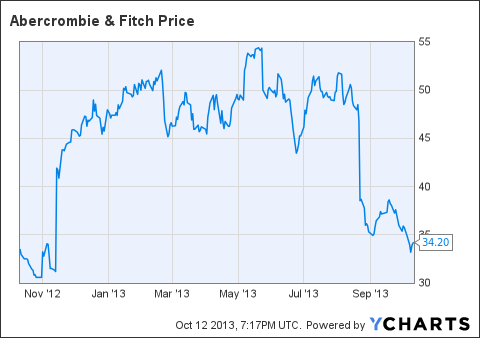 Abercrombie shares plunged on Aug. 22 with a scheduled second quarter earnings announcement. Second quarter profits were little more than half of consensus estimates, and its new forecast for third quarter earnings was about 60% lower than consensus. Although at least 89 companies in the S&P 500 have cut guidance for the third quarter, Abercrombie's revision was by far the biggest, according to data collected by FactSet Research.
Abercrombie's results have repeatedly surprised forecasters in recent quarters. On May 24, the company reported a first quarter loss of 9 cents a share, compared to the 5 cent per share loss analysts' forecast, as well as revenues about 10% lower than estimates. On Feb. 22, its first quarter earnings results beat estimates, but in the same announcement, the company rejiggered its full-year forecast to about 8% below consensus estimates. Back on Nov. 14, Abercrombie delighted investors with third quarter earnings almost a third higher than analysts expected and a positive outlook for the future.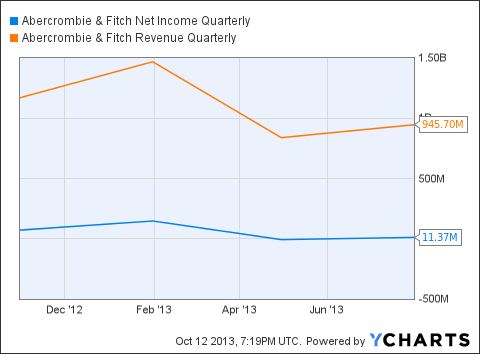 ANF Net Income Quarterly data by YCharts
The share price chart above offers of rough idea of the level of surprise each time. Even the 25% jump on the good news last year should be a red flag. Either Abercrombie management doesn't know early enough that its forecasts are seriously off base, or it chooses not to share the knowledge with the market. Either is disconcerting. Although the nature of forecasting means that all companies make erroneous ones sometimes, we like them to publish profit warnings when they're off far enough to substantially affect share prices - such as when earnings are really only half of what's expected.
What's that saying? "Fool me once, shame on you. Fool me twice, shame on me."
Disclosure: I have no positions in any stocks mentioned, and no plans to initiate any positions within the next 72 hours. I wrote this article myself, and it expresses my own opinions. I am not receiving compensation for it. I have no business relationship with any company whose stock is mentioned in this article.