Historical Norms
L-3 Communications (NYSE:LLL), the sixth largest defense company in the United States remains undervalued in our view. Even though L-3's fundamentals remain strong, the market seems to be ignoring this well positioned defense company. Currently trading at a mere 10.6 PE ratio its valued below most of its peers.
L-3 continues to win lucrative contracts that validate their businesses viability. In spite of continued earnings growth right through the recession, L-3 trades at the lowest PE ratio it ever has since going public in 1998. When viewed from the perspective of our Fundamentals- at- a-glance research tool this gross undervaluation is clearly evident.
Figure one below shows that L-3 has historically been capitalized at 20x earnings or higher (normal PE ratio of 20- blue line with asterisk). This implies a normal or fair market value of $150.40 at 20 times consensus 2009 EPS of $7.52 (See Box in figure one).
Fig. 1. LLL EPS Growth and Stock Price Correlation

The Future
The consensus forecast 5 year growth rate for L-3 as reported by 12 leading analyst to Zacks is 12%. Even if L-3 were to only trade at a peg ratio of one, this would imply a value of $90.24 or 12x consensus year end 2009 earnings estimate of $7.52. That's approximately 15% higher than its current price. Couple this with a current dividend yield of 1.8%, and consider that L-3 has increased their dividend each year since first declaring one in 2004, causes us to conclude that L3's total return potential appears compelling.
In figure 2 below we show that since going public in May of 1998, L-3 has rewarded its shareholders on a appreciation basis far in excess of the general stock market as measured by the S&P 500 (L-3's Annualized 16.3% vs. S&P 500's annualized 0.2%). Add in growing dividends since 2004 and the pot is sweetened even more. Keep in mind that these returns have been generated even though L-3's current valuation is half its historic norm.
Fig. 2. LLL Dividend and Price Performance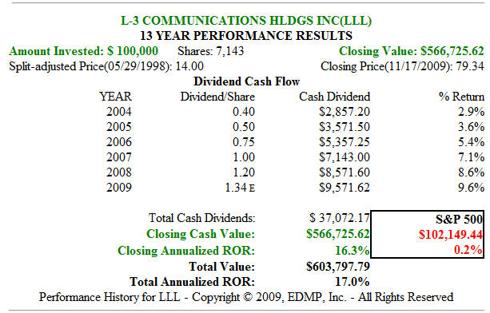 See this link for a more comprehensive analysis of L-3 in our original article on Seeking Alpha posted on June 25, 2009.
Conclusion
We believe L-3 is an excellent choice for the patient long-term investor seeking a high-quality growing company with a increasing dividend.
Full Disclosure: Long LLL at time of writing.