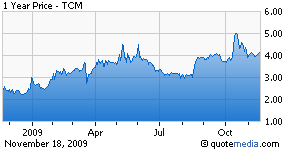 The Q3 results from Tongjitang Chinese Medicines Company (NYSE: TCM) continue to show a decline in sales that has been going on for two years. Revenues dropped 5% lower in the quarter to $15.3 million, and net income moved from a $1.1 million profit in the year-earlier period to a $2 million loss.
The main culprit for the decline was the company's major product, the osteoporosis treatment Xianling Gubao (XLGB). Its sales fell 23% to $9 million in the quarter. Tongjitang put the blame for its lower revenues on China's healthcare reform, which has caused distributors and retail outlets to draw down inventory as they wait for lower prices. That is only the latest in a series of problems that Tongjitang and XLGB have faced.
The company's acquisitions are not helping much. Guizhou Long-Life Pharmaceutical Company Limited declared just $376,000 in revenue and Qinghai Pulante Pharmaceutical Co., reported only $278,000. The company's most recent purchase, Anhui Jingfang Pharmaceutical Co., acquired at the end of the Q1 of 2009, is the sole addition to produce meaningful revenues: $2.6 million.
Tongjitang also announced that it completed a second repurchase of 4.8 million ordinary shares (each ADS is equal to four ordinary shares) on November 11, 2009. The price was $1.025 ($4.10 per ADS). The shares were bought from a company controlled by current and ex-management individuals, so it was approved by the Board of Directors and the Audit Committee.
Tongjitang bought back 19.3 million shares from institutional investors in October for $20 million.
In August, Shanghai Fosun Pharmaceutical (SHSE: 600196) said it increased its holdings in Tongjitang to 24% of the outstanding shares, and that was before the share buybacks. The same number of shares now approaches a 30% stake in Tongjitang.
Tongjitang slid 10 cents lower in early trading, following release of the earnings announcement, to a price of $4.05 per ADS. Its current market capitalization is $130 million.
Disclosure: none.