Immersion Corporation (NASDAQ:IMMR) has basically doubled its value this year (up 98.5% YTD as we write this), and has almost achieved a +180% increase in share price since October 2012.
Most of these positive results have been driven by a few key events (new and renewed partnerships, product wins, solid quarterly numbers) that we've resumed, for those not very familiar with the story, on this chart:

Chart from Google Finance, comments added
In this short article, we'll try to highlight that product/customer wins at Immersion are not limited to these announcements, mostly related to mobility. While apparently less "exciting," these additional achievements validate the company's business model and bode well for the future of Immersion. They may not sound as exciting as a short-term catalyst for traders, but they are very important to long-term investors as they are key to the company's future revenue growth.
Further to that, we'll examine some recent sales made by management and one of Immersion's key institutional investors that have been worrying some investors as of lately. We'll try to put these sales in the proper landscape, and show that they probably distract from noticing a growing institutional ownership of the company.
Investors unfamiliar with the company may also enjoy watching a recent interview by Immersion's CEO, Vic Viegas, on CNBC.
Product wins in the automotive and consumer vertical bode well for the future
The implementation of its haptic technology into more and more products is key to Immersion's financial performance, as the company mostly collects a royalty per unit sold. Its very high margin business model translates every incremental dollar of revenues almost into pure profit.
Throughout these years, we've always looked at new product launches both from Immersion's existing partners and potential licensees looking for clues of haptic implementation. The process has been sometimes rewarding, but may also be prone to a few mistakes, as some OEMs may implement haptic solutions without licensing IMMR's technology.
The easiest way to get proper knowledge about product wins is to look no further than the company's web site, recently updated, that sometimes provides additional information that go beyond the company's P/Rs.
Mobility shows the most interesting product list - however, many of these products are already known to investors.
A quick look at the Automotive Market is quite interesting. We may sound like a broken record, but we believe this vertical will represent in the future a very interesting revenue contributor to the company. The industry is very slow in implementing new technologies (unlike the mobility sector), but haptics, as a way to avoid driver's distraction, should be a no brainer if not compulsory in this environment. A demonstration video highlighting the compelling reasons for haptic implementation in an automotive environment is available at this link.
Haptics can be implemented into several tools within a vehicle, as shown in the previous chart taken from Immersion's Automotive Portal. It's not rare that the same vehicle may have haptics in two different devices (say a rotary knob and a touchscreen), so doubling the company's royalty per unit.
Immersion's technology has already been used in several high end cars, like the Mercedes-Benz S-Class Sedan, and the Lexus RX 350 and 450. Other early adopters of Immersion's technology were Rolls Royce (OTCPK:RYCEY), BMW (BAMXY.PK) and Bentley (OTCPK:VLKAY). Recently, IMMR haptics appeared into the new General Motors (NYSE:GM) Cadillac CUE Infotainment System, launched in 2012, and Aston Martin's Vanquish.
We believe Immersion's haptics have been incorporated in roughly 3,000,000 vehicles so far, although most cars were high end, niche products.
The Kia K9 (OTC:KIMTF)/Hyundai (OTC:HYMLF) Equus represented a first win in the mid-market segment. More interestingly, we now find out that the Opel Insignia (also known as the Buick Regal in the USA), produced by General Motors' German brand Opel, is implementing Immersion's haptics into its touchpad for the entertainment and navigation system. An interesting informational video about the touchpad is available on YouTube.
While the Opel Insignia may be mostly unknown to US Seeking Alpha readers, it is quite popular here in old Europe. The model debuted in 2008, and by 2012 the company had already produced its 500,000 vehicle.
As a reminder, and depending on the implementation, Immersion may get from $1 to $5 dollars per unit in the automotive market. On average, we expect that the company achieves the mid-high end of this bracket it indicated in its past presentations.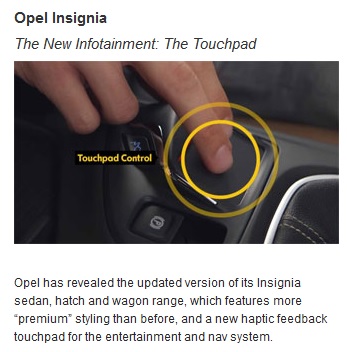 The haptic touchpad seems to have been well received by critics:
"A touchpad surface has also been integrated with the center console and offers a completely new way of controlling vehicle functions. Similar to the touchpads being introduced on some luxury cars, the Insignia's illuminated touchpad reacts immediately to finger movements including haptic feedback and makes operation of the new infotainment system much easier and faster."
Here is a quick look at how much the automotive vertical represents in terms of revenues for Immersion, right now. The drop in revenues in2007/2008 was mainly due to BMW discontinuing haptics in its iDrive interface: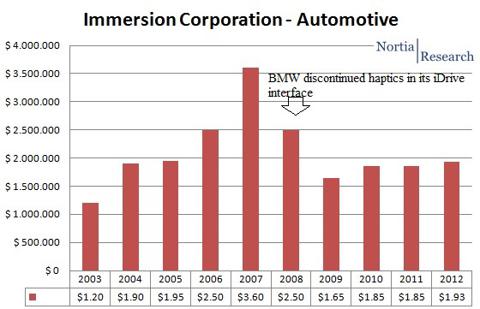 An interesting side effects of consumers getting used to haptic feedback on their mobile phones is that the feature is missed when interacting with similar devices or touchscreens in general. We expect a positive domino effect from this observation.
It is of little surprise that existing licensees, like Logitech (NASDAQ:LOGI), are starting implementing haptics on remote controls, too - opening new markets to Immersion: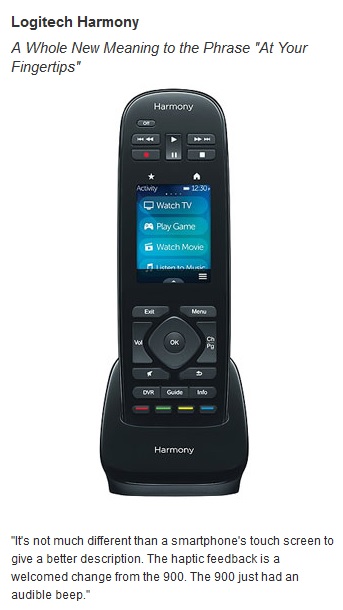 Recent institutional and management sales
Immersion's CEO, Vic Viegas, and one of the company's largest shareholders, Dialectic Capital Management, which nominated in 2011 two members of the company's BoD, have recently sold some shares in the open market. Here is a short summary of their action (numbers are rounded up):

Immersion's CEO sold 148,200 shares from May 29th to May 31st - his sales represented about 9.8% of total transactions in the period. He also sold 51.800 shares in the May 24th to May 28th timeframe - his activity representing about 4.4% of the period's total transactions. These shares represented options that were due to expire at the very beginning of 2014.
Dialectic sold about 318.000 shares from May 10th to May 29th - their activity representing about 5.7% of total transactions in the period. More recently, on September 9th and 10th, they sold another 157.600 shares, representing 28.9% of the total transactions in those two trading days. In spite of this selling pressure, the price was relatively unchanged.
In total, Dialectic has reduced its holding from 2,326,702 shares as of June 2012 to 1,851,073 shares.
While these kind of sales are never very good news for investors (and we've tried to give as much data as possible so that you can form your own opinion about their potential impact on the share price), we also believe they should be put in the proper landscape - which, according to Nasdaq's web site, sees Immersion at a very good level of Institutional ownership (unlike in the past), with positive recent net activity: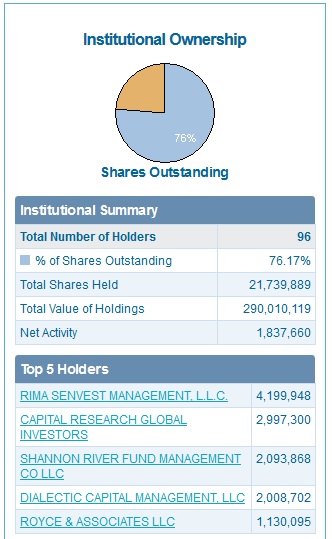 Chart from Nasdaq.com
Conclusion
Increased interest by institutional investors and additional wins outside of the mobility vertical seem to indicate both that the company is seen potentially as a good long-term investment by Wall Street professionals, and that Immersion is executing in putting the foundations (product wins both in new markets and higher volume products in existing verticals) that should lead to increased revenues in the next few years.
Disclosure: I am long IMMR. I wrote this article myself, and it expresses my own opinions. I am not receiving compensation for it (other than from Seeking Alpha). I have no business relationship with any company whose stock is mentioned in this article.