By Dee Gill
That glorious party in the gasoline-refining sector is over, and the smartest investors have already taken their bags of cash out of those stocks. But there are reasons to plot an eventual re-entry into the sector.
Gasoline refiners are capable of producing phenomenal returns at times, as they did until recently. Between January 2012 and March 2013, share prices of HollyFrontier (NYSE:HFC), Tesoro (NYSE:TSO), Marathon Petroleum (NYSE:MPC), Valero (NYSE:VLO) and Western Refining (NYSE:WNR) all more than doubled, as seen in a stock chart. With dividends, Western Refining tripled investor money.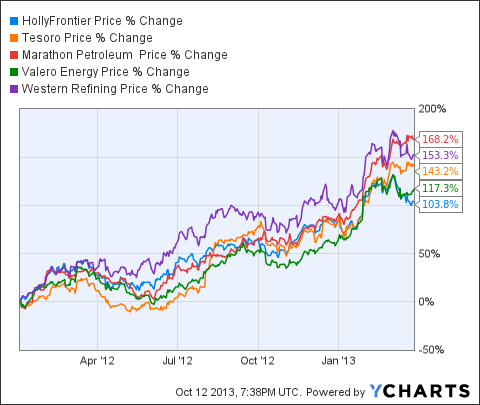 But highly cyclical stocks can turn ugly quickly. For the refiners, the decline started about six months ago. Earnings forecasts throughout the sector have been slashed. Most analysts are convinced that things will get worse before they get better.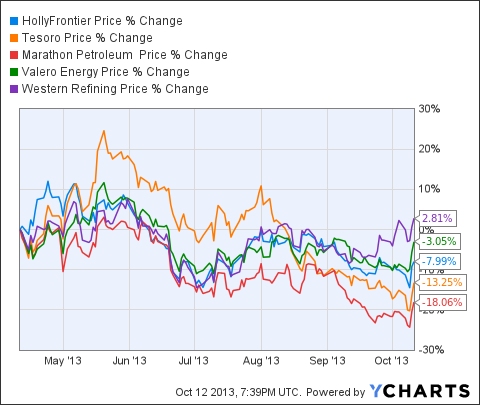 The problem? During the jolly days of late, those refiners got rich from an unusual market quirk that gave them outsized profits. Certain well-positioned refiners were able to buy their crude at West Texas Intermediate prices and sell closer to Brent Crude prices. Supply issues - namely, not enough pipe and trains to transport supply out of the new shale fields - caused a disconnect in WTI and Brent prices like never seen before. As we can see by the Brent/WTI Spread chart below, that spread has been returning to more normal levels.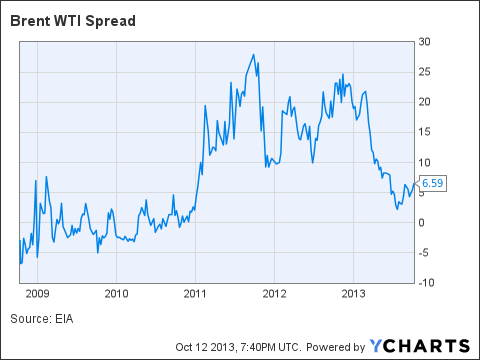 Brent WTI Spread data by YCharts
Right now, the refineries have so much product on the market that prices at the pump are hitting two-year, seasonally adjusted lows. Consider the United States Gasoline Fund (NYSEARCA:UGA), an ETF that closely follows gasoline prices.
Few analysts suggest jumping into this sector now, as October and November are particularly crucial months for developing forecasts. Crude inventories drop in September and then build again, and the size of these builds is important in predicting how much refiners will pay for raw material. Earnings forecasts have been changing rapidly too, and most refiners aren't expected to report earnings progress again until early 2014. Third quarter earnings reports should provide more clarity. Although share price valuations are down throughout the sector, they're not screaming "bargain" yet.
Most analysts believe that WTI/Brent spread will widen again. That will eventually help those strong Midwest companies like Western Refining, which recently improved its balance sheet by reducing debt. Western also just announced plans to pursue a master limited partnership, which would likely give investors large, if not steady income. Otherwise, refiners with coastal operations like Tesoro and Marathon Petroleum should get some cost relief this year as new lines of transportation for U.S. and Canadian oil come on line. For a more diversified play, Phillips 66 (NYSE:PSX) has a mix of WTI-sourced and coastal refineries, as well as operations in Europe, where demand for diesel has been picking up.
Timing is everything in this sector, so it's not particularly recommended one for long-term value investors. But clearly, investors willing to keep current on their research can make very good returns if they get that right.

Disclosure: I have no positions in any stocks mentioned, and no plans to initiate any positions within the next 72 hours. I wrote this article myself, and it expresses my own opinions. I am not receiving compensation for it. I have no business relationship with any company whose stock is mentioned in this article.