By Dee Gill
Tobacco companies have given shareholders wonderful post-recession returns, having doubled investor money before the rest of the market delivered a 30% gain. That's particularly galling for thousands of investors who avoid the tobacco sector on ethical grounds.
You can see the price paid for sticking to those scruples in the stock chart below of total returns for Reynolds America (NYSE:RAI), Phillip Morris (NYSE:PM), Lorilland (NYSE:LO) and Altria (NYSE:MO) shares versus the S&P 500.
PM Total Return Price data by YCharts
Now, tobacco has a hot, some say honorable, new product. Sales of electronic cigarettes are booming, and they seem to be weaning some smokers away from traditional cancer sticks. E-cigarettes deliver, supposedly, the pleasure of smoking without tobacco, smoke or their particularly horrible consequences. So is there finally a way for socially conscious investors to make money from nicotine?
The core part of the investment thesis is very tempting. The global market for e-cigarettes, a mere $1 billion in 2012, is expected to top $3 billion by 2015, according to Citi analysts. Shares of Vapor (NASDAQ:VPCO), an e-cigarette-only company that makes Krave, Smoke 51 and other popular brands, are four times higher than they were when it got into the business in late 2009. (But of course it's a penny stock, trading for less than a dollar a share. A bit of investment research is warranted.)
But the logistics of ethical investing here are tricky. First, even if they're helping some to give up tobacco, aren't e-cigarettes creating a new cadre of nicotine addicts? While the nicotine-laced vapor that e-cigarettes deliver is probably safer than tobacco toxins and smoke, it's still nicotine. Regulators don't allow the industry to market e-cigarettes as a tobacco cessation tool, although evidence is building that they're at least as effective at this as (rather ineffective) nicotine patches.
It may not be impossible to invest well in e-cigarettes without lining the pockets of big tobacco. tobacco companies have been launching their own e-cig brands, but 99% of all smokes sold are still the old-fashioned kind. Lorilland bought leading e-cigarette companies in the U.K. and the U.S., but nearly 90% of its revenues will still come from menthol cigarettes.
There are few options for investing solely in e-cigarettes minus tobacco, and all of them are highly speculative. NJoy, which corners 40% of the market, is privately held. Vapor has a market cap of $54.6 million. VaporBrands International (OTCPK:VAPR) trades in the pink sheets, and Gilla (OTCQB:GLLA) is over the counter. Their tiny sizes should make investors wonder if the companies can afford this business once regulators and tax assessors get around to making demands of this baby industry, which they surely will. The last time the law cracked down on tobacco, the biggest tobacco companies gained market share as small independents collapsed under the expense.
It's true that investors in small e-cigarette companies could make out in takeovers, as companies like Reynolds and Lorilland are hunting for those sorts of acquisitions. But if you're buying the e-cig stocks as a more ethical alternative to tobacco shares, in takeovers you'd be collecting tobacco money just the same.
The traditional tobacco stocks aren't all that cheap, based on trailing PE ratio.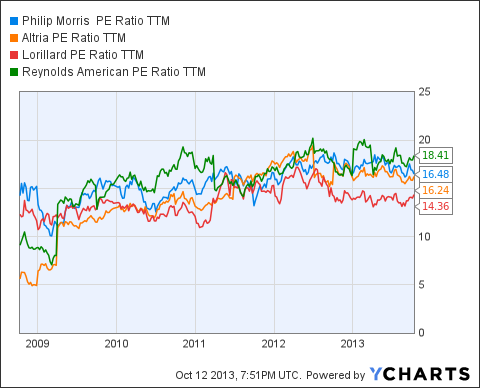 PM PE Ratio TTM data by YCharts
But they're prized for massive cash flow and, generally, fat dividend yields.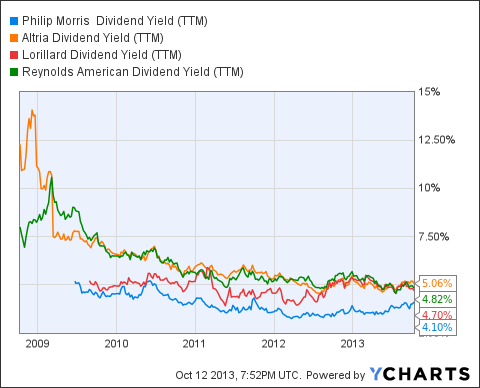 PM Dividend Yield (TTM) data by YCharts

Disclosure: I have no positions in any stocks mentioned, and no plans to initiate any positions within the next 72 hours. I wrote this article myself, and it expresses my own opinions. I am not receiving compensation for it. I have no business relationship with any company whose stock is mentioned in this article.