(Editors' Note: This article covers a micro-cap stock. Please be aware of the risks associated with these stocks.)
The Q3 Production update
Mandalay Resources (OTC:MNDJF) has just put out an interesting production update, as the company announced it produced not less than 14,400 ounces of gold, 733,000 ounces of silver and 966 tonnes of antimony. Because of the good production quarter, management has reiterated its (already increased) production guidance and said the production for this year will very likely come in at the high end of the guidance.
My view on these results
I'm happy with the production results, as the announced production numbers were higher than I expected. I'm particularly happy with the antimony output, as a production of 966 tonnes in Q3 is an increase of 31% compared to the second quarter of this year.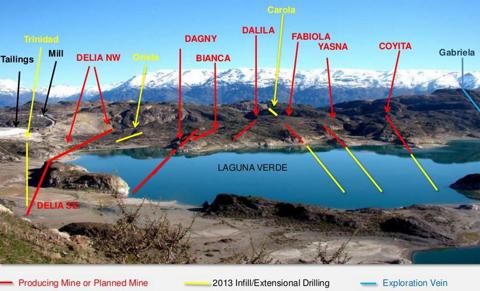 Click to enlarge
Unfortunately, the average received price for the gold, silver and antimony will be lower, so I'm afraid even though the production numbers are great, we won't see any change in the financial numbers. However, I am optimistic about the fourth quarter and think it's quite likely Mandalay will beat its own guidance. The company has guided for a total maximal production of 46,000 ounces of gold, 3.1 million ounces of silver and 3,000 tonnes of antimony, but as it already produced 38,100 ounces of gold and almost 2,500 tonnes of antimony and 2.3 million ounces of silver, I think Mandalay will slightly beat the upper side of its 2013 guidance.
The output should even improve from next year on, as Mandalay reiterated its expectation to increase the throughput at Cerro Bayo by 16% by the end of Q1 2014. This should put the company on track to increase its total production to 50,000 ounces of gold and 3.5 million ounces of silver.
The Dividend
The company has not announced its Q3 dividend payment yet, but in this paragraph I'll make an attempt to calculate the expected dividend by myself. Mandalay Resources has an interesting dividend policy, whereby it pays 6% of the gross revenue as a dividend. This allows me to calculate the expected dividend, as the company also provides the average sales price for its metals. As the company sold 14,622 ounces of gold at $1,328/oz, 777t of Antimony at $9,928/t and 973,107 ounces of silver at $21.33/oz, Mandalay's revenue will be $47,888,444.31. 6% of this amount equally divided over the amount of outstanding shares results in a dividend of $0.887 cents per share, for an annualized dividend rate of 4.67%.
As Mandalay is expecting a higher output in 2014 and as it has renewed a Normal Course Issuer Bid, I expect the dividend per share to increase thanks to the higher revenue and lower amount of outstanding shares.
Conclusion
After writing my initial article about Mandalay Resources, I took a position mainly because of its exposure to antimony, and I'm happy with the current developments. Mandalay is working hard to increase its output even further as it will increase its production rate at the Cerro Bayo project by 16% and will develop the Cuffley Lode zone at the Australian Closterfield project. As Mandalay has linked its dividend to its revenue stream, investors have direct exposure to the price of gold, silver and antimony.
Disclosure: I am long OTC:MNDJF. I wrote this article myself, and it expresses my own opinions. I am not receiving compensation for it (other than from Seeking Alpha). I have no business relationship with any company whose stock is mentioned in this article.