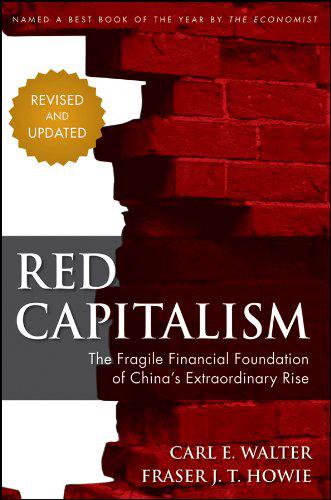 The truth behind the rise of China and its future course
How did China transform itself so quickly? In Red Capitalism: The Fragile Financial Foundation of China's Extraordinary Rise, Revised Edition Carl Walter and Fraser Howie unveil the Chinese financial machine. They show what the social and political consequences are of the unique business model that propelled China to economic powerhouse status but at the same time make it so vulnerable.
I first heard about this book because the famous hedge fund manager Jim Chanos of Kynikos Associates recommended it as the book to read in order to understand China.
Now, you do need to know that Mr. Chanos is focused on short selling and lately he has been speaking up about the credit event he expects to take place within 5 years. So don't expect this book to be trumpeting the glory of China.
My opinion
Red capitalism is both fascinating and a hard read at the same time. I'm currently not invested in China in any way and at times I got bored with the material. The investment literature definitely has authors that are more gifted storytellers like a Peter Lynch or Joel Greenblatt.
However that's not entirely a fair comparison. While they get to entertain us with "war stories," authors Walter and Howie have the daunting task of explaining the shift in financial mechanics in a state that has both communist and capitalist influences.
If you are already familiar with the political or banking industry in China, this book will be that much easier to read. If you don't know any of the banks and anything about the country, you will need to take notes to keep track of all the organizations and the way they are related.
At the same time the tale is also very exciting because it is scary at times. Yet it is also very educational and I feel I gained great insight into the present China and even better insight into the psyche of the nation. A few interesting quotes:
"Goldman Sachs and Morgan Stanley made China's state-owned corporate sector what it is today."

"The result by 2010 is a jerry-built financial structure caught somewhere between its Soviet past and its presumably, but not assuredly, capitalist future."
It is clear throughout the book that the authors are extremely knowledgeable about China's situation and I haven't read any articles or other books that show this depth of knowledge about both the banking system and the political movement.
Authors
Carl E. Walter lived in China for twenty years and actively participated in numerous financial reforms. He played a major role in China's groundbreaking first overseas IPO in 1992, as well as the first listing of a state-owned enterprise on the New York Stock Exchange in 1994.
He was a member of the Management Committee at China International Capital Corporation, China's first and most successful joint venture investment bank, where he supported a number of significant domestic stock and debt underwriting for major Chinese corporations.
More recently, he helped build one of the most successful and profitable domestic security and currency trading operations for a major global investment bank. Fluent in Mandarin, he holds a PhD from Stanford University and a graduate certificate from Beijing University. He currently lives in New York where he acts as an independent consultant.
Fraser J. T. Howie studied Natural Sciences (Physics) at Cambridge University and Chinese at Beijing Language and Culture University. For nearly twenty years he has been trading, analyzing, and writing about Asian stock markets.
After moving to China in 1998, he worked in the sales and trading department of China International Capital Corporation followed by a stint with China M&A Management Company.
He has contributed to the SCMP, AWSJ, China Economic Quarterly,and China Economic Review as well as being a regular China commentator on CNBC, BBC, Al Jazeera, and Bloomberg. Currently, he is a Managing Director at a leading Asia Pacific Brokerage firm in Singapore helping international investors invest in both the Indian and Chinese markets.
Author Bios: Amazon
Conclusion
If you are thinking of investing in China or currently have capital invested in China or near China, I highly recommend this book. Especially if you are very bullish on China, this will be a great read to balance your opinion.
When you are looking for a nice investment book to read over the holidays, my advice is to look further. This will be a pretty tough read.
To Buy:
Red Capitalism: The Fragile Financial Foundation of China's Extraordinary Rise
Disclosure: I have no positions in any stocks mentioned, and no plans to initiate any positions within the next 72 hours. I wrote this article myself, and it expresses my own opinions. I am not receiving compensation for it (other than from Seeking Alpha). I have no business relationship with any company whose stock is mentioned in this article.