Shiloh Industries (NASDAQ:SHLO) is revving up for continued strength seen in the auto industry. It seems SHLO's share price is not properly representing their valuation when you consider that their recent acquisitions, financials, and strategic product focus will continue their growth while being further aided by growing demand in the auto industry for their products. Therefore, I see SHLO offering investors a buying opportunity at current levels, giving investors a way to diversify their investment strategy within the auto industry.
Who Is SHLO?
SHLO is a manufacturer and distributing auto part supplier. SHLO is forming a moat amidst their competitors by focusing solely on lightweighting and noise, vibration and harshness (NVH) solutions to automotive, commercial vehicle and other industrial markets. Supplying every major automotive company including, but not limited to Ford (NYSE:F), Tesla (NASDAQ:TSLA), General Motors (NYSE:GM), and BMW, Daimler, Honda (NYSE:HMC), Toyota (NYSE:TM), Renault/Nissan (OTCPK:NSANY), Hyundai, Subaru, and Chrysler, they have found an advantage by offering better price points on their products. This has allowed them to win the bidding war which takes place in their industry for supplying their customers.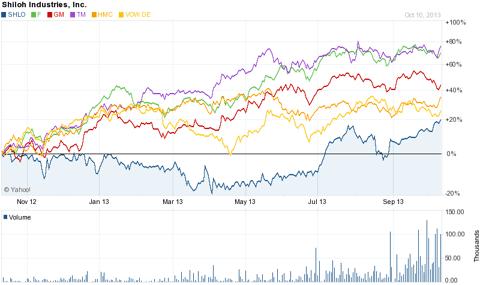 One of SHLO's product advantage is that they focus on lightweight products. In the auto industry, the lighter the weight per product, the less emission is exhausted from the vehicle and therefore, the more fuel efficient the vehicle is. Their patented ShilohCore lowers vibration and noise, while not adding mass which would otherwise increase costs to make. This is one reason SHLO is seeing such growth in demand for their lightweight products. While their competitors may focus on a larger diversity of product mix, SHLO, while offering a variety of products, chooses to focus on a niche in quality of product - the lightweight aspect design of auto parts. Their goal is to become the leading lightweight solution provider. This becomes all the more strategic when light vehicle sales are trending upwards in the industry.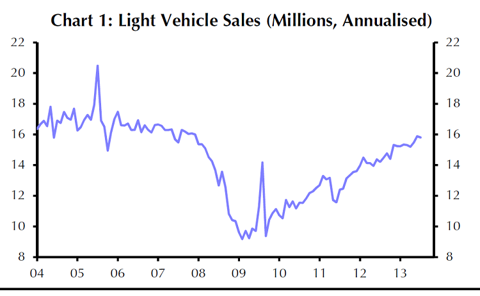 SHLO Has Been Busy
With three acquisitions since December of 2012, SHLO has been capitalizing on strategic acquisitions which have strengthened their operations. Mainly horizontal acquisitions, the below companies were those SHLO saw strategic to acquire:
Atlantic Tool & Die - Alabama, Inc. - December 13, 2012
Albany-Chicago Company, LLC - December 28, 2012
The Albany-Chicago Company, LLC acquisition gave SHLO $20 million in goodwill to be taxed out over a fifteen year period. This will help the company preserve income during any slowdown in demand as a result of the cyclical nature of the industry they are in (this assumes there will not be any impairments exceeding the amount of goodwill year over year). Furthermore, the main synergy from this acquisition is that it enlarged SHLO's workforce and operations. This acquisition also moderately strengthened their B1 rating making them an overall stronger company and in turn, investment. The Contech Casting, LLC deal was strategic as it brought with it another customer for SHLO, that being Volkswagen AG, and also gave them a footprint in the southern region of the US.
Notable Comps & Financials (see full 10-Q here)
| | |
| --- | --- |
| Current Ratio | 1.5 |
| Debt-to-equity | 1.7 |
| Times Int. Earned | 14.2 |
| PE | 12 |
| Forward PE | 8.3 |
SHLO's times interest earned ratio (TIE) is quite impressive for being in a capital intensive industry. With their TIE being ~14.2, meaning they are generating over $14 for each dollar of interest they have, it provides a comfortable cushion for the investor to see SHLO's net interest expenses from their acquisitions won't hurt their bottom line. It furthermore gives a glimpse to how profitable they have been.
Condensed Consolidated Balance Sheets (USD $)
Jul. 31, 2013
Oct. 31, 2012
In Thousands, unless otherwise specified
ASSETS
Cash and cash equivalents
$638
$174
Accounts receivable, net of allowance for doubtful accounts of $328 and $482 at July 31, 2013 and October 31, 2012, respectively
86,942
77,556
Total assets
321,827
249,102
LIABILITIES AND STOCKHOLDERS EQUITY
Current debt
860
447
Accounts payable
64,344
63,633
Other accrued expenses
22,541
21,395
Total current liabilities
87,745
85,475
Long-term debt
83,000
21,150
Total liabilities
202,678
141,699
Retained earnings
84,293
73,425
Total stockholders equity
119,149
107,403
Total liabilities and stockholders equity
$321,827
$249,102
Gross profit for the third quarter improved 44 percent to $17.5 million compared to $12.2 million or 8.6 percent of sales revenue for the third quarter of 2012.
Company Growth
Latest 12 Mos. EPS Change:
121.43%
Total Return Last 12 Months
21.28%
5 Year EPS Growth Rate:
11.49%
Total Return Last 3 Years
43.00%
5 Year Revenue Growth Rate:
5.98%
Total Return Last 5 Years
49.58%
SHLO saw revenue growth surge 16.9% year over year in the second quarter mainly due to the expansion in their operations from acquisitions and growing demand in the auto industry. Their operating income likewise surged 108% to $8 million. With a predicted million more car sales in 2014 than in 2013 for the auto industry, SHLO's growth story will only continue to benefit.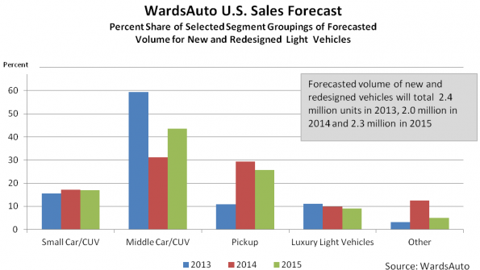 Limited Risks
SHLO's bottom line results can be impacted most negatively by two factors: auto industry slowing in growth and the cost of raw materials rising. Although the former SHLO has little actual control over, the latter they do. SHLO has structured their purchasing agreements of raw materials so that their customer negotiates the price for steel or aluminum with a supplier. SHLO then buys these raw materials from their customer, charging a price which exceeds the cost of raw materials to produce the needed part. While a rise in steel and aluminum prices can still affect SHLO's cash flow, it does, however, lessen the risk of a sharp rise in steel or aluminum prices hurting their bottom line.
Share Price & Target
SHLO's current share price does not seem to reflect their steady growth in income and their operations.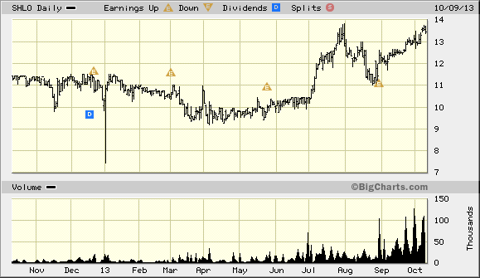 The market is not properly valuing SHLO's strategic purchasing agreements and the notable comps seen above giving investors an opportunity with SHLO. SHLO's share price has been in an up trend since their since their last earnings report when they beat estimates, coming in at .31 a share. I see any pullback in SHLO as an opportunity to buy and hold over the next few years during the auto industry's continued revival, and believe they could see $15 a share over the next six months, and $17 a share over the next year, giving them 8% and 20% upside respectively.
Disclosure: I have no positions in any stocks mentioned, but may initiate a long position in SHLO over the next 72 hours. I wrote this article myself, and it expresses my own opinions. I am not receiving compensation for it (other than from Seeking Alpha). I have no business relationship with any company whose stock is mentioned in this article.