Ford Motor Co (NYSE:F) is well positioned with a market of pent up demand and a wide portfolio of competitive products early in their product cycles. The most important thing is that the future cash flows that can be expected are undervalued.
Business Summary
Ford Motor Company engages in the development, manufacture, distribution, and service of vehicles, parts, and accessories worldwide. The company operates through two sectors, Automotive and Financial Services. The Automotive sector offers vehicles primarily under the Ford and Lincoln brand names. Source: Yahoo Finance
Story
To be honest I'm not a huge fan of the auto sector. Yet throughout the year my writing has been overweight towards the sector by a wide margin. The one factor that has me so interested in the auto sector is that of pent up demand. The deleveraging story is widely known and that has caused significant pent-up demand.
If economists looking at the housing sector are generally optimistic, those who follow the auto industry are practically brimming with glee. Right now, the average age of cars on the road is the oldest ever recorded, at 11-and-a-half years, which means at some time, people will have to buy newer ones. As NPR's Sonari Glinton reports, that time may be now.
The most beautiful thing about the pent up demand story is that the companies are cheap to buy. Earnings have been low for a while now.
There are also voices that counter the pent up demand story. For example with arguments that people invested in maintaining their cars and that they don't feel the need to own a new or newer car. There is also a valid argument that as the car fleet aged, cars last longer because their lifespans are improved.
Both are valid arguments and there is most likely some truth to them.Still I think the record age of the fleet indicates there are better sales numbers to come. Perhaps not equal to peak demand before the crisis but better then they are currently.
The second reason and why I'm specifically writing about Ford, is that it has a wide portfolio of competitive products at this point. I didn't test drive any myself, but quoting a U.S. News Report.
The Best Cars for the Money Awards cover 21 different automotive categories with one winner in each. With six wins, Ford took home the most awards of any brand, followed by Toyota, which took home five awards across its Toyota, Scion and Lexus brands. As a whole, domestic automakers won nine awards and import brands won 12. Some cars are long-time award winners. The Lexus RX 350 has won Best Luxury Midsize SUV five years in a row, and the Ford Taurus has won Best Large Car for the Money for the past four years. However, there are some newcomers such as the BMW X1, Scion FR-S and Buick Verano.
Does this make Ford a superb automaker? A stock to own for the ages? No. Does it mean they are likely to do well if the pent up demand story plays out? Yes.
Competition
The auto business isn't really a great business to be in. There are no barriers of entry to the auto market except capital requirements. That is not a real competitive advantage and so whenever there are substantial profits to be had, new entrants come into the market.
This is a curse to all automakers. Some notable competitors are: Toyota Motor Corp ADR, Daimler AG ADR (OTCPK:DDAIY), General Motors Co (NYSE:GM) and Volkswagen AG ADR (OTCPK:VLKPY). Because of this competitive dynamic where its very hard to gain a real competitive advantage, auto companies are not something you want to buy and hold for eternity.
It's just that at the present time, the potential upside outweighs the downside. The potential upside being powered by the two factors discussed under story.
Valuation
The auto business is very capital intensive so I want to value the company while being mindful of its enterprise value and not use P/E (11) to go by. As you can see Ford trades in the middle of the pack compared to some of the large competitors. GM being the only one of these auto industry stocks I discussed in my article 4 Undervalued Auto Stocks.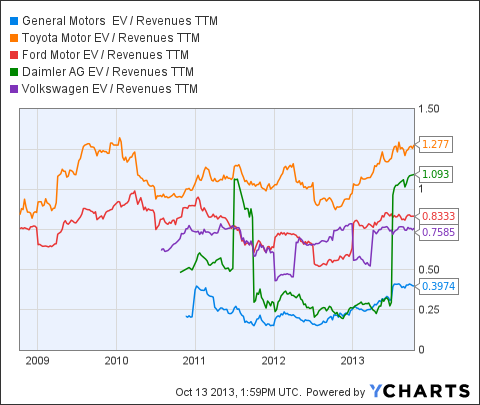 GM EV / Revenues TTM data by YCharts
Just looking at the multiples doesn't do the opportunity justice. If the scenario of demand returning plays out, the numbers will become much better incredibly fast. Ford also invested a lot to bring fixed costs down by manufacturing cars from a fewer number of platforms. That is going to pay dividends in the future. Speaking about dividends. Ford increased the dividend and yield is now at 2.3%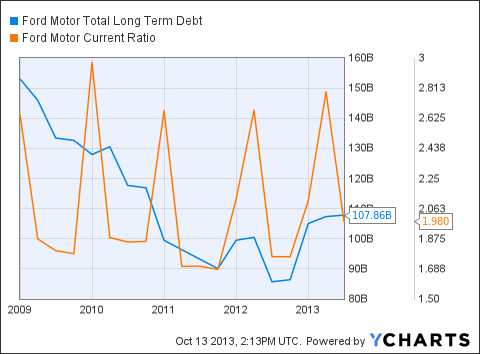 F Total Long Term Debt data by YCharts
Meanwhile debt has decreased a meaningful amount since the crisis and the company is well able to service its short term obligations. Barring extra ordinary events the company is in good shape.
Because of the pent-up demand and the strong portfolio I overweight positive scenarios for the future. If the story plays out the company can double FCF over the next few years.
Conclusion
Given future cash flow considerations the stock is undervalued. Mainly because of a strong product portfolio and demand dynamics in the market.
Huge cyclicals are far from my favorite investments. Smaller plays that can possibly become the target of a buyout or M&A offer are much more attractive to me. If you are looking for major cyclicals to add to your portfolio I think this is a good choice at $17.
Disclosure: I have no positions in any stocks mentioned, and no plans to initiate any positions within the next 72 hours. I wrote this article myself, and it expresses my own opinions. I am not receiving compensation for it (other than from Seeking Alpha). I have no business relationship with any company whose stock is mentioned in this article.