CVS Caremark (NYSE:CVS) is the largest, publicly traded drug retailing company with more than 7,500 locations across the United States. CVS/pharmacy is CVS's retail unit providing face-to-face counseling, prescriptions advice and flu-vaccinations. CVS Caremark Pharmacy Services, CVS's pharmacy benefit management unit provides mail order and specialty pharmacy services to institutions such as insurance companies, unions and others. Minuteclinic is CVS's retail medical clinic division which provides healthcare services to Americans in more than 650 locations. In 2012 the company achieved $123 billion in net revenues.
Share performance
CVS Caremark has returned 72% to shareholders in the last two years while Walgreen (WAG), CVS's smaller competitor with a market cap of $53 billion, earned investors 70%. Only recently Walgreen began to outperform CVS with a one year return of 56% compared to 27% for CVS. GNC Holdings (NYSE:GNC) is about 10% of Walgreen's size in terms of market value and managed to return 166% over the most recent two year period. Shares in the drug retail sector have been performing really well and valuations have now increased so much that further upside is constricted.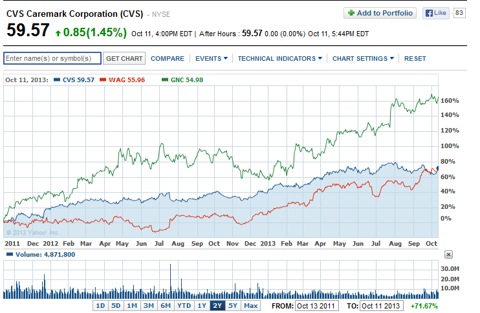 Intrinsic value estimate
CVS's operating cash flows have increased at double-digit growth rates while investing cash flows remained somewhere in the $2 billion region. CVS projects 2013 full year operating cash flows of $6.4-6.6 billion. Operating cash flow growth is somewhat slowing which isn't surprising considering the high growth rates since 2010. CVS, quite interestingly, has negative net borrowings over the last three years reducing leverage and decreasing free cash flows. My estimates for CVS's 2013 and 2014 cash flow performance can be seen in the table below and build upon the full year 2013 guidance CVS has released on August 6, 2013: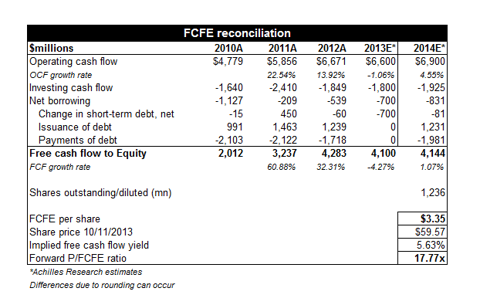 I estimate the free cash flow to equity to reach $4,144 billion or $3.35 per share in 2014. Correspondingly, CVS's shares trade at 17.77 times forward FCFE which is a premium multiple given the slowing cash flow growth. Assuming CVS can grow FCFE at 4% in the long-term, the intrinsic value of CVS's shares is $55.45 and is about 7% lower than CVS's current market price of $59.57.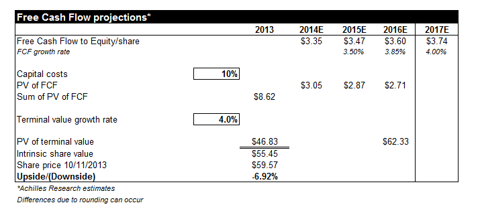 Peer group
CVS appears to be a cheap drug retailer based on earnings. It's P/E ratio is the lowest compared to Walgreen and GNC Holdings. CVS trades at a roughly 8% discount to the average peer group P/E ratio of 14.50 which is biased upwards by GNC. Dividend yields for the drug store sector range between 1.09% for GNC and 2.25% for Walgreen. CVS pays 1.51% and its dividend yield is everything else but a reason to buy CVS shares.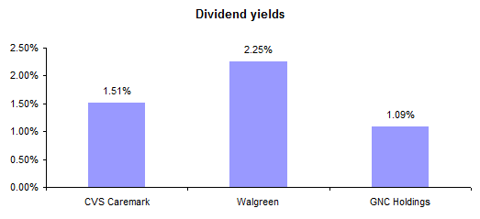 A comparative summary relating to valuation metrics for the drug retail sector is provided below:

Conclusion
CVS has increased by over 120% over the last five years which makes the company very expensive on a free cash flow basis. CVS now faces slowing operating cash flows growth which does not justify a near 18x multiple of free cash flow. The free cash flow valuation above indicates that the intrinsic value of CVS is $55.45 per share which represents about 7% correction potential. Investors pay a substantial premium for CVS shares although the dividend yield stands at only 1.51%. Long-term, income driven investors seeking exposure to the health care sector can find better investments at lower valuations and higher yields. Omega Healthcare Investors (NYSE:OHI) for instance is such as stock.
Disclosure: I am long OHI. I wrote this article myself, and it expresses my own opinions. I am not receiving compensation for it (other than from Seeking Alpha). I have no business relationship with any company whose stock is mentioned in this article.