Background: Despite my macro valuation concerns, I'm always on the lookout for an undervalued financial asset, especially when it appears as though it is in the process of being revalued upward. This way of thinking is further enhanced when the idea fits a young secular trend.
In this case, the trend is the reindustrialization of the United States due to the fracking boom and an era of reasonably-priced natural gas, and the financial asset is the Texas-based company Trinity Industries (NYSE:TRN).
This article serves to bring TRN to the attention of Seeking Alpha readers. It does not purport to encompass deep analysis, but simply to do a thorough analysis of Trinity's business.
Introduction: Trinity Industries (TRN), which will be called Trinity or TRN herein, was formed as Trinity Steel in 1933 by C.J. Bender. It went public in 1958 pursuant to a merger with Dallas Tank and Bender-Wallace Development Company. The merged company's president and first CEO was Ray Wallace. The next and current CEO, president and board chairman is his son Timothy. A Fortune article from 2000 discusses the changes attendant to this change of management, which involved modernizing employee relations and ultimately making the company's operations more flexible.
Trinity's main focus is on railcar manufacturing and leasing. It does have operations in several other segments of manufacturing, including production of inland barges and guardrail products for highways, but it is fair to think of it first and foremost as tied to railroad activity first and, more broadly, transportation. Thus its operating segments are operating in what for now look like sweet spots in the U.S. economy.
My general impression is that Trinity is in the right place at the right time, with the right management and business plan. Whether this assessment is indeed correct, and whether the future months and years will continue the recent trends, however, are cogent points to consider as you read this generally bullish article.
Discussion: Trinity is poised to earn about $4.30 per share this year. The previous high point for EPS came in 2007, at $3.65/share. That year, the stock peaked at $49.7 (Value Line data, which ignores the pennies). It also reached $47.7 in 2006, when it earned $2.72/share. With the stock now at $45.07, and with consensus EPS for 2014 up to $4.77, TRN appears relatively undervalued to its own bull market trading history and to the general market as a whole.
In 2006-7, operating margins were 14.6% and 16.5% respectively; they are estimated to be 21.5% for 2013. The company's operations have become more efficient, and it prides itself on having the ability to shift production between different products as end markets shift.
TRN has no preferred stock and virtually no outstanding options. Interest expense is covered well at 3.4X; the pension plan is underfunded by about $100 MM, or about 3% of market cap.
The development of large oil and gas production centers far from both pipelines and refineries have led to the large-scale use of rail to transport raw petroleum products, to TRN's great benefit. TRN will also benefit from a true resurgence in building through its concrete and aggregates segment; its energy equipment segment also benefits from high oil prices and government policy, as it manufactures wind towers.
TRN operates in cyclical industries, so the question investors must ask is what is the underlying normalized earnings power of this company. A quick analysis shows that even though it is expected to shrink shares outstanding from 81.70 MM to 77 MM this year while paying out a modest (and rising) dividend, book value is expected to rise from $25.13 to $28.35 per share. In a richly-valued market, these are positive numbers and suggest that a stock may be undervalued.
I give some weight to analyses by independent analytic entities. In the next section, I describe Value Line's and S&P Capital IQ's ("S&P" herein) valuation analyses of TRN.
Valuation of TRN: The "value line" itself (i.e., estimated fair value) for most non-financial companies is a multiple of cash flow. Value Line's analysis for TRN is 8.0X cash flow per share. Assuming cash flow of $7.15 for this year and $7.60 per share for 2014, TRN's estimated fair value is in the $55+ range today, rising to $64 about one year from now.
Value Line gives TRN a mildly-above average financial strength rating of B++, similar to that of S&P Capital IQ, which rates it B+ (and has no B++ rating).
S&P evaluates TRN two ways. In its Aug. 6 report, it projects a 12-month target price of $60, which is 12.5X its $4.80 EPS estimate for 2014. It also uses a proprietary quantitative model of fair value. TRN shines in this model. Fair value as of Aug. 6 was estimated at $56.70. This is in the "most undervalued" group of stocks S&P rates.
It is interesting that Value Line's "value line" and S&P's valuation model both hone in on the $56 range for TRN's fair value as of today.
Earnings surprise trend and technical factors: Per Yahoo Finance:
| Earnings History | Sep 12 | Dec 12 | Mar 13 | Jun 13 |
| --- | --- | --- | --- | --- |
| EPS Est | 0.80 | 0.84 | 0.81 | 0.96 |
| EPS Actual | 0.80 | 0.90 | 0.91 | 1.07 |
| Difference | 0.00 | 0.06 | 0.10 | 0.11 |
| Surprise % | 0.00% | 7.10% | 12.30% | 11.50% |
EPS Trends

Current Qtr.
Sep 13
Next Qtr.
Dec 13
Current Year
Dec 13
Next Year
Dec 14
Current Estimate
1.16
1.18
4.31
4.77
7 Days Ago
1.16
1.18
4.31
4.74
30 Days Ago
1.16
1.18
4.31
4.74
60 Days Ago
1.15
1.15
4.25
4.67
90 Days Ago
1.07
1.06
4.00
4.47
Three successive upside earnings surprises is impressive. This phenomenon often bodes well for the next earnings report, as analysts rightly are cautious about overdoing earnings estimates for cyclical companies. Despite rapidly rising earnings estimates, TRN, at $45.07, is marginally below higher prices it reached in March 2013. Having recently hit a multi-year high and trading above its rising moving averages, its chart strikes me as attractive: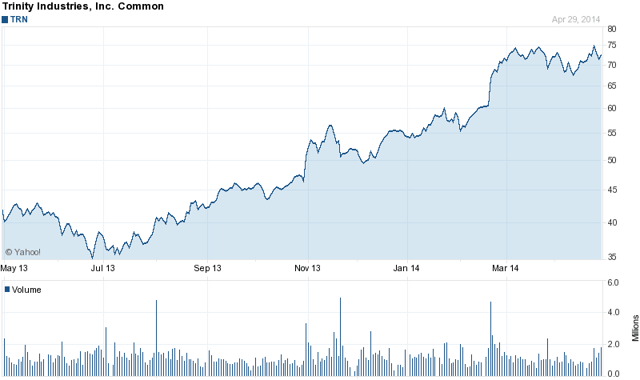 Click to enlarge
Risks: Since TRN is reasonably priced but not "cheap," the stock has elevated downside risk in a recessionary state. Declining rail utilization could cause both volume and price pressures on the company, and since virtually all the company's revenue drivers are pro-cyclical, Mr. Market is acting rationally in refusing to push the stock into all-time high territory. Other risks include market risk, given TRN's beta of 1.65. Lawsuits and other risks are detailed by the company in routine SEC filings. As a railcar lessor, additional risks may be present given various issues that are inherent in that business line.
Summary: TRN is closely tied to the resurgence of the domestic oil and gas industry, and to a general upturn in autos and housing, traditional growth drivers for the United States. Two independent stock analytic companies, Value Line and S&P, suggest that fair value today for TRN could be in the mid-to-upper $50s. When 2014 rolls around, it is reasonable to imagine earnings estimates reaching and exceeding $4.80/share, with a P/E on prospective 2014 earnings of 13-14X leading to a trading price in the upper $60s.
TRN therefore may be an attractive stock, as it appears to be a well-managed company that serves as a reasonably pure play on important and growing parts of the United States economy. Downside risks are significant, as well.
Disclosure: I am long TRN. I wrote this article myself, and it expresses my own opinions. I am not receiving compensation for it (other than from Seeking Alpha). I have no business relationship with any company whose stock is mentioned in this article.
Additional disclosure: Not investment advice. I am not an investment adviser.