Enterprise Products Partners (NYSE:EPD) is a pipeline Master Limited Partnership, or MLP. Enterprise handles natural gas, or NGLs, crude oil, refined products and certain petrochemicals. Its operations include natural gas gathering, treating, processing, transportation, storage and a marine transportation business that operates in the United States. Natural gas liquids, or NGLs, are Enterprise's biggest line of business. Its services include fractionation, and import and export terminals. The partnership's market cap is over $55 billion.
Energy infrastructure in the United States has a great future. The "shale revolution" is changing the energy landscape in the United States in some interesting ways. Domestic crude oil production has reversed its three-decade decline. Waterborne crude imports, particularly of the light, sweet variety, are dropping significantly. Natural gas has seen a glut of supply which has knocked its price down to very low levels compared to oil. Natural gas liquids, which include important industrial feedstocks, are now overabundant in the US. This imbalance has resulted in some instances where selling these liquids to industrial customers no longer makes sense for producers.
Enterprise is one of the most established pipeline MLPs in the United States, its core assets being a crude oil and natural gas liquids complex along the Gulf Coast of the US. As one of the biggest storers of crude and transporters and fractionators of NGLs in the country, Enterprise is on the front lines of the country's changing energy landscape.
Over the last ten years, Enterprise has raised its distribution by 6.8% compounded. This year's series of distribution hikes have been in that range, too. One of Enterprise's best qualities is that its distribution is among the most well-covered in the pipeline industry, which gives many investors peace of mind. This article will cover Enterprise's business, take a look at some of its new projects and where it will take the company, compare Enterprise with other pipeline MLPs, and finally look at the partnership's valuation.
Overview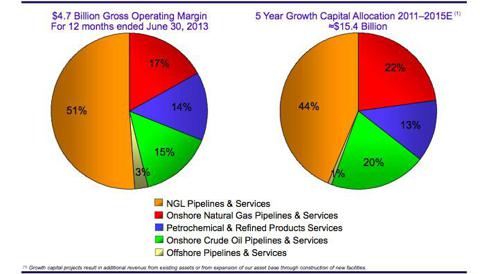 Enterprise's biggest line of business is NGL pipelines and services, with an extensive pipeline system delivering important feedstocks to petrochemical customers on the Texas and Louisiana Gulf Coast from places as far away as the Marcellus shale and Front Range of the Rockies. The partnership is a dominant player here, with a system of pipelines, terminals and fractionators which is bigger than any competitor.
By 2015, onshore natural gas and crude oil will both be a larger part of Enterprise's business, a result of increasing shale production. Many of Enterprise's new projects involve pipeline and storage capacity systems for some of these new shale plays, particularly the Eagle Ford.
Crude oil assets include pipelines between the Permian, Cushing and the Gulf Coast. Enterprise's ECHO crude oil storage terminal links oil from Canada and the Mid-Continent, as well as waterborne imported oil, with Gulf coast Refiners. A new pipeline from the Eagle Ford to the Gulf Coast is now online, too. Gas pipelines include two outlets from the Permian and a massive network in South Texas.
Builder Of Systems
One key takeaway with Enterprise is that it is a builder, not a collector, of systems. This means management is not interested in acquiring assets from others which are sometimes disparate from one another. Instead, Enterprise builds integrated and complementary midstream systems from the ground up. And this year, building is precisely what this partnership is doing.
Over the next 3 years, $4 billion will be spent in the Eagle Ford alone. Other important projects include increasing NGL fractionation capacity, a propylene plant, and the Texas Express pipeline from the Front Range to the Texas Gulf Coast. A full list of projects is below:
In NGLs, a new gas processing facility in South Texas with a capacity of 300 million cubic feet per day
A new Eagle Ford gas pipeline to accompany the new processing facility.
An export terminal expansion in Houston. Enterprise's answer to NGL oversupply is to export to places such as the Far East and Latin America, where factories are clamoring for those important feedstocks at a cheap price.
The Texas Express joint venture pipeline, taking NGLs from the Front Range down to the Gulf Coast.
An expansion of the NGL processing plant in Mt. Belvieu, Texas. This will include pump expansion, NGL fractionation and an NGL pipe expansion to accommodate growing demand and ultimately NGL exports.
A pipeline carrying Ethane from the Marcellus and Utica to the Gulf Coast
A Mid-America NGL pipeline expansion
The 270 mile Aegis Ethane pipeline through Louisiana
In crude oil, Enterprise is also working on the following systems
Expansion of the North Loop pipeline system through West Texas
A Permian pipeline from Avalon to Bone Springs
A joint venture crude oil pipeline through the Eagle Ford
The Seaway joint venture expansion, which moves crude from Cushing to the Gulf Coast. And finally,
Big expansion of the ECHO storage terminal, adding 4 million barrels of storage capacity.
Economic Value Added
I believe that Economic Value Added, or the EVA ratio, is an important metric. It represents the company's return beyond the cost of capital which it took out. It is a good representation of the real economic value a certain company brings to the table. There is no set way to measure EVA for MLPs, but I believe the best equation would be this:
[(EBITDA / Enterprise Value) - Weighted Average Cost of Capital] * 100
Enterprise's "earnings yield," which is EBITDA/Enterprise Value, is currently 8.2%. Weighted Average Cost of Capital, which considers both the cost of debt and of equity, is a hair over 5%. That leaves 3.2 percentage points, or 320 basis points, of economic value added. That would be roughly equal to the value added by fellow pipeline Plains' All American (NYSE:PAA), and more than MarkWest Energy Partners (NYSE:MWE). This comparison isn't precise: the EVA ratio calculation for MarkWest and Plains did not include cost of equity at the time I wrote those articles, but I still believe their scores would be about the same.
So what does it mean? Although the EVA ratio is important, it can sometimes be skewed by heavy investment which has yet to follow through with earnings, or simply by equity value being too low or too high and not a measure of the intrinsic efficiency of the said company.
In this case, we can see that Enterprise already has many projects in progress. And as we will see, Enterprise, if anything, is a bit pricey here. And still this partnership is delivering ample economic value. Enterprise is a good capital allocator.
Financials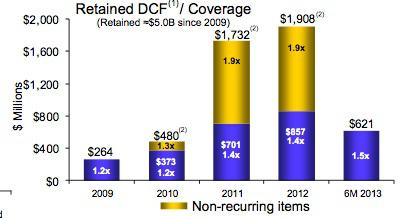 Financials is where Enterprise really stands out as a safe, steady investment. One of its greatest strengths is the DCF coverage ratio. In both last year and the year before, Enterprise's distribution was covered by an amazing 1.4 times, with this year shaping up to go the same way. Compare that with Kinder Morgan Partners' (NYSE:KMP) coverage ratio of about 1 even, or MarkWest's targeted coverage ratio of 1.2 times.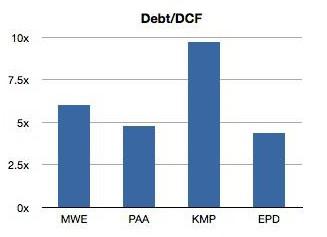 The above chart shows debt to DCF from 2012. Again, Enterprise is on the bottom when compared to KMP, Plains and MarkWest. Overall, Enterprise's leverage is pretty stable, with debt holding steady at about 3.6 times EBITDA since 2011. Cost of debt has also been on the decline, falling from 6.1% in 2009 to 5.4% at the end of last year. All of Enterprise's debt is at a fixed rate, so while higher rates may make refinancing or taking out new debt difficult, it will not have an immediate impact on Enterprise's operations.
Valuation

Enterprise's great performance sure hasn't flown under anyone's radar. Units are up almost 17% since the year began, which is only the continuation of a longer trend since 2009. Over the last few years, higher prices have driven down Enterprise's distribution yield to 4.5%, comparable to a utility. To look beyond just the distribution yield we will also look at Price to DCF.
Although the Price to DCF ratio may not be a perfect way to value an MLP, I do believe it is a good method which values MLPs by their most important aspect: Cash flow which can be distributed to unitholders. Right now, units trade at 19.75 times trailing twelve month DCF (thanks to Ron Hiram's work for help on that calculation). Enterprise is pretty expensive. The price/DCF ratio is almost three times the partnership's approximate distribution growth rate of 6%-7%. Enterprise is a great partnership, but it is priced to perfection here.
Conclusion
Enterprise is among those pipelines on the forefront of America's changing energy landscape. As a 30+ year old company originally suited to take waterborne oil imports and fractionate NGLs on the Gulf Coast, Enterprise is retooling itself for less oil imports and growing NGL exports. At the same time, it has greatly expanded its geographical reach and is continuing to do so as it builds both crude and natural gas pipelines and storage facilities. The investor can expect Enterprise to continue growing distributable cash flow at a steady, mid-high single digit pace at least. However, this pipeline has been a favorite of investors over the last few years, and it is now rather pricey. If you are interested in adding units of this pipeline to your portfolio, the best thing to do right now is be patient for a pullback and a better valuation.
Additional Sources:
"Debt/DCF" Chart by author, debt data by Morningstar, DCF data from respective conference calls.
Disclosure: I have no positions in any stocks mentioned, and no plans to initiate any positions within the next 72 hours. I wrote this article myself, and it expresses my own opinions. I am not receiving compensation for it (other than from Seeking Alpha). I have no business relationship with any company whose stock is mentioned in this article.