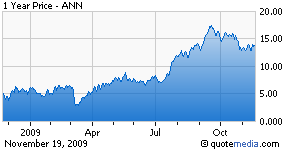 AnnTaylor Stores Corp. (NYSE:ANN) is expected to report Q3 earnings before the market opens on Friday, November 20 with a conference call scheduled for 8:30 am ET.
Guidance
Analysts are looking for a profit of 7c on revenue of $473.85M. The consensus range is 1c-15c for EPS, and revenue of $440.69M-$483M, according to First Call. In August, AnnTaylor forecast $30M-$35M in restructuring costs for FY09, and said it expected sales to be under pressure for FY09 with a same-store sales improvement in 2H.
Analyst Views
As for the quarter, Jesup & Lamont expects both Q3 and Q4 results to be slightly higher than anticipated. While the firm is concerned about the consistency of performance between AnnTaylor Stores and Loft, the firm admits that AnnTaylor is "finally" headed in the right direction. The firm, which believes the company is on "the right track" regarding its merchandise, notes that Q3 same-store-sales were likely pressured by very low inventory levels. In addition, the firm says revenue was likely hindered by lower inventory per store at the beginning of the quarter, and sees a 500 basis-point improvement in gross margin. Increased EPS is expected to be driven this year and next by the $60M cost-reduction initiative, a new management team and fresh merchandising and marketing initiatives. Analysts at Stephens agree, and say they expect the company's core brand will recover faster than originally thought.