On Friday, October 11, Consol Energy (NYSE:CNX) announced that it is exploring its options to significantly reduce its coal holdings and focus more on natural gas, and WSJ describes three potential scenarios for making it happen. In the wake of Friday's announcement, I wanted to highlight a number of reasons behind my decision to remain bullish on shares of Consol Energy.
#1 - The Three Possible Scenarios
According to the Wall Street Journal there are three potential scenarios when it comes to the options Consol is currently exploring. In the first of the three scenarios, CNX could consider splitting up its coal and gas assets to trade separately. This makes sense, since CNX has invested heavily in gas in recent years, including a $3.5B deal for Dominion's (NYSE:D) Appalachian gas business to take advantage of the shale gas boom.
The second of the three scenarios includes selling about half its coal capacity which is currently tied to the utility markets, while retaining its coal assets that linked to the export market and steel sector. If the right buyer came along, and the right price was negotiated, there's a very good chance the company may sell any of its remaining coal assets after the first portion of its coal assets are sold off.
The last of the three scenarios has Consol Energy selling off all its coal assets outright, which are currently valued at around $6.5 billion. I personally the third of three scenarios would be the least considered as CNX may prefer to retain some of the more profitable portions of coal-related operations.
#2 - Recent Performance & Trend Status
On Friday shares of CNX, which currently possess a market cap of $8.73 billion, a beta of 1.43, a P/E ratio of 70.69, a forward P/E ratio of 25.93, and a current dividend yield of 1.31% ($0.50), settled at a price of $38.17/share. Based on their closing price of $38.17/share, shares of CNX are trading 10.01% above their 20-day simple moving average, 15.18% above their 50-day simple moving average, and 18.72% above their 200-day simple moving average.
These numbers indicate a short-term, mid-term and a sustainable long-term uptrend for the stock, which generally translates into a moderate selling mode for most traders.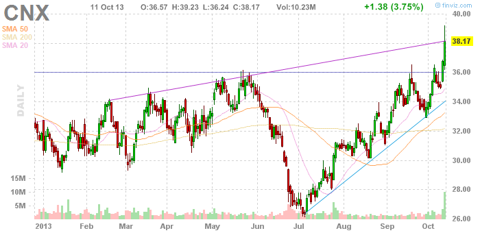 #3- 24-Month Dividend Behavior
Since August 8, 2011, the company has increased its distribution once in the last 24 months. The company's forward yield of 1.31% ($0.50) coupled with its ability to maintain its dividend on an annual basis, make this particular metals stock a highly considerable option, especially for those who may be in the market for a conservative stream of quarterly income.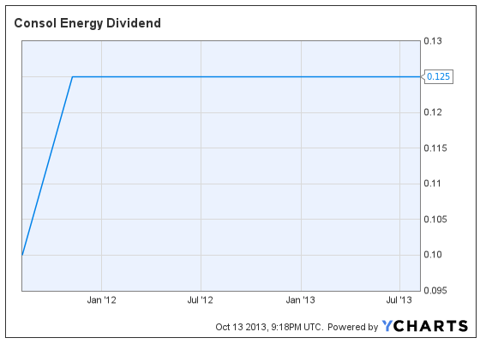 Risks To Consider
According to Consol Energy's website there are number of risks to consider before establishing a position in the company. For example, "Our financial results are significantly affected by the prices we receive for our coal and gas. Extended or substantial price declines for coal would adversely affect our operating results for future periods and our ability to generate cash flows necessary to improve productivity and expand operations. Prices of coal may fluctuate due to factors beyond our control such as overall domestic and global economic conditions; the consumption pattern of industrial consumers, electricity generators and residential users; technological advances affecting energy consumption; domestic and foreign government regulations; price and availability of alternative fuels; price of foreign imports and weather conditions. Any adverse change in these factors could result in weaker demand and possibly lower prices for our production, which would reduce our revenues".
Not only do investors need to keep a watchful eye on the prices of both coal and natural gas, but other factors such as uncontrollable macroeconomic events and global demand weigh heavily on how well Consol may or may not perform in both the short and longer terms.
Conclusion
For those of you who may be considering a position in Consol Energy, I'd keep a watchful eye on a number of catalysts over the next 12-24 months as each could play a role in the company's long-term growth. For example, near-term investors would want to focus on the company's recent performance and trend status, while long-term investors should pay close attention to any significant developments that may occur with regard to the company splitting up or spinning off its coal related-assets.
Disclosure: I have no positions in any stocks mentioned, but may initiate a long position in CNX over the next 72 hours. I wrote this article myself, and it expresses my own opinions. I am not receiving compensation for it (other than from Seeking Alpha). I have no business relationship with any company whose stock is mentioned in this article.