The general consensus on the market is that Tesla (NASDAQ:TSLA) stock is severely overvalued at the current $175. However proponents of the company and the stock argue that there is potential for tremendous growth in the company, hence the valuation is justified.
I will use non-optimistic numbers and ignore the analysis from my previous article that pointed out that Tesla will handily beat expected numbers this year.
For the purposes of this article I will assume that Tesla will sell 21,000 Model Ss this year. They will not increase production by more than 20,000 cars per year per model. They will deliver the lower of the 10,000 - 15,000 Model Xs in 2015. The Gen III will launch in 2018 and not in 3-4 years. When the Gen III launches, its numbers will only be 25,000.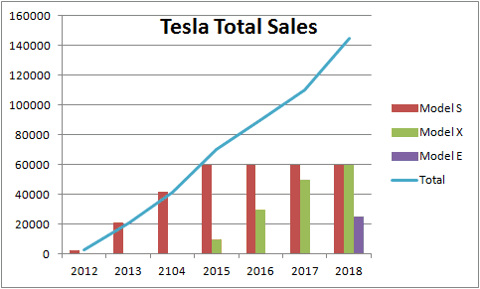 I will also assume 2014 onwards the Model S average selling price (NYSE:ASP) will be $80,000, lower than it is now, to account for the possibility that going forward the product mix might have a higher proportion of the lower end Model S.
I will assume the Model X ASP to be $90,000. I will assume the Gen III ASP to be $45,000.
I will assume no other sources of revenue such as supplying powertrains to Mercedes and Toyota or Zero Emissions credits.
I will assume that Tesla's gross profit will be 25%, net profit will be 10% and these will not improve at all. I will also assume share dilution of 5%/year. In this case going forward, the revenues and EPS will look like this: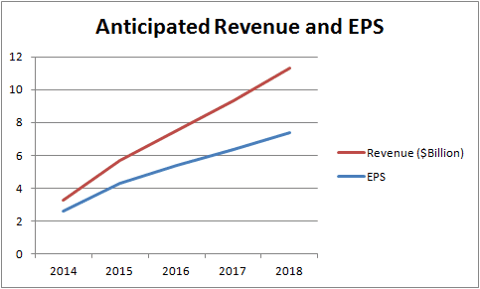 Currently Tesla trades at a very high forward P/E. However by the end of next year I will assume Tesla will trade at a TTM P/E of 100 and that will continue dropping from 100 to 80 over the 5 year period. These numbers are high, but remember we are taking about a very high growth company even with the numbers above which are not at all optimistic. In this case the share price will look like this: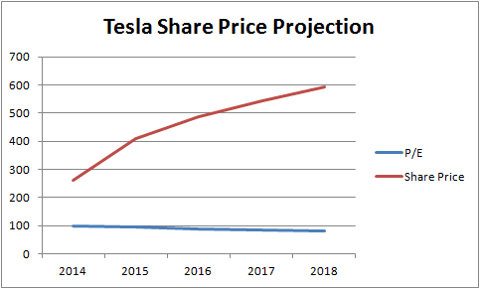 There are high expectations that Tesla will beat all these numbers. But even at these not so lofty expectations, considering what the company has already achieved, we have significant upside.
In all my previous articles about Tesla, people have pointed out that the competition will not stand still. GM just announced its latest green car - the Cadillac ELR, which is priced in between the Model S 60kwh and 85kWh.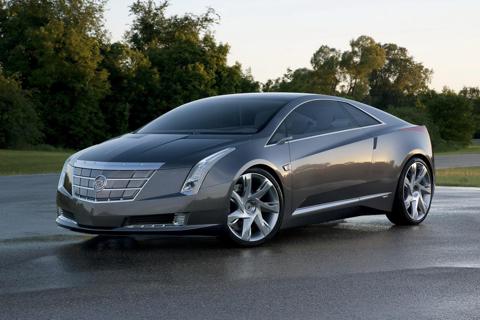 Cadillac ELR
Model S 60kWh/85kWh
$76,000
$70,000/$80,000
Seats 4
Seats 5 + optional 2 kids
2 door coupe
4 door full size Sedan

Range Extended EV
Electric Range 40mi

Full EV
Range 208mi/265mi
Volt like performance
Sports Car like performance
If this is what GM has to offer for $75,000, Tesla has no real competition for years to come. At least not from GM. For the time being EVs are limited to low range small hatchbacks.
In my opinion GM has heavily overpriced the ELR. It costs more than two Chevy Volts while offering essentially the same technology with two less doors. No amount of luxury interior appointments is worth $40,000 for what is a size inferior version of the same car, especially a Cadillac. It even costs more than a fully loaded CTS-V coupe while offering none of the performance. The ELR makes a really poor choice over the Tesla.
Let's compare Tesla to Porsche (OTCPK:POAHY) next. A lot of commenters in my previous articles pointed out that they have a similar market cap now. Tesla's growth rate for the next 5 years is expected to be about 50%-100%/year. I can't say the same for Porsche. Also Tesla is expected to sell as many Model Ss in this quarter in North America (Oct. - Dec.) as Porsche sold Panamera's in all of 2012. If this pattern repeats worldwide the 60,000 peak in the article above can easily be breached. The Model X has the potential to do that to the Cayenne.
The price announcement of the ELR and the comparison to Porsche gives me even more hope in the current valuation of Tesla and the inability of big auto to produce a viable competitor.
Disclosure: I am long TSLA. I wrote this article myself, and it expresses my own opinions. I am not receiving compensation for it (other than from Seeking Alpha). I have no business relationship with any company whose stock is mentioned in this article.
Additional disclosure: I may sell up to 25% of my Tesla holdings if it hits $200/share. I may increase my holdings if the stock hits $100