Shares of the Intel Corporation (NASDAQ:INTC) have gone nowhere for the better part of the last decade and weakness in PC sales threatens sales growth over the near-term. The company is making strong progress in devices and a significant lead on competitors in innovation should help it over the long-term. Investors able to hold on despite relatively boring near-term growth could be well-rewarded with a high cash yield and appreciation over the longer-term.
Exciting products, unexciting stock
Intel investors have waited patiently over the last ten years for the company's stock performance to match the huge gains in its chips' performance. Including dividends, the shares have lost a compound rate of 0.2% annually over the decade.
Intel is expected to post earnings of $0.54 per share on revenue of $13.47 billion when it reports on October 15th. Last quarter, the company reported a decrease of 28% in earnings last quarter on 5% less revenue compared to the same period last year.
Earnings have been lower for three consecutive quarters and the company has missed expectations in the last two reports on a weakening PC environment. While revenue was only off 1.2% last year, the company's net margin has dropped from 27% in 2011 to just 17% on a trailing basis.
PC shipments fell 8.6% in the third quarter and will continue to decline over the next several years as users migrate to other devices and cloud services. The PC Client group still makes up almost two-thirds of the company's sales and that means a fairly tough path ahead. Full year 2013 sales are expected to decline by 0.8% with a 3.2% rebound in 2014 to $54.6 billion. Earnings for this year are expected to tumble 12% to $1.87 before increasing 3.7% to $1.94 per share next year.
The company has a serious competitive advantage, as described below, but its size and near-term dependence on PC sales means that it will probably be a long time before investors see strong sales growth. It could be a boring ride but a great destination.
Make your portfolio a best of breed
Making lots of quick money on runaway growth is great but for every Tesla Motors (NASDAQ:TSLA) there are potentially five Zynga (NASDAQ:ZNGA). The core of your portfolio should be best of breed companies that you can buy and do not have to worry if they will be around next year.
While the revenue dependence on PC sales could hinder overall growth for the next couple of years, Intel has a significant competitive advantage over others in the industry. The advantage comes from Moore's Law, named after Intel co-founder Gordon Moore, an observation that the number of transistors on integrated circuits doubles approximately every two years. The theory is important because it means that, as more transistors are put on a chip, the cost to make each transistor decreases and Intel can sell chips at a progressively lower price while still maintaining decent margins.
The graphic below, from the London Analyst's summit, highlights Intel's ability to linearly reduce its cost per transistor for successive chips.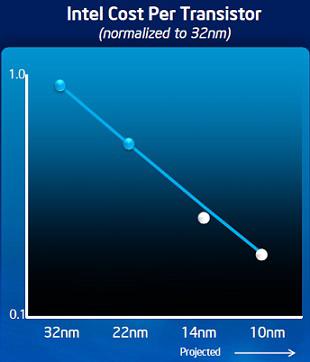 Beyond the lower costs, the company has been able to increase performance for each successively smaller circuit size. This drives the refresh cycle and means that as long as the company can keep innovating, it will find an eager market for its chips. Even as PC sales decline, Intel can be profitable and continue to payout a healthy cash yield.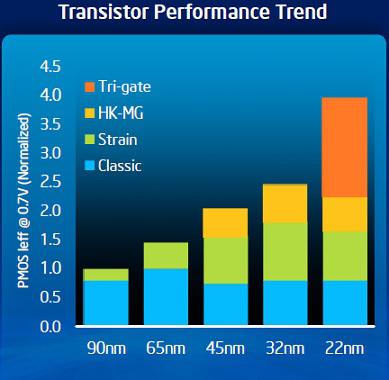 Intel's operating margin of 23% is well above competitors like Texas Instruments (NYSE:TXN) at 3% and unprofitable Advanced Micro Devices (NYSE:AMD). The company's advantage in intellectual property has helped it maintain a lead of about three years on competitors in successive product evolutions like strained silicon, high-k metal gate and tri-gate. Eventually, the company will be able to leverage this into stronger revenue from tablets and smartphones. While ARM Holdings (NASDAQ:ARMH) has been the initial front-runner in tablets, Intel scored a key victory with Samsung and its Atom chips for the 10.1 inch Galaxy 3 tablet.
Moore's Law and a strong lead on competitors firmly grounds the long-term thesis for the shares but there may be an argument for support over the next couple of years as well. Management estimates that there are more than 500 million PC units that are at least four years old. While many of these will probably never be refreshed and instead traded out for tablets, the end of support in 2014 for Windows XP and Office 2003 may drive some to update their old PCs.
The shares trade for 12.1 times trailing earnings, under the industry average of 22.8 times and the company's five-year average of 14.5 times trailing earnings. Estimates are for earnings of $1.94 per share in 2014 and progress into diversified devices could improve sentiment. On a price multiple of 13.5 times trailing and my estimates for a slight beat to $2.01 per share, this would put the shares around $27.13 over the next year.
The discounted cash flow model below presents a longer-term estimate for the fair value of the shares. The company has increased its dividend by a compound annual rate of 12.4% over the last three years. I expect this to continue over the near-term with growth slowing to 9% in years five through 10 and a terminal rate of 3.5%. This puts the current fair value of the stock at $25.82, about 11% under its current price.
Adding to Long-term Growth and Dividends Portfolio
I am adding Intel Corporation to my Long-term Growth and Dividends Portfolio on its significant advantage in the industry and high dividend supported by strong cash flow. The company's technology lead on competitors should help it transition to other devices and provide good long-term growth.
The addition is the fourth for the portfolio, following Potash Corporation (NYSE:POT) on recent fear of a breakup in the oligopoly pricing-structure and significant long-term demand. I will probably add a position each week for a total of ten holdings and then update monthly. Returns are based on allocating $10,000 of the $100,000 model portfolio to each holding with cash invested in the market fund. While near-term losses are possible, I expect long-term demand for the separate business models to produce strong growth and a significant cash yield over the market index.
Intel's relatively large portion of revenue tied to PC sales means that investors may have to wait for considerable time before sales growth picks up. The company is making progress in other devices and its server processor segment is doing well but it will take time for overall growth to become more exciting. Investors able to wait out a "boring" period of stock gains should be well-rewarded with a strong cash yield and long-term growth.
Disclosure: I am long INTC, POT. I wrote this article myself, and it expresses my own opinions. I am not receiving compensation for it (other than from Seeking Alpha). I have no business relationship with any company whose stock is mentioned in this article.