I have written a few articles so far about my pessimism that Frontline Ltd (NYSE:FRO) will be able to survive the current shipping market. There are signs that management isn't engaged, the huge debt they currently own, and the depressed tanker rates.
How to tell management doesn't care
So what would be the first clue of a management team that doesn't care? How about a website that is not updated. While looking through FRO's website, I decided to see how they represented their "Five Year Highlights".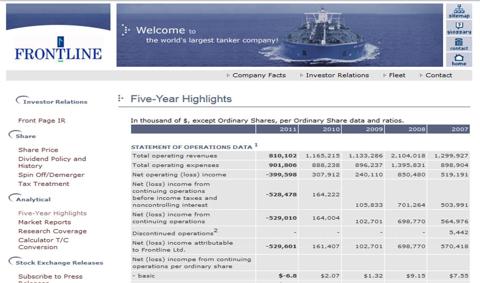 Click to enlarge
You will notice the last time they updated this was after the 2011 results came in (likely after the year end data release in March 2012?). When I looked even further back, they had the same problem in 2011 when the latest information they had was from 2009 (you can see it on The Way Back Machine).
Debt for equity, a good thing?
After FRO announced it would be swapping $25M in debt for equity, shares sank almost 10%. The deal includes a cash payment of $2.25M and 5.8M shares at $2.41 per share. So in essence, FRO swapped $25M in debt for just over $16M in equity. They have also agreed to offer an additional 1.2M shares fall below an agreed up on price.
For investors, this should be seen as a good sign. First, FRO was nervous about these bonds coming due. Second, for the bond holders this normally signals they believe the company will survive and can profit more with equity than debt.
However in this case, bond holders may believe that by taking the equity now, they can slowly leave the position and at least recover more than they would in a bankruptcy. The company has a current market cap of $177M, yet has $1.3B in debt, likely more than the scrap value of the ships they own.
While the $25M is a small percentage of the $1.3B they owe, I believe it signals some nervousness on the part of the bond holders.
Where are the tanker rates going?
The past two months saw a surge in the Baltic Dry Index, which seemed to buoy much of the ocean transportation industry. However, the tanker rates remained depressed, but are beginning to see an uptick: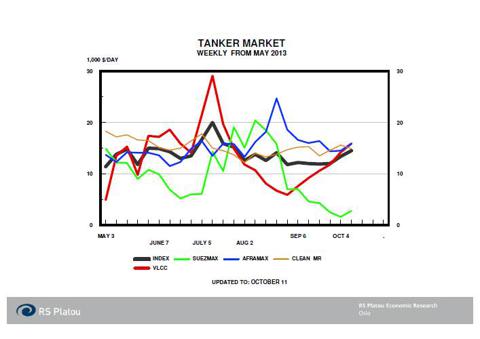 Click to enlarge
For FRO, with 31 VLCC's, the rate is beginning to rebound. However, the company also owns 18 Suezmax's that are seeing new lows. The company reports that break even points for the VLCC are $25,000 and $19,000 for the Suezmax fleet. For the week ending 11 Sep the rates were $15,900 for the VLCC and $2800 for the Suezmax.
This uptick is seasonal, and will likely subside after the new year: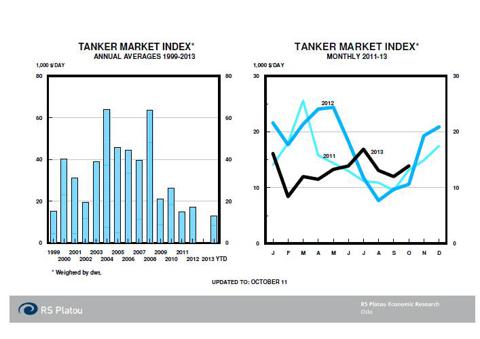 Click to enlarge
What can we expect?
FRO began to trade higher in July, but the bears seem to be taking over, driving the price back down. The company currently has just over 10 million shares short, representing about 22% of the float. This high percent tells me the rest of the market has little faith in this company.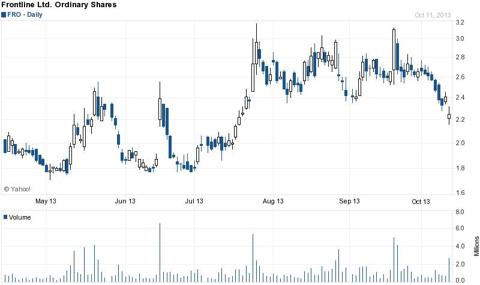 Click to enlarge
I still believe FRO will end up in bankruptcy. John Fredriksen, the Chairman, CEO, President, and Director, who is worth about $12 Billion, could take FRO private in an attempt to save the company, yet has done everything he can to avoid over exposing himself too much to the company. He has spun off assets to different holding companies that favor his private investments. If you are looking to invest in the oil shippers, avoid FRO.
Disclosure: I have no positions in any stocks mentioned, and no plans to initiate any positions within the next 72 hours. I wrote this article myself, and it expresses my own opinions. I am not receiving compensation for it (other than from Seeking Alpha). I have no business relationship with any company whose stock is mentioned in this article.