There is little doubt that Warren Buffett is the ultimate value investor. Beyond his decades of experience and stellar returns, he has done it again with investments placed in 2008 and 2009. The problem is that most investors do not have the ability to draw billions on credit and may be following the billionaire investor into stocks at the wrong time. Of the 42 holdings in the Berkshire Hathaway (NYSE:BRK.A) (NYSE:BRK.B) portfolio, only a few are currently at values worthy of a true value investor.
What's your credit limit?
Warren Buffett made 62% on his $5 billion bailout of Goldman Sachs (NYSE:GS) at the height of the Great Recession. He made 58% for his $6.5 billion bet on Wrigley/Mars and another 48% on the $2.7 billion invested in Swiss Re.
So it's understandable that investors would want to follow his Berkshire Hathaway portfolio and invest alongside the Oracle of Omaha. The problem is that after five years of a bull market, valuations are stretched even for most within Berkshire Hathaway's portfolio of investments. Investors mistakenly see a position in the portfolio and think that it is still a great value play or Buffett would have sold out.
In fact, data from Morningstar shows that stocks within the portfolio are 10% overvalued compared to their 5-year average price-to-earnings multiple. The average price multiple of the 42 holdings is 18.8 times trailing earnings, just under the average industry multiple of 20.6 but well over the 17.1 multiple for the individual shares over the last five years. The fact that positions are less expensive than their industry multiple may signal some value but could also mean that the respective industries are overpriced as well.
Understand that Buffett is a very long-term investor and the positions currently in the portfolio are not necessarily ones he would make today given current valuations. He can afford to hold onto them because they should at least make market-returns and he has an almost unlimited line of credit to make crisis bets when needed.
The table below shows the five most undervalued positions relative to their five-year average multiple along with the portfolio average. Data on price multiples is from Morningstar, adjusted for recurring earnings.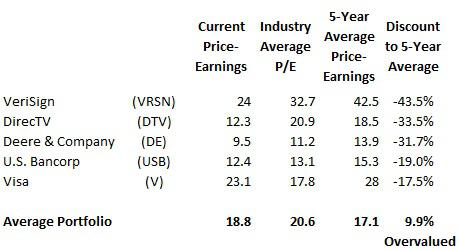 The compound annual return on stocks in the S&P500 reached 13.6% over the last five years as shares bounce off of a generational opportunity. This compares with an average rate of just 6.7% for any five-year period over the last 40 years. We may see another year or two of bull market returns on moderate global growth and a fairly strong U.S. picture but valuations are getting relatively high and investors need to be conservative with their new positions.
Even within the Berkshire Hathaway portfolio, I really only see value in a few of the most discounted names.
Deere & Company (NYSE:DE) trades at a multiple of just 9.4 times trailing earnings, a discount of almost 32% on its 5-year average and well below the industry average. One thing I noticed while researching the stocks in Buffett's portfolio is the strength in operating margins. Deere's operating profit, the revenue left over after cost of materials and expenses, is 14% of total sales. That is above 84% of peers in the industry and means that the company controls costs much better than most competitors.
Free cash flow dropped hard last year to a negative $953 million, attributable to an increase of $440 million in capital expenditures and a drop of $1.1 billion in operational cash flow. Cash flows have rebounded over the past four quarters to $461 million in FCF despite increasing capital expenditures another $309 million over last year. Investors get a 2.5% dividend yield while they wait for a best-of-breed management team to boost valuation.
Deere & Company is making progress opening up the African market to its tractors as strong economic growth is allowing first-time purchases of heavy equipment. The World Bank estimates that 45% of the world's land suitable for agricultural expansion lies on the continent and that the value of the food market may triple to $1 trillion by 2030. The African market is still just one-fifth the size of the U.S. market but could increase quickly on faster economic growth and relatively low levels of mechanization.
U.S. Bancorp (NYSE:USB) trades at a multiple of 12.4 times earnings, a discount of 19% on its 5-year average and more than 5% from the industry average. The bank's operating margin of 40% is above 91% of peers in the industry. Cash flow from operations fell $1.8 billion last year though it was still up almost 52% from 2010. The change was due to an increase of $34.8 billion in loans originated for sale in the secondary market, a typically volatile line item. Shares of U.S. Bancorp pay a 2.6% dividend yield, about average for the larger banks.
U.S. Bancorp is fighting a lawsuit brought by the U.S. Commodities Futures Trading Commission (CFTC) alleging that the bank allowed Russell Wasendorf of Peregrine to secure loans on client accounts for his own use. The brokerage firm folded in 2012 and Wasendorf was convicted of stealing more than $100 million over a period of 20 years. The bank asked that the case be thrown out on an inappropriate assignment of guilt. Even if the bank ends up having to settle, I doubt that it will materially affect the shares and the long-term thesis for the company remains strong.
Visa Inc. (NYSE:V) trades for a multiple of 23.4 times earnings, a discount of 17.5% on its 5-year average of 39.8 times trailing earnings. The shares trade relatively higher than the industry's 18.0 times multiple but the operating margin of 61% is above 99% of industry peers. Free cash flow jumped more than $1.1 billion last year to $4.6 billion on strong cash from operations.
Consumer credit increased 4.5% to $3 trillion in August with auto and student loans contributing to gains. The report marks the third consecutive month of falling credit card spending. Revolving credit, reflecting credit card use, fell by $883 million on the month. The weakness in consumer credit card spending may portend a weakening in confidence and overall spending through the all-important holiday season.
Visa's 0.7% dividend yield is fairly low but still shows that management has made to decision to return cash to shareholders. Cash return may be lower as the company sees strong reinvestment opportunities in emerging markets but will increase over time.
Verisign (NASDAQ:VRSN) trades at a multiple of 23.8 times earnings and the highest discount (43.5%) in the portfolio relative to its 5-year average multiple. The company's stellar operating margin of 56% is at the top of the industry and free cash flow increased more than three-fold last year to $485 million on strong cash from operations and a reduction of $140 in capital expenditures.
Verisign has been in a spat lately with the Internet Corporation for Assigned Names and Numbers (ICANN) over the new gTLD registry requirement. Chuck Gomes, Vice President of Policy and Compliance at Verisign, directed a letter to ICANN CEO Fadi Chehade in August accusing the organization of a lack of accountability. ICANN blasted back recently saying that Mr. Gomes was not acting responsibly and as a leader within the ICANN community.
The shares do not pay a dividend but investors can create their own cash return by selling portions of their long-term investment. Earnings are expected 17% higher this year and 10% higher next year with a strong upside potential on multiple growth.
DirecTV (DTV) trades at a multiple of 12.6 times earnings, a discount of more than 33% off its 5-year average and well below the industry average of 20.9 times trailing earnings. The company's operating margin of 16% is about average for the industry and free cash flow increased $270 million last year to $2.3 billion despite higher capital expenditures. DirecTV does not pay a dividend yield as it looks for better uses of cash.
DirecTV announced that it would be increasing its rates again next year on higher content costs. Michael White, CEO and Chairman, said the company has seen some customer attrition this year after increasing rates. He said that next year's increase would be less than the 4.5% hike seen this year but would still be significant. I doubt customers will like paying 8% more in the span of two years, assuming a 3.5% hike next year, and attrition rates threaten to eat into the extra revenue.
Though the company trades for the second cheapest relative valuation among the group, the sequential increases in subscription rates and a mediocre operating margin make me a little more hesitant to recommend the shares.
With $89 billion in investments, Warren Buffett has the luxury of staying invested and still having a considerable source of cash from credit when others are fearful. Unless you command the same treatment from your bank, you may want to look more closely at valuations before opening new positions, even if the Oracle of Omaha maintains a position.
The five companies above trade for significantly less than the multiple investors have been willing to pay in the past. Most are able to control costs much better than peers and could provide a good return as sentiment returns to the shares.
Disclosure: I have no positions in any stocks mentioned, and no plans to initiate any positions within the next 72 hours. I wrote this article myself, and it expresses my own opinions. I am not receiving compensation for it (other than from Seeking Alpha). I have no business relationship with any company whose stock is mentioned in this article.