There are myriad ways to construct one's equity portfolio. In this article, I offer Seeking Alpha readers my approach for review and comment.
The model focuses upon 3 objectives:
Ensure diversification across major S&P stock sectors
Limit the number of individual security positions
Emphasize sector rotation alignment with the business cycle
Let's take a closer look at these primary objectives.
First Objective: Diversify Across Major Stock Sectors
S & P Dow Jones segregate U.S. listed equities into 10 major "sectors:"
Financials
Industrials
Materials
Energy
Healthcare
Utilities
Telecommunication Services
Consumer Discretionary
Consumer Staples
Information Technology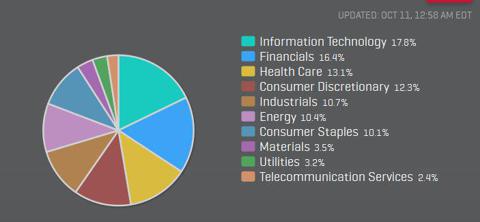 For purposes of my portfolio, I have taken the liberty to add an eleventh category: Real Estate. I chose to separate this category from the S&P Financials sector. I consider it a stand-alone asset class, typically consisting of REITs, worthy of its own portfolio spot.
Rule Number One: Ensure diversification by requiring the portfolio to maintain at least one "core" position in not less than nine of the 11 sectors.
Rule Number One forces diversification. By definition, at least 9 "core" stock positions will be maintained at all times, spread out across the various equity sectors. Each core position must have at least 3% of my total equity value allocation to it. Therefore, if I have 10 sectors with one "core" position in it, at least 30% of my overall portfolio must be allocated to those positions.
However, as a practical matter, I usually concentrate far more than 3% to most "core" positions.
Indeed, about 60% of my current equity portfolio is concentrated into 9 "core" stocks.
Definition of a "Core" Stock Position:
I define a "core" position as equity securities in one company that I intend to keep for many years. Must I keep it forever? No. However, I try to think like Warren Buffett when managing these select stocks. Barring a breakdown of an overall business model and investment thesis, such identified "core" stocks are my portfolio anchors.
Second Objective: Limit the number of individual positions
My view is that if I hold more than 20 individual stock positions, I have essentially created my own mutual fund. In an attempt to avoid this, I limit myself to owning not more than 20 stocks at one time. Such an imposed discipline forces me to select positions carefully. My objective is to find "best of breed," turnaround stories, or well-reasoned speculative securities only.
Rule Two: The equity portfolio may hold positions in not more than 20 companies.
I recognize that this approach will not sit well with many investors. Given over 5000 regular names out there, what is so unique about 20 names? Why not 30, or 50?
My answer lies primarily within the sphere of practical reasoning.
I limit myself to 20 companies because given the amount of "homework" I believe is required to truly understand each business entity and manage the investment, I do not have the time to maintain an appropriate review for more than 20 names. Twenty stocks provides plenty of room for intra-sector diversification, speculative stocks, even stake a short-term trade from time to time. Amongst the maximum 20 tickers, no more than 11 stocks may be classified as "core" positions.
Third Objective: Emphasize Sector Rotation Alignment with the Business Cycle
For those readers who have reviewed some of my work, you know that I believe stock sector rotation as harmonized within the ongoing business cycle can be a differentiating factor between average portfolio returns, and extra-ordinary performance.
While this article will not go into great detail, there is a body of historical evidence that indicates multi-year business cycles repeat themselves over and over again. These cycles typically last between 7 and 10 years, sometimes longer. They are characterized by 4 phases:
Recession
Early-Cycle
Mid-Cycle
Late-Cycle
Historically, each phase has lent itself to certain general stock sector outperformance. Listed below are the sectors that historically outperform as a function of phase:
Recession Phase: Utilities, Telecommunication Services, Consumer Staples, Healthcare
Early-Cycle Phase: Financials, Industrials, Consumer Discretionary, Information Technology
Mid-Cycle Phase: Industrials, Materials, Energy, Information Technology
Late-Cycle Phase: Materials, Energy, Healthcare, Consumer Staples
Rule Number Three: Overweight or underweight stock positions and corresponding sectors based upon alignment with the corresponding phase of the business cycle. Do not be bashful: take a stand.
I cannot over-emphasize that the concept of aligning the business cycle and sector rotation is not an excuse to swing trade stocks. Business cycles take years, not months. Therefore, my portfolio turnover is quite low. Generally, my annual sum total of new positions started and those exited is quite low.
However, my clear objective is, 1) to overweight or underweight existing positions, then 2) occasionally start new or exit stock positions according to my view of where the economic cycle phase is at the time. Notably, I am willing to take a significant stand on a given sector and securities within it if I believe there is ample evidence to do so.
Is it easy to identify the correct phase of the business cycle? Not always. Is it even more difficult to identify phase transition? Yes. Does this prevent me from making a decision and staking ground? No.
Remember, maintaining diversification results in some level of stabilization under most all market conditions. Refer back to Rule Number One!
OK, So Let's Talk Specifics
Having now expressed my portfolio construction and allocation strategy, let me add some color to the narrative by sharing some details.
My Current "Core" Positions
I currently have 9 "core" positions. Since I believe we are in the Early-Cycle phase of the economic business cycle, my positions tend to be most concentrated in the corresponding outperformance sectors: Financials, Consumer Discretionary, Industrials, and Information Technology.
Here's the list:
Financials: Wells Fargo (NYSE:WFC)
Wells Fargo is my best-of-breed U.S. banking industry choice. WFC has logged increased earnings for 15 straight quarters. Credit quality is showing remarkable improvement. Ninety-seven percent of Wells business is generated here in the United States. Despite 21% YTD stock price appreciation and a near 3% dividend yield, I believe the shares remain undervalued. It's the largest single holding in my portfolio: I own both common stock and warrants.
Industrials: Union Pacific Corp (NYSE:UNP)
Union Pacific is a best-of-breed company residing within the Railroad industry. The rails in general, and Union Pacific in particular, is poised for multi-year growth. Premising an American economy that improves from a weak to modest-growth trajectory, I anticipate earnings growth of up to 20% a year. Looking to further build the position on any stock pullbacks.
Consumer Discretionary: General Motors Warrants (NYSE:GM)
I believe General Motors is one of the few remaining undervalued companies in the sector. It's a post-bankruptcy turnaround story, sporting the promise of double-digit growth for several years. The international component of the narrative is especially compelling. If corporate management executes, my valuation model indicates this stock could double in two years. I own GM via warrants. These securities were issued as part of the bankruptcy reorganization. I purchased warrants that expire in 2017, and have a strike price of $10 each. This permits me to leverage control of more shares with less capital outlay than buying common shares.
Information Technology: Apple Inc (NASDAQ:AAPL)
Like many other Apple investors, I've certainly been disappointed with the stock price action over the past year. Being a "core" position, I accumulated shares purchased a number of years ago at much lower prices. It is the third-largest position in my portfolio.
Additional Securities in Overweight Sectors
Within the sideboards of my portfolio model, I can (and have) added other non-core positions within these same sectors. Three additional overweight favorites are Financial sector stock Aflac (NYSE:AFL); Industrial cyclicals Caterpillar (NYSE:CAT) and Eaton Corp (NYSE:ETN); and Information Technology giant Intel (NASDAQ:INTC).
Next, here are my remaining five "core" positions in equal-weight or underweight stock sectors:
Materials: International Paper (NYSE:IP)
CEO John Faraci and his management team have done a magnificent job of transforming this commodity-based business into a far less cyclical powerhouse. The recent Temple-Inland merger provides the juice for sustained earnings and cash growth, while the shares offer a growing 3.1% dividend yield. My problem: I like North American mini-mill steelmaker Nucor just as much as International Paper.
Energy: Royal Dutch Shell (NYSE:RDS.A)
Shell lacks the growth spark of smaller, North American Energy names, but this Super Major is stable, generates enormous amounts of cash, and provides shareholders with an annualized 5.6% yield. Despite standing outside the most-favorably aligned, early-cycle stock sectors, Shell is my second-largest position. RDS.A acts like ballast for my overall equity portfolio.
Utilities: Consolidated Edison (NYSE:ED)
When I invest in a Utility sector stock, I seek a company that has the characteristics of an old-line regulated utility: safety of principal, consistent earnings, steady management, and a rich dividend. Con Ed fits the bill and earns my designation as a "core" holding. This 4.4% yielder is a Dividend Aristocrat, having increased the payout for 39 consecutive years.
Consumer Staples: General Mills (NYSE:GIS)
General Mills is my favorite Consumer Staples stock. This well-managed, shareholder-friendly business has the consistent earnings and solid dividend growth that I want to see from a Food industry stock. GIS has a growth kicker embedded via strong overseas initiatives and targeted new product launches. I wrote some covered calls against some shares this summer when I thought the stock price got a bit ahead of itself.
Real Estate: Annaly Capital Management (NYSE:NLY)
My shares of Annaly Capital represent not only a "core" stock, but represent a core philosophy, too. I contend that experienced management with a clear business model can navigate market ups-and-downs. The mREIT business is weathering some of the greatest interest rate volatility I can recall in my 30-plus years of investing. Annaly has the longest-standing, most savvy senior leadership in the game. While good investors may take an alternate view, I am content holding my shares for the duration, re-investing the dividend, and permitting the business and the shares to stabilize themselves. I believe that some investors, chasing yield, piled into Annaly without truly understanding the business model and associated risks. My approach remains to let that all shake out and stay the course.
Additional Names in the Out-of-Cycle Sectors
Within these "out of cycle" sectors, I have a few additional names. These include Energy sector favorites and secular growth stories Halliburton (NYSE:HAL) and Energy Transfer Partners (NYSE:ETP); and in the Materials space I am slowly accumulating shares of steelmaker Nucor Corp (NYSE:NUE).
Finally, I have no current "core" position in two stock sectors: Healthcare and Telecommunication Services. Nonetheless, I do hold three stocks in these 2 sectors.
I have a moderate position in Healthcare company Express Scripts (NASDAQ:ESRX). I have not decided whether or not to make this a core holding. Admittedly, I have struggled to handicap the Healthcare sector for the past couple of years, having failed to get fills on a couple of stocks that ended up running away from me, and purposely laying off Drug industry names on valuation concerns.
On the other hand, I reserved my right to change a point of view along with changing dynamics within the Telecommunication Services sector. Vodafone PLC (NASDAQ:VOD) has been my lone Telco holding for several years, and designated a "core" position. Vodafone's recent sale of its Verizon Wireless interests to Verizon (NYSE:VZ) has resulted in a rethink of my investment thesis for owning the ADRs.
I settled upon a strategy of holding most of my Vodafone stock for now, while concurrently starting a new position in AT&T Corp (NYSE:T) with the proceeds from taking some Vodafone profits. Until more data is in, I have elected to continue on this path. I having deferred commitment to retain Vodafone or assign AT&T a "core" portfolio position. It's good to be your own boss.
The premises under which my personal portfolio is constructed are my own, and may not be appropriate for others. Please conduct your own due diligence before making any investment. Good luck on all your 2013 investments.
Disclosure: I am long AAPL, WFC, GM, UNP, NLY, GIS, IP, RDS.A, ED, AFL, CAT, ETN, INTC, HAL, ETP, NUE, VOD, T, ESRX. I wrote this article myself, and it expresses my own opinions. I am not receiving compensation for it (other than from Seeking Alpha). I have no business relationship with any company whose stock is mentioned in this article.