Royal Dutch Shell PLC (NYSE:RDS.A) is an integrated energy company with both upstream and downstream operations. It produces the equivalent of 3 million of barrels of oil per day, which makes it one of the top producers.
RDS made huge investments to exploit natural gas, which is its specialty, and that blew up in its face, which is a drag on the company's ROIC. Management is trying to sell some of the assets tied up in the natural gas segment. It could well be that because of this misfire, this solid company with a market cap of 203 billion, can be acquired at an attractive price.
On May 22, I wrote 6 reasons why you should consider RDS and the stock has declined about $4 since, while the market performed much better. Does that mean it's now cheaper to buy a good thing? I revisited the reasons I identified to see if they are still true.
RDS Attractive Dividend Yield
Right now, RDS yields about 4.7% annually. This is paid out in a quarterly dividend. Returning capital to shareholders is high on the list of priorities of management, which is always a good thing. I still think this is favorable.
RDS is in great financial shape
The company is in good financial shape. Royal Dutch has a strong cash flow and more projects coming online. The company can afford substantial capital expenditures to get more projects online even in tough to drill regions.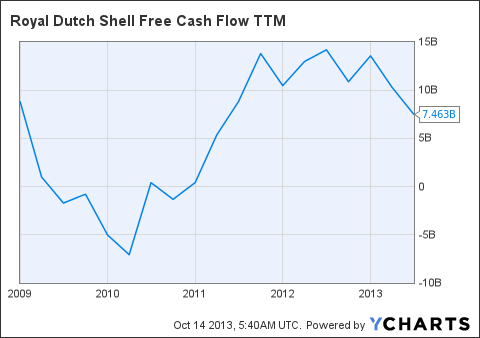 RDS projects
Shell has a well diversified portfolio of projects, both upstream and downstream projects as well as projects in stable markets and politically more fragile markets. Not everything goes right but over time enough projects should be able to add to production volume to have a meaningful impact.
Proven Reserves
Shell has 12 years of proven reserves left. Its reserves are in the neighborhood of 14 billion boe. This is a substantial amount and although one of the great challenges of oil majors is to keep their reserves adequate, Shell managed to do this effectively over the last few years.
There is no doubt that this is the major change going forward but the share price reflects that the challenge exists.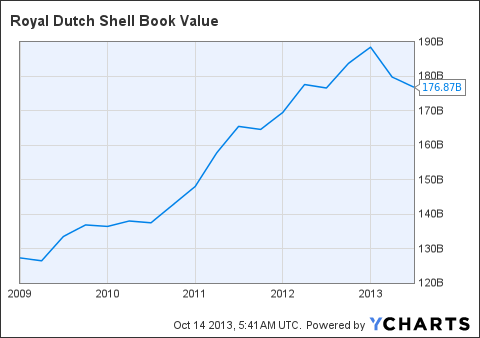 RDS.B Book Value data by YCharts
Margins
There has been a slight improvement in the gross margins but not by a landslide. So far this is quite disappointing. Maybe this will improve over time when new projects come online but it isn't a sure thing.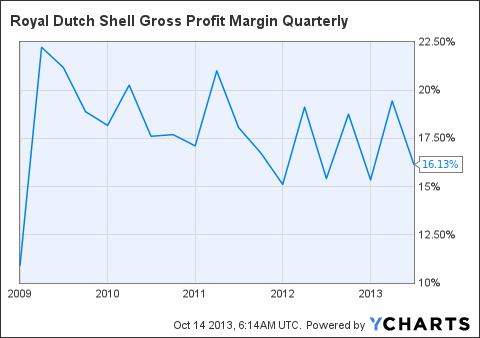 RDS.B Gross Profit Margin Quarterly data by YCharts
Valuation
Compared to other majors that operate in a similar environment to RDS the company is on the more affordable side. Only British Petroleum PLC (NYSE:BP), which is plagued by trouble, is cheaper.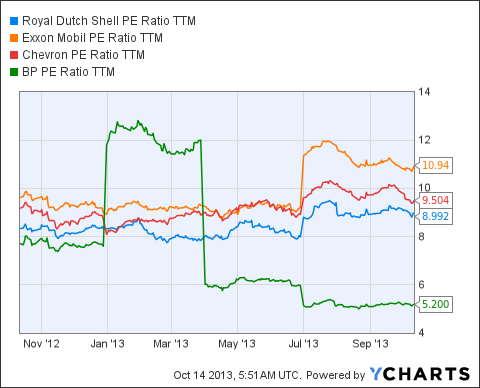 Shell made a big bet on natural gas exploitation in North America and prices are lower than expected. This is a significant drag on its margins, explaining some of the difference in attractiveness if we compare RDS to competitors, like Exxon Mobile Corporation (NYSE:XOM) and Chevron Corporation (NYSE:CVX). To be fair it should be noted that these U.S. companies have been amazing capital allocators over the years. And although RDS can't measure up to their effectiveness it has produces tons of capital for its shareholders over the years as well.
For the record I like Exxon as well and wrote 6 reasons Exxon Mobil is currently a buy on June 11.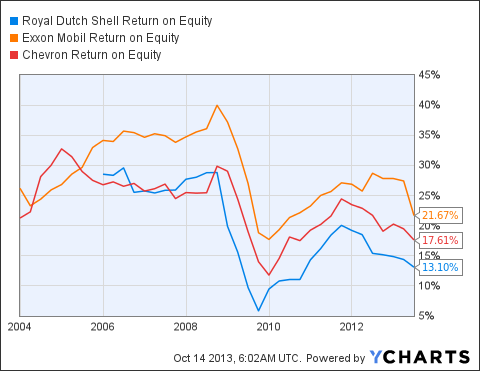 RDS.B Return on Equity data by YCharts
Conclusion
The oil majors are faced with the challenge of keeping reserves up in a world that is running out of easy oil and where alternative energy sources are starting to materialize.
Yet, I think the valuations of some of these oil majors are modest enough that they are a good bet to show a small outperformance over time, given their track records of value creation, possibly with less volatility and while paying out steady dividends. I still like RDS at $64.56
Disclosure: I have no positions in any stocks mentioned, and no plans to initiate any positions within the next 72 hours. I wrote this article myself, and it expresses my own opinions. I am not receiving compensation for it (other than from Seeking Alpha). I have no business relationship with any company whose stock is mentioned in this article.