Tesla Motors (TSLA) is still one of the hottest stocks in the market and has gained an impressive 408% thus far in 2013. But, according to Bank of America Merrill Lynch, institutional shareholders, which include hedge funds, pensions and other large-cash managers, have reduced their stake in the company from 84% in January to 66% in September.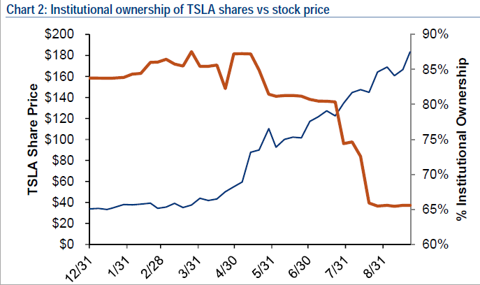 Click to enlarge
Image credit: (BofA, Bloomberg)
Even though institutional investors have been reducing their stake in Tesla, the company's share price is soaring, striking an all-time high of $194.50 recently. This rise in its share price seems bizarre, but Bank of America's analysts implied that this rise can be attributed to individual investors who have been dumping their stakes in other companies to buy Tesla.
According to SigFig, shareholders have roughly sold $620 million worth of stocks to buy Tesla and it is evident from the data given below that most of these investors have been drawing out money from well-reputed companies like Apple, Facebook, Google etc.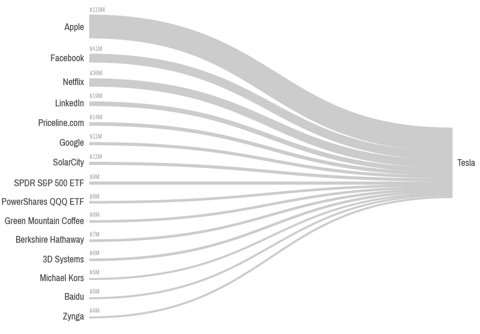 Click to enlarge
Image credit: SigFig
Tesla's valuation isn't justified as it trades for around 90 times its earnings estimates for the present fiscal year. Small investors are possibly about to get burned as BofA Merrill Lynch analysts claimed that the stock is "vastly overvalued" and gave it a price target of $45, signifying a dip of around 75%. Analysts also claimed that individual investors "could be at risk when a correction, which we believe is long overdue, ultimately occurs."
Even though Tesla excited investors when it reported an unexpected profit in the last quarter, owing to the 5,150 Model S units it sold, analysts claim that small shareholders are being too optimistic about Tesla's prospects. They believe that Tesla's current valuation indicates that the company will sell approximately 628,000 cars in 2020, which may seem too far-fetched as it is estimated that the company will only sell 21,000 cars in 2013. Further, analysts made their bear case even stronger by claiming that generating sumptuous margins on a mass market vehicle, as opposed to the luxurious Model S, is likely to be a challenging task.
What are Tesla's shareholders gambling on?
Tesla's investors are continuing to buy into the company because of two primary reasons:
The electric car market will grow exponentially in the future, accounting for a huge share of the automobile business.
Tesla will continue to dominate the market.
Personally, I believe that the first point is viable. Majority of us have been hearing that the world is running out of fuel throughout our lives, even though these claims may not be true, the soaring prices of oil might make its use unreasonable in the future.
Now, moving on to the second point, by many accounts, Tesla's Model S is presently the best car on the market and the company has the first-mover advantage over its peers. Tesla will forever be recognized for the revolutionary role it played in the development and deployment of electric cars. However, this doesn't guarantee that Tesla will dictate the electric vehicle industry in the future.
Major automobile companies like General Motors (NYSE:GM), Nissan (OTCPK:NSANF), and BMW etc. have started to focus more on developing electronic cars at a fairly fast rate now. Though Tesla has out-muscled all other electric cars present in the EV market, these peers can potentially constrict Tesla's growth in the future, thus buying into Tesla at its current valuation doesn't make sense.
Even Tesla's CEO, Elon Musk, expressed his worry about the company's valuation and said that shareholders are being "very generous" with their valuation of the company. "I really feel like the valuation we have right now is more than we have any right to deserve honestly," Musk said.
Conclusion
Hence, with Tesla's valuation being over the top and individual investors pouring money into the stock by exiting other positions, Tesla is running more on optimism than fundamentals. Competitors, such as BMW's i8, are also not ignoring the EV market anymore and the introduction of successful products by rivals will certainly hurt Tesla's growth. As a result, there's a high probability that individual investors who are buying into the stock at extremely high valuations will get burnt.
Disclosure: I have no positions in any stocks mentioned, and no plans to initiate any positions within the next 72 hours. I wrote this article myself, and it expresses my own opinions. I am not receiving compensation for it (other than from Seeking Alpha). I have no business relationship with any company whose stock is mentioned in this article.