Introduction to Activision Blizzard
Activision Blizzard (NASDAQ:ATVI) is the second largest gaming company in the world with prominent franchises such as World of Warcraft, Diablo, Skylanders, Call of Duty and Starcraft. Prior to 2008, Activision and Blizzard were separate companies, but in 2008 they merged in order to benefit from cost synergies.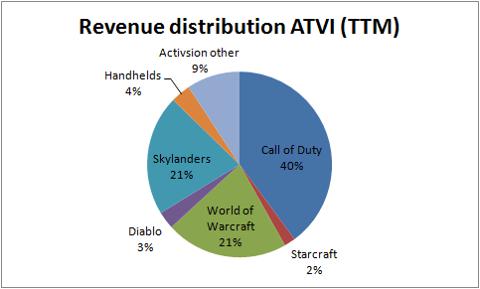 Click to enlarge
Source: My own estimations based on sales information from Vgchartz.com.
The Call of Duty franchise is the largest revenue contributor for Activision Blizzard. Over the last couple of years, sales have averaged over 30M copies on an annual basis, which makes it an incredible strong cash cow.
Skylanders is a franchise that has become very popular among kids between 6 and 12 years. The franchise revolves around an innovative business model where consumers can buy a physical toy character, put it on a platform that is connected to the gaming console, and then play with the character in the game. Since the first game of the franchise was released 21 months ago, it has generated over $1.5B in revenue.
World of Warcraft has for almost a decade used an extremely profitable subscription based business model. Today, it isn't as popular as it used to be, it is still contributing a good amount to earnings.
The short thesis
There are quite a few reasons for why I find ATVI significantly overvalued. To give a brief overview, my thesis consists of the below five arguments.
Call of Duty revenue will likely decline
Skylanders growth expectations are likely overvalued
World of Warcraft earnings will decline
The gaming industry is changing which will impact ATVI negatively in the future
The Diablo and Starcraft franchises will have a minor impact on the financials over the next five years.
Call of Duty has peaked
At November 14th, the next game in the Call of Duty franchise (Call of Duty: Ghost) will be released.
Preorder-sales are down by more than 50% from last year's release of Call of Duty: Black Ops 2. While a large part of the decline can be explained by consumers not knowing which platform they will play the game on (Xbox or PS4), management is also being very cautious with its revenue guidance for Q4 2013, which implies that it expects a small decline in sales.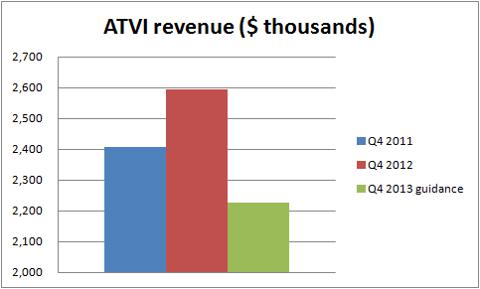 Click to enlarge
Source: Activision Blizzard's quarterly earnings reports and the quarterly earnings conference for Q2 2013.
It is of course a possibility that management is overly conservative with its guidance. However, even then, investors need to ask themselves why this franchise would continue to grow. As you can see in the below graph, reviews have gotten gradually worse since 2009. Thus, unless consumers become increasingly "irrational" or Activision Blizzard improves its monetization of Call of Duty, it doesn't make sense to expect the franchise to continue growing earnings.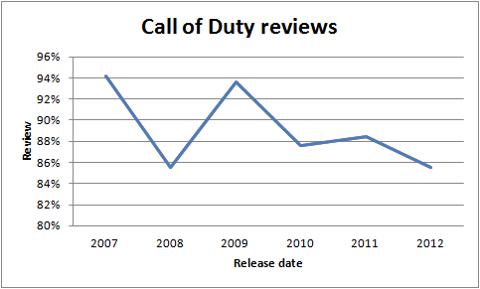 Click to enlarge
Source: Gamerankings.com.
I expect to see a lag-effect between the mediocore reviews and sales. Thus, unless reviews improve in the future, I estimate that sales will decline by roughly 5% y/y over the next five years.
Could Skylanders be the next Guitar Hero?
Admittedly, Skylanders is looking quite strong at the moment, and over the next 1-2 years, I believe it will continue to grow.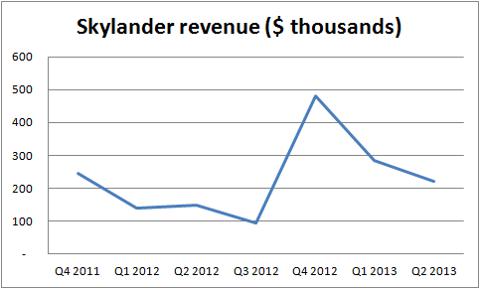 Click to enlarge
Source: My estimations based on ATVI's earnings reports.
My concern with this franchise is that it is based on a "gimmick" (the toy character concept) and in that way it reminds me of another Activision game, Guitar Hero. In the below diagram, we can see sales for the Guitar Hero franchise. Similarly to Skylanders, Guitar Hero quickly became very popular. However then Activision began milking the franchise instead of innovating it, and sales deteriorated. In 2010 the franchise was cancelled.
I believe the same thing very well could happen for Skylanders.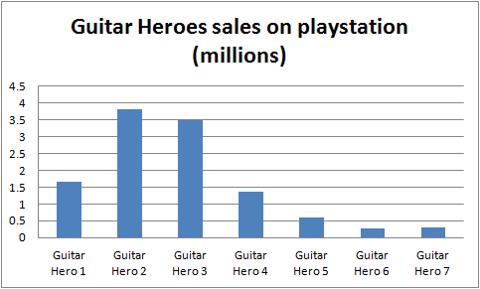 Click to enlarge
Source: Vgchartz.com.
World of Warcraft is declining
In the below chart you can see how revenue and gross profit of World of Warcraft have declined since 2010. The surges you can see in Q4 2010 and Q3 2012 are related to releases of expansion packs. The first expansion pack had a significant effect on earnings. However, the most recent one had a much smaller effect. If the trend continues, it is quite bad news for World of Warcraft as it implies that future expansion packs will only have a minor temporary impact on gross profit.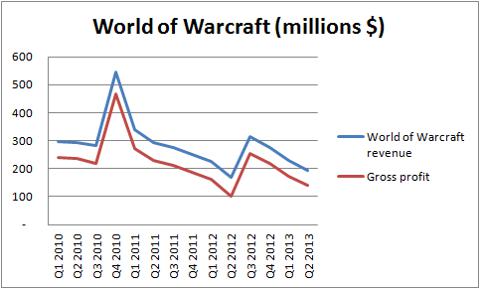 Click to enlarge
Source: ATVI's quarterly earnings reports.
Over the next years, I expect World of Warcraft earnings to continue declining. This is merely a consequence of the product lifecycle theory. World of Warcraft peaked in 2010, but is now in the "decline-phase."
Changes to the gaming industry are hurting ATVI
From around 2000 to 2010, developing games became a lot more expensive, which made it harder for smaller studios to create quality games on a low budget. ATVI has been able to benefit from this trend as it has resulted in less intense competition in the industry.
The high concentration ratio of the industry (which means it is dominated by monopolies) is probably a major reason analysts are optimistic on behalf of ATVI. But I believe it has completely ignored recent changes in the industry. Since 2010 a new trend has appeared where consumers no longer have to pay an up-front fee to be able to play the game. Instead, game developers are monetizing the game through in-game microtransactions. These type of games are being characterized as F2P (free to play) games.
This trend has made it possible for a smaller studio like Riot to develop the world's most popular game, "Leagues of Legends," on a relatively low budget." Leagues of Legends" isn't the only popular F2P game, "Dota 2" and "Worlds of Tanks" are also very popular and over the next year, multiple new games are expected to be F2P.
This is quite problematic for ATVI as it reduces the entrance barriers to the industry. ATVI was able to take advantage of high entrance barriers 10 years ago in order to become a billion dollar company. In the future it risks losing a lot of revenue due to my expectations of more intensified competition.
How Activision Blizzard reacts to the F2P trend
Unlike analysts, ATVI is definitely aware of the F2P trend, and management is trying to adjust the business models of its upcoming franchises. On the most recent earnings call, Mike Morhaimme (CEO of Blizzard) made the following comment regarding "Titan" (which is expected to be the successor to World of Warcraft once it is released in 2016).
We're in the process of selecting a new direction for the project and re-envisioning what we want the game to be. While we can't talk about the details yet, it is unlikely to be a subscription-based MMORPG.
Chances are that Blizzard initially wanted to make Titan subscription based, but management assessed that consumers in the future will be reluctant to subscribe to a game when they instead can play a wide range of other fun games for free. Instead, I expect Titan to use a business model with in-game microtransactions.
However, the problem with this strategy is that the microtransaction business is much less profitable than the subscription-based model. For instance, Leagues of Legends "only" generates revenue of $150M on an annual basis. That is almost five times less than World of Warcraft, despite the fact that it has way more active players than World of Warcraft.
So unless Titan is multiple times more profitable than Leagues of Legends, don't expect this franchise to be a fully replacement for World of Warcraft.
Another highly anticipated game is "Destiny," which is expected to be released in 2014. The game is being developed by the makers of the popular Halo franchise. I expect Destiny to use the same business model as Titan (combining in-game microtransactions with a purchase price for the game), but it will likely generate less earnings than Titan for a couple of reasons:
Bungie made a very popular franchise in Halo, but has less experience with MMO games, whereas Blizzard has experience with World of Warcraft.
Activision needs to share some of the operating profit with the developer (Bungie)
Obviously both franchises will sell very well, but I expect neither to be able to produce stable earnings on an annual basis in the same way Call of Duty and World of Warcraft have done over the past 5-10 years.
Can Blizzard's mid-sized franchises "save" ATVI?
Besides World of Warcraft, Blizzard also develops and distributes Diablo, Warcraft (the RTS game) and Starcraft. But none of these franchises have been able to generate stable revenue. Over the last 10 years, only a total of five games (including expansion packs) have been sold from all these franchises combined. Further, games like Starcraft 2 and Diablo 3 are less popular than their predecessors. Diablo 3 was heavily criticized after release, and Starcraft 2 sold relatively few copies (roughly 6-7M). Thus, I expect that Blizzard will have a difficult time monetizing these franchises in the future.
Earnings forecast (base case)
To forecast earnings of ATVI for the base-case scenario, I will use the following assumptions:
Call of Duty will decline at a modest rate over the next five years.
Skylanders will grow over the next two years and then it will decline at a relatively slow pace (thus not a steep decline as in the case of Guitar Hero).
World of Warcraft will continue its downward trend.
Expansion packs to Starcraft 2and Diablo 3 will generate low revenue.
Destiny will sell 10M copies in 2014. It will have modest success with microtransactions. A successor/expansion pack will be released in 2017 which will sell relatively well.
Titan will sell 30M copies in 2016 when released. In terms of micro transactions it will match those of Leagues of Legends.
Activision will try to replace the declining sales of Call of Duty and Skylanders with new franchises. However, it will only be partially successful at replacing the lost revenue.
As you can see in the below table, I expect gross profit to decline from $3,478 in 2012 to $2,296 in 2018 (non-GAAP).

Click to enlarge
Note: Earnings are Non-GAAP
Earnings after taxes will likely decline even further as Activision Blizzard will suffer from lower scale, which means that the OPEX/revenue ratio will increase. The base case scenario implies an EPS of 0.49 in 2018 from 1.19 in 2012.

Click to enlarge
Note: Earnings are Non-GAAP
The optimistic scenario
In the optimistic scenarios, I use these assumptions;
Call of Duty will maintain its current profitability over the next five years.
Skylanders won't stop growing.
The decline of World of Warcraft subscribers will be less steep.
Destiny will sell 14M copies in 2014 and have a lot success with micro transactions. A successor/expansion pack will be released in 2017 which will sell very well.
Titan will sell 35M copies in 2016 and outperform Leagues of Legends in terms of micro transactions.
Activision will publish new popular games.

Click to enlarge
In this scenario we can see that EPS ranges from 0.86 to 1.32 throughout the period. Thus in 2016 it would trade at a P/E-ratio of 12.9 if the current share price of $17 is maintained. That obviously isn't particularly cheap for a company, so even if this scenario occurred, then we likely wouldn't see any major increase in the stock price.

Click to enlarge
Final remarks
Analysts believe earnings will increase, but chances are that they are making an error of assuming the past trend will continue into the future. E.g. that Call of Duty will continue to grow forever and/or that Titan and Destiny will be able to provide consistent revenue.
Further, they are not taking into account that the gaming industry has changed rapidly over the last couple of years. The business barriers have been significantly reduced and ATVI can't take advantage of the same profitable business models as in the past.
The average EPS between 2013 and 2018 in my base case model is $0.62. Assuming Activision Blizzard continues to trade at a P/E-ratio of 14, the fair share price of Activision Blizzard is $9.
Disclosure: I am short ATVI. I wrote this article myself, and it expresses my own opinions. I am not receiving compensation for it (other than from Seeking Alpha). I have no business relationship with any company whose stock is mentioned in this article.