Platinum Group Metals (NYSE:PLG) announced last week that it was granted a license to commence drilling on a 530 square kilometer prospect immediately adjacent of the recently discovered Waterberg deposit, in which it holds a 49.9% interest together with Japanese partner JOGMEC. The new prospect, in which PLG holds 87%, is expected to contain platinum, palladium and gold.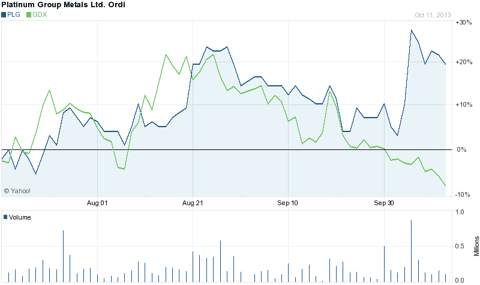 Click to enlarge
Source: Yahoo Finance.com, PLG compared to GDX, a basket of mining companies.
The initial deposit of the Waterberg project is limited to the north by the joint venture boundary. Through successful drilling of approximately 130,000 meters of core in 111 boreholes, the deposit has grown 17.52M ounces (3E) inferred.
What is inferred?
By inferred companies mean that part of a mineral resource for which tonnage, grade and mineral content can be estimated with a low level of confidence. It is inferred from geological evidence and assumed but not verified geological/or grade continuity. It is based on information gathered through appropriate techniques from location such as outcrops, trenches, pits, workings and drill holes which may be of limited or uncertain quality and reliability.
Very important concession
Why is this concession so important for PLG? The new area is almost ten times bigger than the Waterberg project owned with the Japanese partner. Surveys completed by PLG indicate that the Extension deposit correlates to the shallow edge of the Waterberg deposit. Of course more surveys have to be done but if this it the case, it would mean an enormous potential of platinum and palladium, in potentially one of the biggest prospects in the entire industry.
Low costs, high margins
Furthermore, industry experts say that the mine deposits of PLG in South Africa are quite shallow, which means that the costs of exploration and extraction will be significantly lower than average in the industry. This is very important because of the fact that commodity prices are depressed the last two years because of heavy selling pressure from ETF-based investors.
Risks for investors
One of the biggest risks investors face while buying mining stocks is that most mining companies have little or no cash anymore. This forces them to look for fresh money from investors, venture capitalists or new shareholders. This of course will dilute your initial investment and is therefore a major burden for people who think miners are attractive right now. PLG has, in contrast to most miners, enough money on hand. Beginning this year it issued shares with revenue of $169 million and at the moment it is in the process of closing a deal with a group of lenders that will facilitate the company with a loan of $260 million.
Conclusion
To speed up exploration of the new prospect it is very important that PLG secures the $260 million loan. The real catalyst for the stock price would be the 100% closing of this deal. The inferred resources of the Waterberg project together with the surveys of the new prospect look very promising. The recent battering of mining stocks is an excellent opportunity for investors who want to be exposed to platinum and palladium. Demand for these two minerals is very strong due to industrial use.
Disclosure: I have no positions in any stocks mentioned, and no plans to initiate any positions within the next 72 hours. I wrote this article myself, and it expresses my own opinions. I am not receiving compensation for it (other than from Seeking Alpha). I have no business relationship with any company whose stock is mentioned in this article.