Twitter is a mainly international platform.
For the last three years international users have accounted for a growing percentage of Twitter's worldwide user base: 67% in 1Q10 and 78% in 2Q13: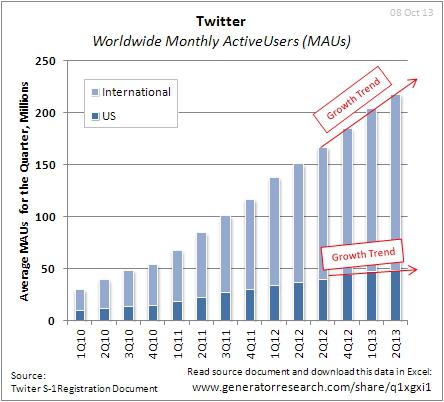 (Click to enlarge)
93% of Twitter's User Growth in 2Q13 Came from International Users
For the three years from 2Q10 to 2Q13, Twitter's worldwide user base has been growing at an average rate of 14.5 million users per quarter.
However, international users have accounted for an average of 79% of that quarterly growth. Furthermore, for the most recent two quarters (1Q13 and 2Q13), growth in international markets has been accelerating, accounting for 84% and 93% of absolute growth in those two quarters respectively.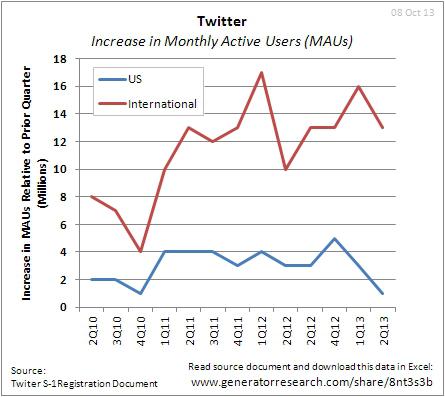 (Click to enlarge)
U.S. Users are More Engaged with Twitter than International Users, but International Users Are Closing the Gap
When measured in terms of how many times a user visits their Twitter account, refreshes their timeline (Twitter feed) or uses Twitter's search features, then U.S. users were 47% more engaged than international users in 1Q12 but only 27% more engaged in 2Q13 as international users have become more progressively more engaged: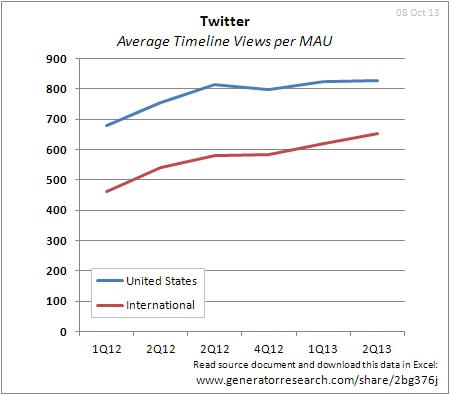 (Click to enlarge)
75% of Twitter's Total Operating Costs are Due to International Users, and that Percentage is Rising
Because Twitter's total operating costs are related to the number of users we can get a feel for the percentage of Twitter's costs that are due to international users by looking at MAUs and Timeline Views for international users.
In the following figure we have used two approaches: one is to assume that the company's costs are directly proportional to the number of international users while the other approach assumes that Twitter's costs are directly proportional to the number of international timeline events:
We have also charted an average of the two approaches: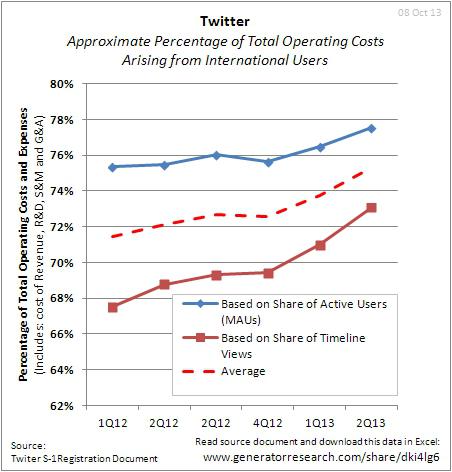 (Click to enlarge)
While this is clearly a very approximate way of estimating how Twitter's costs are apportioned across its user base, it does illustrate how important the company's growing international user base is and also how the growth in international users (which accounted for 93% of the company's' absolute growth in user numbers in 2Q13) is causing the company's cost structure to be skewed heavily in favour of international users.
In 1H13, International Users Accounted for 77% of Active users, but Just 24.8% of Revenues
International users are contributing a steadily increasing percentage to Twitter's total revenues:
6.8% in 2010
16.7% in 2012
24.8% of revenues in 1H13
This improvement was mainly due to Twitter having introduced its first international ad product in September 2011. Twitter is presently dependent on partners in international markets to sell its ad inventory but the company has said that it plans to roll out its self-service ad platform in selected international markets in the near term and has also announced a plan to open a number of international offices which will reduce the dependence on resellers and agents.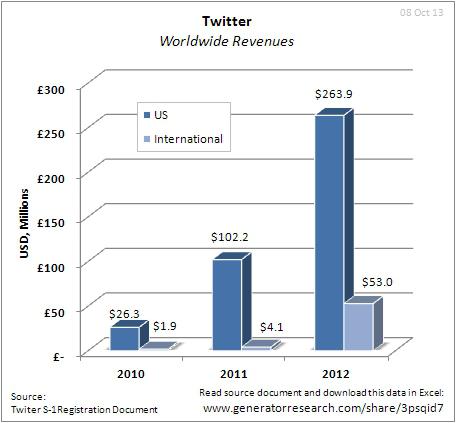 (Click to enlarge)
Nevertheless, the difference between revenues derived from international users and the number of international users is considerable:

(Click to enlarge)
International Revenues are Growing, but not Fast enough to keep pace with Growth in International Users
The following chart compares the rate at which international revenues are growing with the rate at which international users are growing: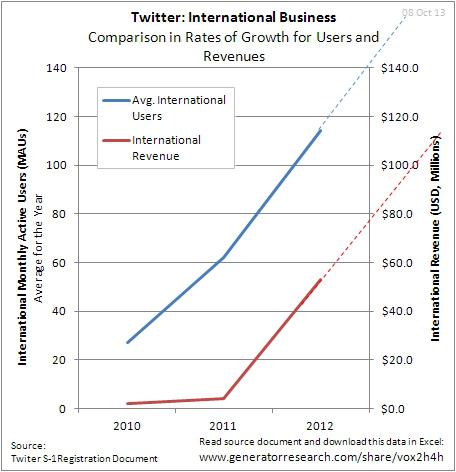 (Click to enlarge)
It is clear from this chart that Twitter was successful in accelerating the rate of growth in international revenues in 2011, compared with 2010, but that the current trajectory is still too low: Twitter must aggressively develop its international ad business in order to avoid a potentially fatal problem where international costs continue to increase at a faster rate than revenues.
75% of Users Access Twitter via Mobile Devices and 65% of Advertising Revenues Come From Mobile Devices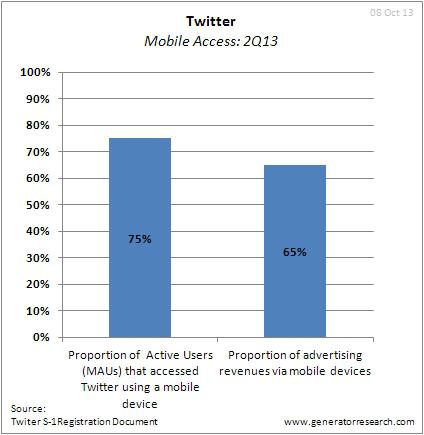 (Click to enlarge)
Average Advertising Revenue per U.S. User is 20x that for an International User
There is a sharp difference between the revenue that Twitter is extracting per active user when figures for U.S. and international users are compared.
In 2012, the first full year when Twitter had an international ad product, users in the U.S. were generating more than 15x as much ad revenue as international users. When viewed on an annualised basis, the figures for 1H13 show an even stronger skew in favour of the US, with U.S. ARPU being over 22x that internationally.
Bearing in mind that "international" includes major developed ad markets like the U.K., Germany, France etc. then the contribution to ad revenues of developing markets - those where Twitter has been credited with being instrumental in effecting political change, for example, must be practically zero.
This is highly significant for two reasons:
Online and mobile advertising ARPUs are fundamentally lower in international markets than in the U.S., and this is especially the case in developing markets where most of Twitter's growth is coming from. This a feature of the wider online advertising market that has nothing to do with Twitter and means that there is a limit to how much Twitter can increase advertising ARPUs for international users;
Mobile advertising ARPUs are fundamentally lower than online advertising ARPUs - and this, again, is something that has nothing to do with Twitter: Facebook (NASDAQ:FB) and Google (NASDAQ:GOOG) are dealing with the same problem as they develop their mobile advertising businesses. Again, this means that there is a limit to how much Twitter will be able to increase international advertising ARPUs.
Essentially, Twitter is facing a "double whammy" problem - its user base, cost structure and growth is heavily focussed on international markets but the revenues extractable from those international markets are fundamentally lower than in the U.S. when measured on a per user basis: international per user ad revenues are lower than in the U.S. - for all ad media, and mobile ad revenues are also lower than online, which is the dominant access method used by Twitter's international users.
The worst case scenario for Twitter will be that the company faces a fundamental problem where most of its growth is occurring in markets which are fundamentally incapable of being adequately monetised using mobile advertising products. In this case, Twitter would be in a runaway situation with users and costs increasing in proportion, but revenues failing to keep up.
We think that the company will need to introduce a major change to its business model if this problem is to be avoided.