It has been a while since I wrote about gold (NYSEARCA:GLD), silver (NYSEARCA:SLV) and my favorite speculation asset, gold stocks. As far as gold is concerned, let me remind you that I do not see gold as an investment vehicle whatsoever.
Gold does not subscribe to the laws of investment theory as stocks do, where cash flows, dividends and many other investment parameters come into play. As a result, gold's price is a function of what the market thinks it's worth at any particular time for any reason. In other words, gold's price is determined by random reasons and by speculative market forces.
One example of how things have changed is that while gold would go up every time the dollar dropped, all of a sudden we see gold going down alongside the dollar. I am not sure why this change of heart on behalf of gold, but it does not matter. Gold has a mind of its own and I for one have not been able to figure it out short term.
However as far as gold stocks are concerned, that's a whole different story. Based on gold's behavior, we can at least get some insight as to what mining stocks might do. Not always accurate, but definitely ballpark and definitely worth speculating on.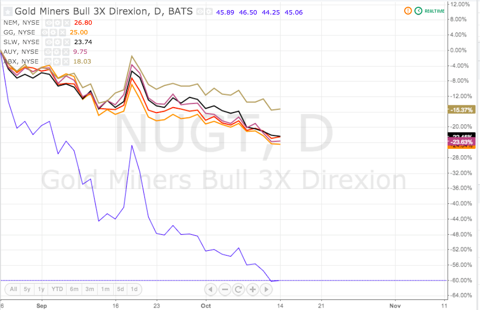 Click to enlarge
I use as a comparison benchmark the five top miners by market cap. Since my last article on the topic, Silver Wheaton (NYSE:SLW) has lost 22%, Barrick (NYSE:ABX) 15%, Yamana (NYSE:AUY), Goldcorp (NYSE:GG) and Newmont (NYSE:NEM) about 21% - 23%. However please look at the Direxion Gold Miners leveraged ETF (NUGT); it's down a whopping 60% since August 26.
While the losses in the space might look bad, if one takes a longer time frame, these stocks are either still positive or borderline losing since the beginning of summer. So things are not that bad as they seem, especially if you were able to catch the short side of the trade also.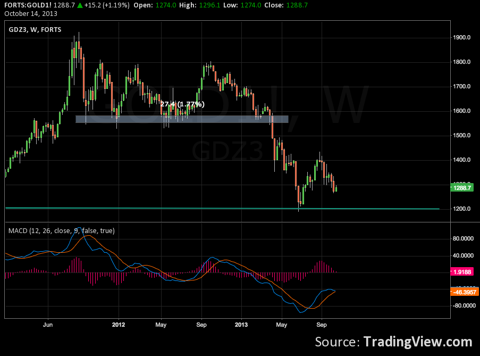 Click to enlarge
The above chart now shows us the price of gold. The big speculation play is if gold holds the $1200 level. If it does, then I think there will be good money to be made in the mining space. Especially given the volatility we see in mining stocks.
So how do you play this?
Currently I would do nothing. On the short side the $1,200 level is not that far from here for a short trade to be worth it, and as far as going long, we do not have evidence of gold holding the $1,200 level.
If however gold does hold $1,200, then by buying mining stocks, one can probably make some good money short term. And if you are a little more adventurous, buying the Direxion Gold Miners triple leveraged NUGT ETF is probably as speculative and as volatile as they come.
Bottom line
Look out for the $1,200 level in gold and if it holds, buy miners for a short-term play.
Please note: If gold holds the $1,200 mark and then fools us and trades below that, then $1,200 is the stop loss point, both for gold and the miners.
So if you do take this trade up -- in the event gold goes to $1,200 and holds -- the worst-case scenario would be to buy the miners and then sell them again (if gold breaks below the $1,200 level), and any losses should me minor. The upside however should be substantial.
Disclosure: I have no positions in any stocks mentioned, and no plans to initiate any positions within the next 72 hours. I wrote this article myself, and it expresses my own opinions. I am not receiving compensation for it (other than from Seeking Alpha). I have no business relationship with any company whose stock is mentioned in this article.