There was once a time when Xerox (NYSE:XRX) meant copiers and printers, and it put out a slogan of being "The Document Company". But as we'll see, that time is long gone. Xerox has evolved, but somehow its valuation has not. From the collision of these two realities Xerox might emerge as being an investible equity.
The business today
Xerox is no longer entirely reliant on selling printers and copiers. Its business now revolves around 2 distinct segments:
Services, including Business Process Outsourcing (NYSE:BPO), Document Outsourcing (which includes Managed Print Services) (NYSE:DO) and Information Technology Outsourcing (ITO) and;
Document technology, which does include its legacy products.
While document technology is stagnated or declining, services is seeing growth, leading to an overall picture of stagnated to single-digit revenue growth.
At this point, services accounts for 54.7% of revenues, versus 41.9% for document technology. As revenues trend towards services, they expose their greater growth, which favors Xerox as a whole and moves it further and further away from being a dying dinosaur.
The slide below shows how these segments have been growing (Source: Company presentation)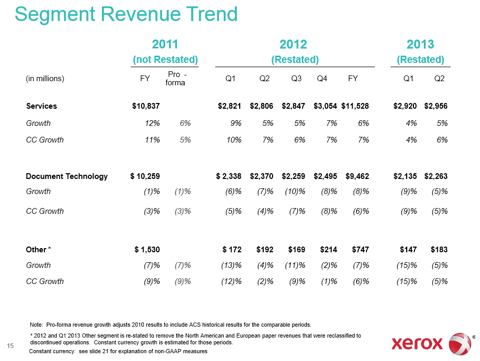 Click to enlarge
Operating margins at both segments are comparable, around 10%, so Xerox's evolution rests mostly with the ability to grow services quickly enough to compensate for the erosion in the document segment.
Xerox still carries significant debt, at $8.1 billion, but this has been heading lower as it also generates significant cash flow. Xerox has guided for 2013 operating cash flow of $2.1-$2.4 billion and free cash flow of $1.6-$1.9 billion.
Part of Xerox's debt load is somewhat illusory - it stems from the financing of customers' purchases, for which it holds offsetting financial assets. We could say that $3.2 billion is a more realistic debt load once we consider those offsets. Both the cash flow and debt loads are illustrated in the slide below.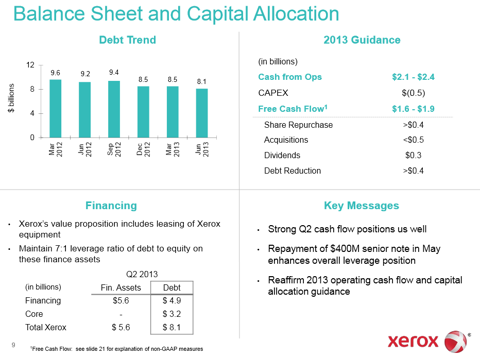 Click to enlarge
Valuation
Taking into account $2.9 billion TTM EBITDA, $13.1 billion in market capitalization and the full $8.1 billion debt load, this shows us XRX trading at an EV/EBITDA of 7.3 times. Excluding the financing debt load that's offset by financing assets, the EV/EBITDA would be 5.6 times.
Both 7.3 and 5.6 times are rather low for a stable to growing business in a Bernanke-infused market. Outside of such market these would probably be neutral multiples, but in the midst of monetary madness they're cheap multiples.
As a comparison, International Business Machines (NYSE:IBM), which has undergone a similar transition from hardware towards services, trades for 8.7 times EV/EBITDA.
Presently IBM is having about as much trouble growing its top line as Xerox, which is understandable since both companies now try to act in about the same business.
A case in point
This last Saturday the EBT cards malfunctioned in 17 States. These cards are used to distribute welfare benefits such as SNAP/food stamps. The culprit? A backup gone wrong in one Xerox datacenter.
While these were not good news and might even lead to a small negative impact on Xerox today, this also highlights just how far Xerox has come. Xerox is, unknowingly to most, a prime beneficiary of the "welfarization" trend. Clearly, it has a strong hold on this recurring business in a very large number of States, as was illustrated by this temporary failure.
These types of businesses are very attractive, they're basically like toll roads and, given the dynamics at work, these are toll roads which are likely to show increased usage over time.
Yield
Although Xerox is undergoing a slow transformation towards services, it's doing so from a position of strength, as shown from its large free cash flow. Part of this free cash flow is being directed towards dividends, producing a dividend yield of 2.2%.
This dividend yield isn't incredibly high, but on the other hand it consumes less than 20% of XRX's free cash flow. This makes it seem both sustainable and potentially able to grow over time.
Conclusion
The misfortune of a bungled backup leading to the interruption of EBT service in 17 U.S. States shows just how far Xerox has come in its transformation. This is no longer a company reliant on legacy printers and copiers; it is slowly transforming itself into a services powerhouse.
While XRX does so, it more and more shifts into a higher-growing segment, enabling it to show overall growth in revenues. This happens at the same time the company generates significant free cash flow and trades at a sensible valuation. A valuation which can be called "cheap" under monetary madness rules. As these rules prevail, I'd expect XRX to trade higher. If XRX trades down on this EBT mishap, it's probably a buying opportunity.
Disclosure: I have no positions in any stocks mentioned, and no plans to initiate any positions within the next 72 hours. I wrote this article myself, and it expresses my own opinions. I am not receiving compensation for it (other than from Seeking Alpha). I have no business relationship with any company whose stock is mentioned in this article.