Yum! Brands, Inc. (NYSE:YUM) is a fast food company operating and licensing nearly 40,000 restaurants under its Taco Bell, Pizza Hut, KFC and WingStreet brands and has operations in 130 countries.
The company reported Q3 2013 results, which fell short of expectations. The results were impacted by poor results from its Chinese division, which suffered from an erosion in customer confidence in relation to the December poultry supply incident and fears of avian flu. Bird flu news repelled customers particularly hurting Yum's KFC franchise, which heavily runs on chicken products. As a result Yum's shares fell sharply after the announcement wiping off nearly $2.3 billion in market capitalization.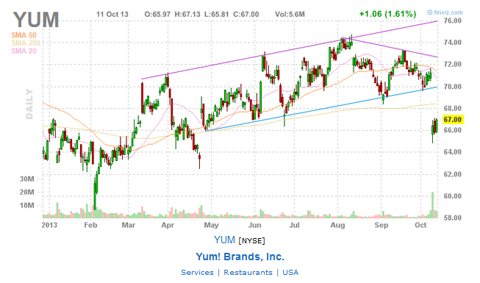 Click to enlarge
Chinese customers panicked about deteriorated chicken, which found reflection in Yum's same-store sales numbers, which declined 11% in the third quarter:
Click to enlarge
More importantly, declining Q3 same-store sales highlight an ongoing trend of falling monthly sales on which Bloomberg reported on August 14, 2013:
Yum gets about 50 percent of its revenue from China, where it has about 5,980 KFC and Pizza Hut stores, and is facing consumer backlash amid a slowing economy there. The company is struggling to attract diners after an outbreak of H7N9 bird flu scared KFC diners away from poultry and one of its former suppliers was investigated for selling food with too much antibiotics. China same-store sales decreased 10 percent in June and 19 percent in May.
Usually, I would be all over Yum because of the nature of the crisis. There is nothing inherently wrong with Yum's products and sentiment against a product, like chicken from KFC, often just as quickly changes when the general public has to worry about something else. Contaminated baby milk was an issue in China before but the Chinese Food and Drug administration as well as the Chinese judicial system implemented the harshest penalties to discipline the industry and work for confidence in Chinese products to return. Officials related to the baby milk scandal, for instance, were handed death and life-in-prison sentences, which shows that China takes food and safety issues very seriously.
A collapse of 8% in Yum's share price piqued my interest to look at Yum's cash flows over the most recent three-year period. Despite its recent drop, Yum unfortunately is still extremely expensive and does not offer investors an attractive risk/reward ratio.
Free cash flow valuation
Yum achieves about $2 billion in operating cash flow a year and I expect the Chinese chicken case will drive OCFs down to $1.7 billion in 2013. Rapidly declining sales can quickly rebound, however, which is why I estimate that Yum can come back to the $2 billion a year OCF level in 2014. Investing cash outflows seems to be recurring in the amount of $1 billion a year and net borrowings only have a marginal impact on the free cash flow to equity. I estimate that Yum's 2014 FCFE comes out at $1,060 million or at $2.28 per share. At a present share price of $67 the forward P/FCFE ratio stands at an extreme 29.34 (equivalent to a 3.41% free cash flow yield). Net borrowings in the past were negative while I assume they will be marginally positive in 2014, in line with 2013 YTD trends. Higher negative net borrowings (like in 2010 and 2011) would reduce free cash flows and increase the P/FCFE multiple. Also, if Yum does not achieve a meaningful turnaround in operating cash flows the P/FCFE multiple could be much higher. Given the assumptions in the model below (better operating cash flows in 2014 and low positive net borrowings) the already massive P/FCFE is likely to be understated.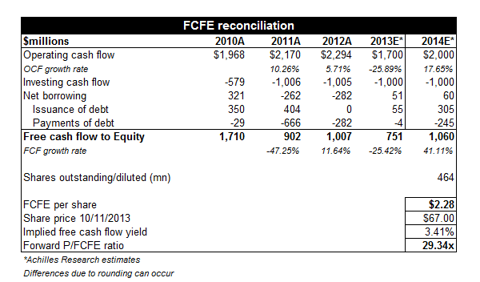 Click to enlarge
A $2.28 FCFE/share, growth rates of 5-6.5% in the short term, 4.5% in the long term as well as capital costs of 10% yield an intrinsic value estimate of $42.48 per Yum share.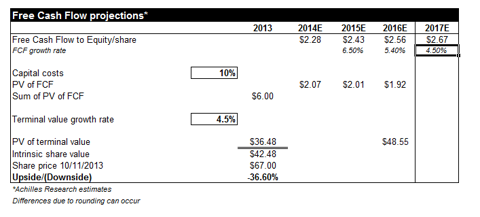 Click to enlarge
Summary
Yum also trades at 28 times trailing earnings and 18 times forward earnings, which is way too expensive for a company posting sequential sales declines. While I believe Yum will recover from unfavorable short-term sentiment and Chinese chicken consumption will rebound, a multiple of around 30 for earnings and free cash flows just seems utterly out of touch with the underlying business fundamentals. The growth story in China is surely attractive and KFC China will be recovering. The recent pullback in price, however, is not enough to adequately compensate investors for the risk they take. Yum shares still incorporate an immense growth premium. Historical cash flows and low estimated free cash flow yields do not suggest that such an immense premium is warranted.
Disclosure: I have no positions in any stocks mentioned, and no plans to initiate any positions within the next 72 hours. I wrote this article myself, and it expresses my own opinions. I am not receiving compensation for it (other than from Seeking Alpha). I have no business relationship with any company whose stock is mentioned in this article.